Vegan keto cookbooks: Our picks for tasty recipes
You can enjoy yourself on a low carb plant-based diet, but you might want to arm yourself with these vegan keto cookbooks.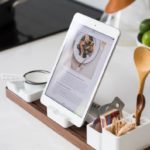 We all know the virtues of a low carb high-fat diet as well as the benefits of following a plant-based lifestyle. However, when it comes to combining the two, the outcome is a fairly restricted grocery list. While a good portion of the Standard American Diet become off limits—which is not necessarily a bad thing—, it is still possible to adopt a meat and dairy free, high-fat diet and still enjoy yourself. These vegan keto cookbooks will help you get started and provide you with the inspiration, variety and flavour to adopt a sustainable low carb plant-based lifestyle.
Advertisements
The Essential Vegan Keto Cookbook
Advertisements
Vegan Keto
Advertisements
Vegan Keto
Advertisements
The Keto Vegan Cookbook
Vegan Keto
The Keto Vegan
The Vegan Keto Way
If you are not a fan of leaving oily fingerprints on your electronics, stick to these hardcover titles to express your keto vegan creativity in the kitchen. For all of you blessed with the superpower of keeping clean surroundings when following a recipe or, you know, willing to wash your hands every other minute, give digital cookbooks a try. Considering the very niche aspect of a vegan keto diet, ebooks will give you access to more variety and options. We particularly like Elsa's Wholesome Life's Vegan Keto mini ebook as well as Raise Vegan's extremely affordable Vegan Keto Ultimate Recipe Book.
---
Cover credit: Jeff Sheldon | Unsplash