Vegan protein drink: the best brands to sip on some serious nutrients
Give in to plant power the proper way. These powders are the ultimate add-ins for the perfect vegan protein drink.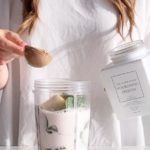 On the go, back from the track, in a hurry, or just craving a good smoothie, you can always count on a good scoop of powder to get them vegan proteins in. And while that once meant turning your jar of deliciousness into a grainy and not very tasty concoction, switching from whey to a plant-based supplement is now breezy. Whether you are seeking plant energy for the well-being of your stomach, the animals or the planet, you no longer have to sacrifice taste and pleasure. But with growing demand for such products comes growing supply and we all know that the fitness industry is a tricky world to navigate: Lots of big expensive jugs and too little quality nutrients. Fortunately, not everyone is in it just for the money, and the ideal powder that will boost your smoothies is out there. Here's a selection of some of the best products to concoct the ultimate vegan protein drink.
Advertisements
WelleCo
Advertisements
Nuzest
A fairly new player in the game, Nuzest has been able to make its mark despite the saturated market. The best part? They did it in the best way possible: By offering a really good product that's actually clean and lean.
Advertisements
Form
Nutrient dense, high-quality complete protein featuring digestive enzymes, probiotics, superfoods, easy to dissolve and great tasting, what's more to love? Perhaps their sexy flavours and the choice between Superblend and Endurance protein.
Advertisements
Sakara
Sakara's Life Source Super Powder is an all-in-one daily nutrition supplement which doubles as a protein and collagen source for the plant-based eater. No wonder it's a bestseller.
Bare Blends
The name pretty much says it all: Bare Blends offer all-natural, organic protein made from the best quality ingredients in Australia. No fillers, no nonsense. Just make sure to select the vegan ones.
Owyn
Finally a ready-to-drink tasty dairy-free beverage for when you don't have access to your blender or the time to power it up. It is the ultimate grab-and-go for a good dose of protein wherever life takes you. P.S. They also have the powdered stuff.
Your Super
Your Super is all about superfood and highly nutritious foods. Their protein formulas come in two types, Skinny Protein and Muscle Power, to cater to different needs and fitness goals.
True Protein
True Protein's vegan blend contains a rich amino acid profile for active vegans and athletes looking for an alternative to whey.
Amazonia
Amazonia's protein isolates are not only vegan, but also raw. The exotic products are filled with all the good stuff that promotes optimal health and brings an acai bowl to the next level.
White Wolf
White Wolf Nutrition's Vegan All-In-One protein is a smooth and great tasting, free from animal products and features natural, complete and bio-available protein.
Tropeaka
The Australian brand is a smoothie jar and smoothie bowl favourite among multiple fitness Instagram personalities. Focused on making you feel your best from the inside-out, Tropeaka provides an extended line of protein blends and other supplements.
Dope Naturally
Dope Naturally's Melonaid is a radiant glow in powder form thanks to a blend of amino acids, antioxidants and minerals. The supplement is also quite special considering its odd protein source: watermelon seeds.
Arbonne essentials
Arbonne essentials is quality balanced protein shakes mix for the purist plant-based eater in need of a good chocolate, vanilla or chai flavoured protein smoothie.
Whether you are looking to feed your training session or make sure you get enough proteins in on a plant-based diet, these must for the perfect vegan protein drink will turn a simple smoothie into a serious dose of nourishment. From just-add-water shaker concoctions to intricate açai bowls, there is a product out there that will fit your needs and give your body, and taste buds, what it needs.
---
Cover photo: @welleco | Instagram