What is vegan cheese made of and how to make it
Vegan cheese is exactly what you need to make the big jump from vegetarianism to veganism. Or, you know, forget about your lactose intolerance.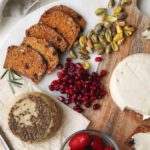 Want to spare the cows and/or your stomach by going dairy-free, but your love for aged cheddar, Camembert, brie, halloumi and even cream cheese is making this simple healthy and well-intended change a lot harder than expected? Fortunately, the paradoxical product that is vegan cheese is here for you. But just like meatless meat, dairy-free cheese sounds sketchy to most. What is it if it's not milk is a valid question. If you need some clarification before going down the dairy-free smoked Gouda road, read on. We are demystifying the whole vegan cheese movement including how to make such a lifesaving deliciousness come to life. Because nutritional yeast is good, but actual cheese is better.
Advertisements
What
We get that it's not milk, so what is it? Well, it depends. Most homemade and some store-bought vegan cheeses are made of nuts or seeds. Which ones? Any. Cashews, almonds and sunflower seeds are the most popular, but there are also walnuts, macadamia nuts, pecans, pine nuts and pumpkin seeds vegan cheese recipes out there. Some other recipes call for tofu, while others, including most brands available in stores, list coconut oil as their primary ingredient. Unsurprisingly, many dairy-free cheese companies supplying supermarkets are soy-based. And finally, some homemade recipes use flour, root vegetables or aquafaba (the liquid from canned chickpeas).
Advertisements
How
Some recipes are easy, but let's be honest here, few are simple and most necessitate multiple steps and lots of waiting. What's with soaking the nuts for hours, then preparing the mix and letting it ferment…
Apart from cheese sauces, which are effortless and delicious, making vegan cheese is more like a fun experiment-ish kind of cooking akin to making your own sauerkraut, kombucha or seitan and less like preparing curry or a lentil meatloaf. It takes time and success is not assured. Basically, dairy-free cheese is not something you do on the regular—or ever—unless you're the kind of person who makes their own bread every week. You know, the one who doesn't just love cooking, but bakes weird stuff that needs to soak for 8 hours, then be whisked for 2 and refrigerated for another 30 minutes before you can start the second stage of a 5-step recipe out of pleasure? Yeah, that kind. If you are that person, you'll have a blast. For everyone else, here are the best vegan cheese brands to buy at the supermarket. It'll take 2 minutes of your time and you'll be a lot less annoyed when you end up burning your grilled cheese.
You're up for a little cooking adventure and just got a brand new cheesecloth from the zero waste store? Here are a few examples of vegan cheese recipes to make at home, starting with the simplest and easiest of all you will actually want to do multiple times a week:
Advertisements
Hot for Food's nacho cheese
Advertisements
The Vegan Blueberry's smoked Gouda
Minimalist Baker's 
lemon, garlic and dill soft and spreadable cheese
Full of Plants' Camembert
Beatriz Moliz' tofu feta
Blissful Basil's goat cheese
Full of Plants' hickory smoked cheese
Fooduzzi's ricotta
The Curious Chickpea's jalapeno pepper jack
Rachel Carr's cheddar
Dates and Avocados' raw macadamia cheese
That being said, don't be put off by the thought of crafting your own milkless cheese. If you are up for a fun project and armed with patience, give it a try. Frankly, the whole thing is very simple and quite easy, although potentially lengthy. We just didn't want you to get your hopes up. And if you are more of a make-it-eat-it-now type of individual, indulge in some vegan mac and cheese, cheddar broccoli or anything else covered in dairy-free cheese sauce. Or just skip the kitchen altogether and hit the supermarket.