Bikini body workout: 10 videos to get stronger and leaner
Working out at home is easy, convenient and perfect for people who don't like the gym. Get a leaner and stronger body with these 10 bikini body workouts.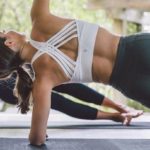 Forget about getting a gym membership, alias throwing your money out the window. If you want to tone up, burn calories and lose fat, you can easily do it in the comfort of your own home without spending a dime (and without having to share any machines with sweaty Arnold Schwarzenegger look-alikes). There are as many free video workouts on YouTube as there are weeds in your local park. This video platform, which has democratized home workouts, amongst other things, offers excellent exercise videos by experienced women and men who know exactly how to get that bikini body ready. It's like having your very own personal trainer right in your living room… Except you can shut them off whenever you like! Fat blasting, intense and butt-kicking, these 10 bikini body workout videos will get you stronger and leaner in no time.
Advertisements
Full blast & tone
Looking to work on your upper body? Legs? Abs? Shoulders? Back? You can do it all with Boho Beautiful's 15-minute workout video. Her routine will work every muscle in your body and she also has a modified version for those who are just starting out. She suggests you warm up before by going on a 15-minute run and to complete this workout 3-4 times a week for the best results. No equipment needed, the Koh Wai beach in the background is not a bad addition either.
Advertisements
Abs, butt and thighs
A fitness Youtuber fan favourite, fitness instructor, entrepreneur and online personality, Cassey Ho, is the best virtual personal trainer out there; she will kick your butt, however her bubbly personality makes up for her intense workouts. The video is thirty minutes long and will be working out your abs, butt and thighs without any equipment. What are you waiting for?
Advertisements
Intermediate pilates mat workout
A pilates workout is a great way to target smaller muscles and to make your muscles leaner. This video will help strengthen your core, tone your legs, arms and waistline. If you've practiced pilates before, this video is for an intermediate level so you should already be familiar with the movements and the pace. All you need is a mat and some stretchy clothes so you can move around with total ease.
Advertisements
Cardio workout
With a warm-up, 45 seconds on, 15 seconds off ABAB format (exercise 1, exercise 2, repeat, exercise 3, exercise 4, repeat, etc.) and cool down, this calorie-blasting cardio training will get you moving and panting in no time. Straightforward, effective and free of any equipment, you'll want to complete this workout out 3 times a week for the best results. Instead of watching another Friends rerun, do this! You'll feel great afterwards.
Calorie burning workout
Under an hour, this sweat-inducing full body workout by celebrity trainer Jeanette Jenkins will help you burn 500 calories. If you watch this video and feel intimidated, don't worry! There are three women in the video to follow so you can choose if you want to do the "real" workout or the modified versions! You'll get fit fast with this full body workout.
Dance cardio workout
What's more fun than dancing? Combine cardio and fat burning exercises to lose body weight with this 40-minute dance cardio video created by the athleticwear Sweaty Betty and LA celebrity trainer Simone De La Rue. You can't help but smile when you do this workout! Note that this video does require weights but you can always use cans of beans!
POP Pilates body slimming workout
Another fun video from Cassey Ho but this time it is a POP pilates for beginners workout! If you have never worked out before, you don't want to start with a difficult video or else you might give up half way and never want to work out again. Try Cassey's video for an introduction to POP pilates!
Full body HIIT
High intensity interval training (HIIT) is a type of workout that targets your whole body.  No equipment needed, use your body weight to do squats, push-ups, high knees and many more exercises. Heather ads the seconds at the bottom of the screen so you always know how many seconds are left until the next exercise.
Interval workout
Complete this workout in your home when it's cold and rainy or outside when the sun is shining and the weather is warm since all you need is your running shoes and a mat. The woman really explains all the exercises and gives you tips on how to do them properly so you don't get hurt!
HIIT tabata
Not familiar with tabata? This type of workout is when you do an exercise for 20 seconds, you rest for 10 seconds for 4 minutes for each set. It is intense. Sydney Cummings explains the exercises very well and her workout is perfect since it uses all your body's muscles. This 30-minute workout requires no equipment and is perfect for a quick Saturday morning wake up or an after work Thursday evening sweat session.
Why do bodyweight exercises?
Whipping yourself into shape doesn't necessarily mean you need to use a treadmill, dumbbells or a kettlebell. You can reach your fitness goals with numerous body workout routines, which we have proven to you with the videos above. A bodyweight workout that includes crunches, pushups, mountain climbers, jumping jacks, pull ups and a side plank can be extremely beneficial if you are looking to workout at home and lose body fat. Just remember to start any workout with a warm up whether it is a short run or jumping jacks to get your heart rate up. You'll be bikini ready in no time thanks to these exercises that only require your bodyweight.
Always remember to talk to your physician before you start a new workout regiment! Working out is fun and helps you feel stronger and more confident. Try all these different exercise routines so you never get bored and learn new ways to sweat it out in the comfort of your own home!
---
Cover photo: @lululemon | Instagram