Get your vitamins in: 10 trustworthy supplement brands
If a little help from a pill is your thing, make sure to hit all your daily nutrient recommendations by opting for the best vitamin and supplement brands.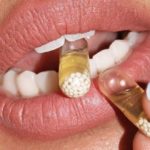 Maybe you're the type to push your broccoli to the side. Or perhaps the kind who logs all their meals in an app for complete nutrients details even though you already eat a complete wholefood diet. Whether you're in need of some extra help to reach your daily vitamin requirements or just want to pop a little extra health in pill form just in case, adding a supplement to your morning routine can't be a bad idea. Unless you go for the wrong one. Because, although the—extremely large and profiting—dietary supplement industry is somewhat regulated, we are sure you'd rather pay for actual nutrient dense vitamins rather than mostly-filling-agent pills. No matter why you want to supplement your diet—a pregnancy, a vegan or keto diet, food intolerance, old age, etc.—these supplement brands in pill or powder form will give you all the vitamins you need. And nothing else.
Advertisements
Ritual
And when it comes to supplements, Ritual speaks our language. The refreshingly transparent brand likes it straight to the point. No BS, no synthetic fillers, no questionable additives, only 9 essentials and two small easy to digest pills. The goal is to simplify everything about a woman's health ritual, from fewer pills to purer ingredients. The innovative 2-in-1 capsule design combines oily and dry components so you can benefit from all the women essentials in one minty gulp.
Advertisements
WelleCo
It seems model Elle Macpherson's striking beauty might not only be good genes. The secret could partially lie in scientifically engineered plant-based elixirs. Ones, she and her cofounder generously share with the world. WelleCo dietary supplements present themselves as easily absorbed nutrient-rich powders made from wholefoods to promote overall health and beauty. The gorgeous jars certainly will look stunning on your countertop, but even better is the leading nutritional doctor formulated magic it contains, such as alkalizing green powder.
Advertisements
The Beauty Chef
The Beauty Chef brings the Australian wholefood approach to health and beauty. The popular line includes all bio-fermented nutrition, ranging from vitamin-rich powders to targeted-needs liquid boosts to achieve inner beauty that shows on the outside. Formulas containing pre-biotics, probiotics, collagen, and more have been researched by leading microbiologists, naturopaths and nutritionists to promote a healthy gut and glowing skin. Because as you may now know by now, it all begins in the belly.
Advertisements
Sun Potion
If you are even to dabble in a single aspect of the free-spirited lifestyle, make it be Sun Potion. This flower child, high vibrancy, yin yang, boho-hippie supplements might very well transform you, or it will simply enhance your health. The organic and/wildcrafted quality medicinal plants, superfoods and tonic herbs will help sustain optimal well-being and consciousness. At the end of the day, whether you maintain a strict meditation practice or not, Sun Potion just wants you to feel amazing.
Moon Juice
From brains to spirit, through power, sex and beauty, Moon Juice's mystic potions offer a clinically-proven holistic approach to overall wellness. Their adaptogenic non-GMO plant-sourced alchemy includes cosmic—don't take this literally—dusts and other magical—again, it's not actual magic—a scientific approach to the use of potent plants to thrive and unleash the super version of yourself in all spheres of life. Nothing less.
Hum
The very bright and colourful brand was born following one of the founders' long quest for clear skin. Turns out, no drugs could fix what diet could. And the hunt for nutrition leaders began in order to offer the best supplements to support any health and beauty goals. But quality is not all they do. Hum also provide free personal nutritionist assistance to better identify costumers' needs and recommend the right micro-nutrients. They offer a very large and complete array of vitamins. They even have Gummies with Benefits à la instababe who promote Sugar Bear Hair, except these are not a scam.
RMS Beauty
If you've heard of RMS Beauty, you know it's an organic cosmetic company. Their venture in the supplement world is, therefore, proof that beauty comes from within in more ways than one. And apparently, shining from the inside out all starts in the gut. Support your glow by helping your digestion with the brands' probiotic + pre-biotic and/or digestive enzymes. The following will aid vitamin absorption and promote gut health which essentially means good skin.
Bear
A modern take on the highly saturated supplement market, Bear simplifies this frankly overwhelming world by simplifying your search for the perfect vitamin formula with organic, non-GMO and gluten-free daily essentials that will look great in your bedside table. The minimalist Australian brand might very well help you get as strong and energized as-yes- a bear with its lifestyle-oriented rather than gender-based vitamins, minerals and nutrients. So whether you are hoping to improve and support immunity, clarity, energy or balance and wished to nourish or repair your system, Bear has a blend of high-quality native vegan and laboratory engineered ingredients for you.
Vital Proteins
Don't be fooled by the name: while Vital Proteins does market muscle building and performance oriented protein blends, the vibrant company does not—only nor mainly—cater to people who even lift. In fact, their primary focus is collagen! Because, yes, collagen is a protein and you sure want enough of it in your life. Sourced from pasture-raised cows and wild-caught fish, the collagen is not only high-quality, but made so easy to add into your daily routine. I.e. they have flavoured collagen creamers for good-for-your-skin morning coffees as well as shots and to-go packs.
The Nue Co
Coming to your kitchen from New York City, the arguably most beautifully packaged supplements are a lot more than meets the eye. The powdered, capsuled vitamins and nutrients brand strives to offer an improved version of the best of science. Proven formulas are stripped of unnecessary elements resulting in only-what's-good-for-you dietary complements for maximum body efficiency. This means no chemicals, no fillers, no preservatives. The Nue Co products are made from only real organic food to provide your body with the best of everything it needs and nothing it doesn't.
Let's face it: everyone wants to be healthy, beautiful and productive. And the more easily one can improve any of these factors, or win at all three, the better. Don't pretend like you don't want that magic pill too. So no wonder the supplement world is such a lucrative and customer-hazardous world. While such a wizardly capsule does not exist, real, quality, effective and potentially life-changing vitamin supplement brands exist. Don't trust your gut on this one. Go with the facts. It might be in dire need of balancing anyway.
---
Cover photo credit: @ritual | Instagram