The Most Incredible And Extreme Winter Storms Around The Globe
1

North American Blizzard – US and Canada (1966)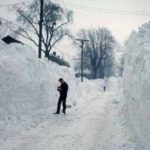 Advertisements
January 29 – February 2, 1966
Maximum snowfall of 102 inches (260 cm) in Oswego, New York
Maximum wind speed of 100 mph (160 kph)
201 people died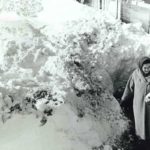 Sweeping across the Eastern United States and up into Canada, the North American Blizzard of 1966 led to incredibly low temperatures.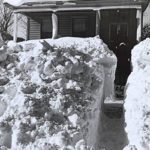 Many people froze to death, while others died in fires while trying to heat their homes. Much of the other deaths stemmed from people over-exerting themselves in an attempt to shovel the snow.
Advertisements
2

Storm of the Century – Eastern US (1993)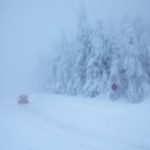 Advertisements
March 12 – March 15, 1993
At the height of the storm, 2-3 inches (5-7 cm) of snow fell per hour
Maximum snowfall was 56 inches (142 cm) at Mount LeConte, Tennessee
The highest wind speeds were 109 mph (175 kph) in Dry Tortugas, Florida
270 people across 13 states died
As a result of the storm, 15 tornadoes struck Florida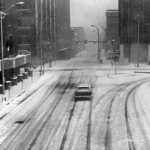 The superstorm of 1993 raged across the entire Eastern United States, from Alabama to Maine, covering more than 550,000 square miles.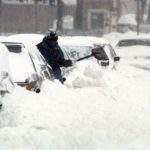 More than 10 million people and businesses lost power over the storm's three days, and $5.5 billion in damages were recorded in the aftermath.
Advertisements
3

The Great Appalachian Storm – Eastern US (1950)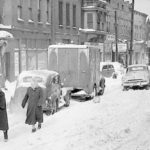 Advertisements
November 24 – November 29, 1950
Maximum snowfall of 57 inches in the worst areas (144 cm)
The most extreme temperature was -7F (-21C)
The highest wind speed was 160 mph (257kph) on Mount Washington, New Hampshire
353 people died and over 150 more were injured
Insurance companies were forced to pay more for damages than any other storm in history (at that point)
The Great Appalachian Storm of 1950, which occurred during the weekend following Thanksgiving, raged across the Eastern United States, affecting towns in Ohio, Illinois, the Carolinas, and even Kentucky.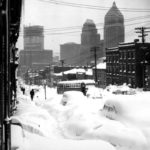 The storm is considered one of the most damaging events ever recorded in that area of the country.
Advertisements
4

Snow Storm Of the Century – Victoria, British Columbia (1996)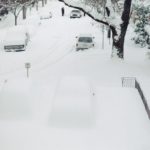 Advertisements
December 28 – December 29, 1996
Maximum snowfall of 25 inches (65 cm)
35 boats sunk or were damaged when a boathouse collapsed
The roof of an airplane hangar collapsed at Victoria International Airport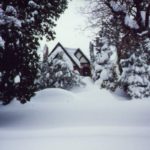 Although Victoria is known for its mild winters, 1996 brought a huge blizzard to the capital city of British Columbia. The first big snowstorm to hit the city since 1916, the Snow Storm of the Century caused $200 million in damages.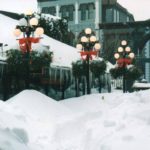 It brought all of Victoria to a standstill, but neighbors banded together to share food, medicine, and other supplies while they were unable to navigate the city.
Advertisements
5

The Great Blizzard – Indiana, Illinois, Ohio, US (1978)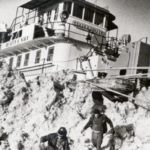 Advertisements
January 26 – January 27, 1978
Maximum snowfall was 7 inches (18 cm)
The maximum wind speed was 60 mph (96 kph)
The lowest temperatures were in the single digits, but wind chills were recorded at -50F (-45C)
70 people died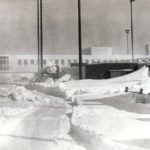 The Great Blizzard of 1978 resulted from already-bad weather and high winds, creating a bomb cyclone, a name for a storm that gets very bad very quickly.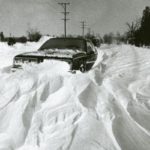 The storm left homes without power or heat and blocked many roads, forcing the Red Cross to step in to supply food to those in need via helicopter.
Advertisements
6

The Great Lakes Storm – Great Lakes Region, US (1913)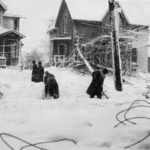 Advertisements
November 7 – November 10, 1913
Hurricane-force winds up to 100mph (160kph) in some areas
Gigantic, 36-foot waves
24 inches of snow (60 cm)
250 sailors were lost
12 ships sank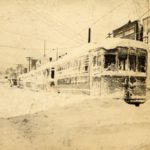 Also known as the Great Storm of 1913, this natural disaster filled the Great Lakes region with blizzard conditions and hurricane-force winds for four days.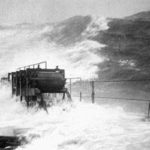 It was actually the result of two storms that ran into each other, creating a massive tempest that took many lives and left the surrounding towns in ruin.
Advertisements
7

Knickerbocker Storm – Washington DC, US (1922)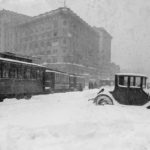 Advertisements
January 27 – January 29, 1922
Maximum of 28 inches (71 cm) of snow
The temperature fell to 20 to 25F (-6 to -3C)
The roof of the Knickerbocker Theater collapsed under the weight of the snow, resulting in 98 dead and 133 injured.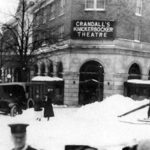 The Knickerbocker Storm came as a surprise for Washington DC residents, as just a day prior weather forecasters had predicted a nice weekend full of warmer temperatures. Instead, the residents were faced with a horrific storm.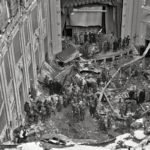 The biggest disaster was the collapse of the theater roof, which produced the only causalities from this winter squall.
Advertisements
8

Lhunze County, Tibet (2008)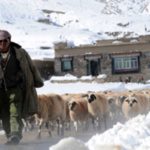 Advertisements
October 26 – October 28, 2008
Maximum snowfall of 72 inches (182 cm)
Temperatures dropped to -13F (-25C)
7 people died
144,000 cattle died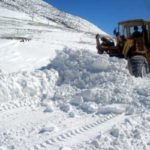 This storm hit Lhunze County, Tibet in late October 2008, trapping over 1,000 residents who were unable to move on the snow-covered roads.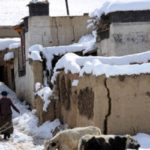 It was so cold that some people froze to death, while others were killed when buildings collapsed because of the weight of the snow.
Advertisements
9

Blizzard – East Coast, US (1996)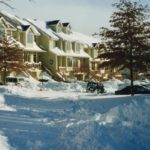 Advertisements
January 6 – January 8, 1996
Maximum snowfall of 48 inches (122 cm)
Maximum wind speed of 50 mph (80 kph)
154 people died
This is one of only 3 storms to receive a 5 or "Extreme" rating on the Northeast Snowfall Impact Scale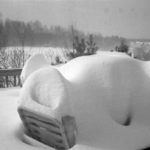 During the North American blizzard that terrorized the East Coast in January 1996, President Bill Clinton was forced to shut down the federal government.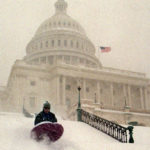 Along with sending people home for nearly a week, he also declared DC and the nine surrounding states on the East Coast to be disaster areas.
Advertisements
10

Snowmageddon – United States (2010)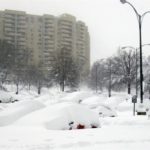 Advertisements
February 2 – February 6, 2010
Maximum snowfall of 38 inches (97 cm) in Elkridge, Maryland
41 people died
69% of the country was covered in a fairly thick blanket of snow
President Obama gave the storm its clever nickname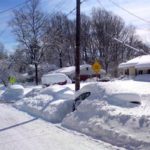 The storm known as Snowmageddon swept across the entire United States during February 2010.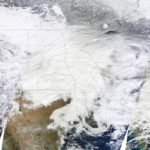 It brought flooding, landslides, and historic snowfalls all across the country.
Advertisements
11

Massachusetts Blizzard – Boston, US (2005)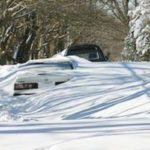 Advertisements
January 2o – January 23, 2005
Maximum snowfall of 36 inches (91 cm)
Maximum wind speed 0f 80 mph (129 kph)
12 people died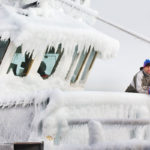 The storm primarily affected Boston, but it also hit parts of Philadelphia and New York City.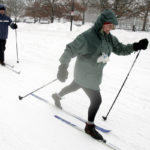 While the conditions outside during the Massachusetts Blizzard of 2005 were scary, many locals braved the cold to ski on the new powder covering the roads of Boston.
Advertisements
12

Beast From the East – Eastern Europe (2018)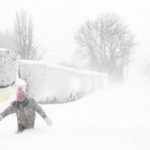 Advertisements
February 22 – March 2, 2018
Maximum snowfall of 72 inches (182 cm)
Maximum wind speed of 116 mph (187 kph) in Norway
Temperatures dropped to -4F (-20C), with a maximum low temperature of -40F (-40C) in the Italian Alps
48 people died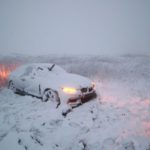 The Beast From the East swept across most of Europe in 2018, affecting countries from the UK all the way to Poland.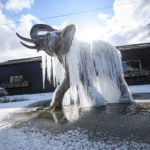 The storm was the result of a disordered polar vortex in Central Europe, which sent cold, arctic air surging through the continent.
Advertisements
13

Schoolhouse Blizzard – Mid-Western, US (1888)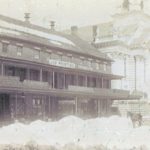 Advertisements
January 12, 1988

Maximum snowfall of 6 inches (15 cm)

Maximum wind speed of 60 mph (96 kph)
Temperatures dropped to -40F (-40C)
235 people died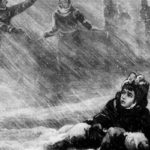 Also known as the Schoolchildren's Blizzard, this storm came on suddenly, affecting much of North Dakota and some surrounding states.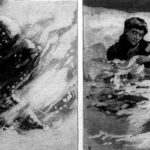 When the weather got bad, schoolchildren and adults started making their way home. However, many of them failed to reach their destination in the blinding conditions and froze to death.
Advertisements
14

Germany, Switzerland, Austria (2019)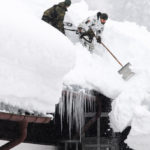 Advertisements
January 8 – January 14, 2019
Maximum snowfall of 120 inches (3 meters)
Maximum wind speed of 111 mph (179 kph)
21 people died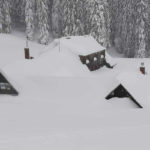 In 2019, Europe faced one of the harshest storms in nearly 30 years. The long snowstorm affected Germany, Austria, and parts of Switzerland, causing many avalanches and trapping tourists at ski resorts.
Eventually, the army intervened to rescue trapped citizens, though 21 people did lose their lives.
Advertisements
15

Great White Hurricane – Northeast US (1888)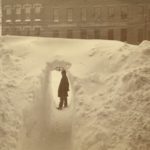 Advertisements
March 11 – March 13, 1988
Maximum snowfall of 60 inches (152 cm)
Winds of 60mph (97 kph) contributed to the creation of massive snowdrifts
The coldest temperature was around -10-15F (-23 to -26C)
400 people died
200 ships wrecked and 100 sailors were lost at sea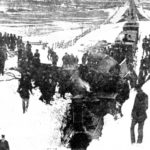 What started as a normal winter storm in the northeastern United States quickly transformed into a natural disaster.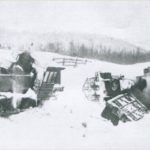 For three days, snow fell, creating snowdrifts as high as two-story buildings, snapping telephone and telegraph lines, and making roads and train tracks impassable.
Advertisements
16

The Great Snowstorm – Toronto, Canada (1944)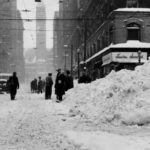 Advertisements
December 11, 1944
Maximum snowfall of 22 inches (57 cm)
21 people died
This storm famously brought the most snowfall in a single day Toronto has ever seen
During the storm, a streetcar fell over, trapping 170 people. It took the police 45 minutes to free them.
Toward the end of World War II, Toronto, Ontario suffered a massive snowstorm that forced factories producing war ammunition to close.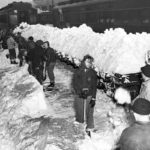 Weather reports predicted some snow, but nothing close to what the city actually faced.
Advertisements
17

Gale of January – Northern Europe (1976)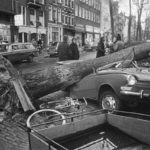 Advertisements
January 2- January 5, 1976
Maximum wind speed of 134 mph (216 kph)
Towns around the North Sea coast were flooded
100 people died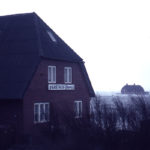 While the Gale of January 1976, also known as the Capella storm in Germany, did not bring snow to Europe, it was nonetheless disastrous.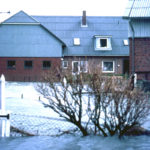 It caused over $1.3 billion in damages across Europe, making it the most severe storm the British Isles faced up until that point.
Advertisements
18

Chicago Blizzard – Illinois, US (1967)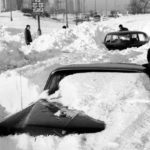 Advertisements
January 26 – January 27, 1967
Maximum snowfall of 23 inches (58 cm)
Maximum wind speed of 53 mph (85 kph)
The temperature dropped to 15F (-9C)
26 people died
The Chicago Blizzard of 1967 is the worst snowstorm on record to hit the area. By midday on the 26th, the storm got so bad that most people started to make their way home. However, many workers were stranded on the snowy roads.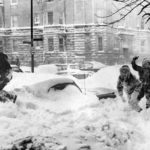 All day Friday the 27th, the city was at a complete standstill, as no one could go anywhere because of the snow.
Advertisements
19

St. John's Blizzard – Newfoundland, Canada (1959)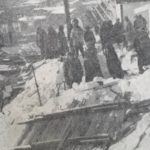 Advertisements
February 16, 1959
Maximum snowfall of 22 inches (55 cm)
Maximum wind speed of 135 mph (217 kph)
Six people died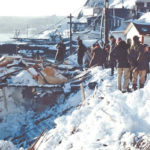 This blizzard in Newfoundland left 70,000 citizens without power and blocked highways, forcing many people to spend the night in their cars.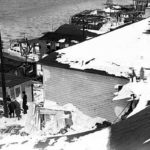 Avalanches swept away houses, causing a few fatalities.
Advertisements
20

Blizzard – North Dakota, US (1966)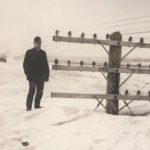 Advertisements
March 2 – March 5, 1966
Maximum snowfall of 30 inches (76 cm)
Maximum wind speed of 100 mph (160 kph) during big gusts, 70 mph (113 kph) without gusts
Visibility was zero for 11 straight hours
18 people died
74,500 cattle died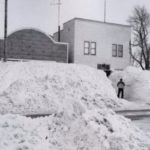 This 1966 blizzard was the worst in North Dakota's history. While snow in the month of March isn't unusual for the state, the massive snowfall and high wind made for zero visibility and snowdrifts as high as 40 feet (12 m).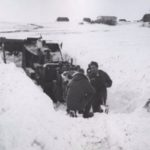 Even after the snow stopped falling, it took days to dig out everything it buried.
Advertisements