36 Incredibly Useful Garden Tips That Actually Work!
Advertisement - Continue reading below
Chances are you have powdered cinnamon in your home, and if you do, you may find it much more useful than just adding a pleasant taste to some of your dishes. Indeed, it has a number of different benefits for your garden!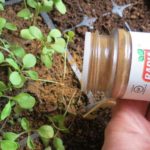 First of all, if your garden is prey to ants, know that cinnamon is an excellent deterrent. Sprinkle some around your garden and ants won't be a problem anymore. Cinnamon is also a perfect rooting agent, so if you apply a small amount on the stem when you plant your cutting, their growth will be greatly optimized.
Advertisement - Continue reading below
Advertisement
Advertisement
Benefits of Gardening
If you are here, it is because you are interested in green leaves, colorful flowers, growing a garden, or liven your interior.
There are so many benefits to gardening: Reduces stress and anxiety, motivates us to move and keep fit, contributes to healthy habits such as growing organic and tasty fruits or vegetables, and much more.
Gardening improves the quality of life. As humans, we are attracted to green surroundings. So without going overboard, it is possible to have beautiful plants that will compliment your home without requiring too much attention.
Most interior plants require light, humidity, frequent watering, and compost to be lush and healthy. Anyone can do it, all you need is to experiment and trust yourself. Follow the growers' instructions and everything will be fine!
When gardening outside, it is important to choose plants that will thrive in the space given. When a plant is trying to grow in a space that's not right for it, it will suffer. This is the most frequent mistake inexperienced gardeners make. So, make it a priority to choose the right plants.
Caring for a vegetable garden is something very gratifying. It is a patience exercise, but it is so worth it! Your organically grown veggies will taste amazing, and they will be so fresh you'll become addicted!
Giving a plant as a gift is something people should do more. Instead of buying the newest thing that will go out of style in a season, offer a plant. It will grow and contribute to the health of the person it was meant for. People might be scared at first, but seeing the results of effort and love being given to a plant—or a garden—is the best feeling in the world!