10 beautiful nursing clothes for the sophisticated new mom
Nowadays, a pregnant or breastfeeding woman can wear clothes that are both elegant and functional.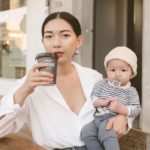 You've got your hands full, literally. Baby in one arm, toothbrush in the other hand, we know how it is. Your little one is a hungry one and that often means putting everything else aside for the well-being of this tiny bundle of joy. But while motherhood is about prioritizing someone else's needs, it does not have to entail completely forgetting yourself. We've taken notes, and so have the following amazing brands that bring you practicality and comfort in the best way possible. Both functional and fashionable, these elegant nursing clothes bring you good taste and easy nipple-access to feel and look your best while simplifying your life, at home or on the go. To be paired with your best actual-no-make-up look, nappy and under-eye bags and, of course, the most important person in your life.
Advertisements
Bae
Bae The Label designs clever basics for fashionable mums. Yes, mums: they're Australian. But don't worry, they ship internationally. The chic laid back collection offers feminine designs for all stages of motherhood. Go from belly to nursing in their comfortable fabrics, modern cuts and effortless looks. Their inventive and easy breastfeeding access, from cropped flowy tops and extremely high-waisted skirts to hidden zips, makes for the perfect new mom everyday wear.
Advertisements
Legoe Heritage
Legoe's contemporary styles let you express your most sophisticated new mom self. Flowy dresses, silky tops and elegant jumpsuits offer flattering cuts for post-belly stomachs as well as all the hidden features for easy, quick and discreet breastfeeding. Breathable quality fabrics and elegant styles bring you practical timeless pieces that you will want to wear long after your kids have left for college. 
Advertisements
Tea and Cosset
Introducing the perfect white tee with a twist. Because everyone needs the ultimate basic combo—a white t-shirt and a good pair of jeans—in their life, especially nursing moms. Except, what used to be the most casual and convenient wardrobe essentials can quickly lose its, well, convenience, when one has a little being to feed several times a day. This is where Tea and Cosset have got you. Their feedwear line includes all the best easy-access pieces for a tasteful, simple and practical laid-back-put-together look.
Advertisements
Loyal Hana
Nothing says "I've got this whole maternity thing under control" like Loyal Hana's sophisticated pieces featuring sneaky zips and clever boob access. Their chic collection will perfectly suit your business woman meets nursing mom needs just as well as your stay-at-home-mom desires for stylish and functional pieces. Because this is the 21st century. Your life your choice!
Boob
Need we say more about a company with such a straightforward name? You got it, right? Boob Design is all about simplifying nursing women's lives with practical comfortable pieces. The innovative designs were engineered with individual new mother's needs in mind in order to offer the best product possible. Half nursing gear, half clothing collection, Boob Design is an obvious must for breastfeeding made easy.
Storq
As Storq puts it so well: "new body, new rules." And since nursing moms don't get a rest day, the least they deserve is comfortable, convenient clothes that look great. From the perfect layered easy-access cami to elegant caftans, the California-based company makes stylish essentials so new moms can "feel like [themselves] again, only more comfortable."
Our Second Nature
Our Second Nature is not a maternity brand. That being said, we couldn't help but include the Singaporean instinctive wear company for its accidentally pregnant and nursing women-friendly designs. Just take a look at Musician Carissa Alvarado and baby bump in a gorgeous Our Second Nature number. Long flowy dresses and front buttoned pieces make the often bright-patterned and undeniably chic collections great practical options for nursing moms looking to step away from maternity clothes while still on mom duty.
Madri Collection
Breastfeeding has never been as fashionable—nor effortless— as with "ready-to-mother" nursing brand Madri Collection. This ultimate modern mother line strives to empower nursing mothers with its highly functional and refined pieces. Undeniably chic, this Vogue favourite's belief that fashion doesn't end with motherhood allows unapologetic style lovers to embrace their passion, whether you are team breast or pumps.
Hatch Gal
This Meghan Markle favourite can easily be described as royalty-appropriate effortless essentials for all stages of motherhood. Both trendy and timeless, Hatch Gal dresses smart and busy mamas who still wish to express themselves through fashion despite a new hectic schedule and extra responsibilities. The extensive line includes stylish and practical pieces for functional looks that say more than simply mom-on-the-job. 
Wylder Shop
Boho California store Wylder Shop is the ultimate online stop for hippie chic pieces suited for the new mom. From wrapped top jumpsuits to Indian gauze dresses the women's section offers easy breastfeeding access pieces. Even better? The shop includes stunning non-kitsch mother-daughter-son twinning possibilities.
No matter your parenting style, fashion taste, breastfeeding habits or preference for pumping your milk, there are stylish, modern, practical and elegant options covered in secret zips to allow you to be the best mother you can be while still having fun with fashion, expressing yourself through clothes and looking and feeling your best. And if you feel like wearing your husband's old t-shirt for three days straight, no one will judge you.
---
Cover photo credit: @storq | Instagram