The best hair conditioners for a shiny healthy mane
Treat yourself to some extra effective pampering thanks to these best hair conditioners that will give you healthy lustrous hair.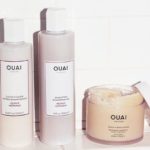 A hair specialist whose name I forget once said that one should apply hair conditioner every time one's hair gets wet. As someone who used to often skip this crucial step, I can now see that how often you are willing to devote the extra shower time has a lot to do with the quality of the product you are using. It should give life to your mane without making it heavy and consequently killing your volume game.  Here are the best hair conditioners to properly treat your mane and make you look forward to getting your head wet.
Advertisements
Rahua
Bring the rejuvenating properties of the rainforest into your shower with Rahua's hair product line. Free from paraben, sulphate and gluten, the brand's nontoxic luxury conditioners will leave you with lustrous, healthy hair thanks to the highly effective qualities of organic Amazonian-grown plant-based ingredients. A large array of specialized treatments ranging from classic to coloured hair treatment and including hydrating and voluminous ones will certainly meet your hair needs. Rahua is the best way to go natural without sacrificing quality.
Advertisements
Ouai
You've probably heard of Ouai, which is already proof of the product's well-deserved spot on this list. Sure, the fancy packaging will look great in your bathroom, but Ouai is a lot more than good design. The multi-use line will make your mane look shiny, hydrated and will give it a divine smell. Ouai is about bringing out your natural beauty in the Parisian casual-chic way. It's about accessible luxury and being your own personal glam squad.
Advertisements
Kérastase
The Parisian brand is a salon favourite. Kérastase is the way to go if your hair is in need of special treatment of any sort. Fine, dry, damaged, coloured and coarse hair, all types get their specific formula created to answer any specific needs. Try paring your conditioner with the shampoo from the same line and even other products if you are in the mood for some extra care and bomb hair.
Advertisements
Oribe
Treat yourself to the best of haircare with this award-winning professional number. The sumptuous packaging is only a slight reflexion of the luxury it contains. Formulated beyond the industry's standards, Oribe's products are paraben, sulphate and sodium chloride-free and even contain UV protection. Already sold? Then we probably don't have to tell you that their light and seductive signature fragrance was created exclusively for the brand by a French perfumer.
Living Proof
Living Proof brings technology to the beauty world. The brand is an alliance between creative hairstylists and biotech scientists working together to break free of conventional products' limitations. The result is a patented fresh line bringing the best hair care and freedom in all simplicity. Accessible and life-changing, Living Proof might very well be your fit, whether you are interested in the science behind it all or are really just here for killer hair.
Dove
People tend to hate on drugstore brands. Unfortunately not entirely unfounded, this mass prejudice should not be extended to pharmacy beauty products as a whole. Cheap and easy to find quality haircare exists. And next time you find yourself standing in aisle 8 in total despair as to what conditioner to reach for and give your mane a breath of life, just go for one of Dove's many formulas.
Bumble and Bumble
Although Bumble and Bumble's big worldwide break is rather recent, the brand's history goes back to 1977. The fashion-forward daring brand is a New York City born and raised effort at full hairstyle creativity expression. Fresh, young, fun and innovative, Bumble and Bumble offer years of expertise condensed in versatile high-quality products well established in the hair and beauty industry.
New Wash
The name says it all. But for those who are still unfamiliar with the revolutionary Hairstory product, we are still going to explain. New Wash is the solution to simplify your haircare routine, clear out your bathroom and turn heads all at once. Literally all at once, because this simple product encloses a shampoo, a conditioner, a detangler and a repair treatment in a single bottle. Wet, apply, massage, rinse and done. Less time in the shower, more time conquering the world. (Also you might save water.)
Davines
From the creators of Davines salons comes an underground, sustainable line of hair products that deserves recognition. Their ethical practices and strangely appealing packaging beautifully complete effective and scientifically engineered goods. Davines' Essential Haircare line is formulated to meet any particular needs and all include an active ingredient sourced from a sustainable high-quality Italian farm.
IGK
IGK doesn't do boring. The trendy haircare brand encourages bold glamorous hair both on paper and in action. Their personal formula – work hard but play harder – transpires in their products which cater to the most socially active clientele. IGK wishes to redefine haircare by offering the modern generation products that will fit their every mood and allow you to express yourself fully, whether you want to go big or keep it effortlessly chic… And that includes taking care of your mane in-between crazy dos with proper conditioner.
Whether you admit it or not, hair plays a big role in self-expression. No one wants flat sad-looking hair and especially not breakage. Whether you're an over-the-top kind of gal or an all-natural type of lady—or man—healthy is always the way to go. Yet, the extremely saturated beauty industry can make your quest for perfect product expensive, unpleasant and even unsuccessful. So, we spared you the hassle. No matter your style, these 10 best hair conditioners will take care of your hair and give you luscious-looking locks.
---
Cover photo credit: @oribe | Instagram