10 fun Mason jar gift ideas to offer for any occasion
Homemade gifts are fun and add a nice personal touch to any occasion. Take a look at these mason jar gift ideas to give at birthdays, parties or holidays.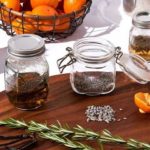 Birthdays, anniversaries, weddings, holidays, dinner parties, there is always a celebration for you to attend. If you're tired of going to the mall, aimlessly wandering from store to store, trying to find something original for your friend, coworker or family member, why not make your gift? Mason jar gifts are fun, creative, personalized and perfect for tight budgets. Whether the giftee is a foodie, decor addict or beauty enthusiast, these 10 fun Mason jar gifts ideas will please everyone on your list.
Advertisements
A gift for the culinary expert
Know people who love cooking and trying new ingredients? Make them a rosemary, orange and thyme flavoured salt. This recipe by The Rising Spoon only needs 4 ingredients (salt, fresh rosemary, fresh thyme and oranges) and you can easily make it in a few hours. Buy a couple of small mason jars and gift this salt to your amateur chef loved ones. This recipe is perfect in the kitchen but it can also be used as a body scrub and a bath soak too! Brilliant.
Advertisements
A gift for the holiday-obsessed friend
Great for a Christmas gift exchange or to give to your loved ones during the cold winter months, this gourmet hot chocolate Mason jar recipe is pretty and yummy.  A peppermint hot cocoa mix is perfect for someone you know with a sweet tooth. All you need is powdered milk, cocoa powder, sugar, salt, chocolate chips, candy canes and marshmallows. Add some cute decorations like on the image above and voilà! You've got a gourmet gift.
Advertisements
A gift for the cocooner 
Tea is always a great gift to give since most people enjoy this hot beverage, especially in the winter time. Gifting your own tea you made though is an even better gift. Hearth & Vine's hot fruit tea mix only requires a few ingredients and can be whipped up in a few minutes. Add a cute tag and a cinnamon stick to your Mason jar to add a personalized touch.
Advertisements
A gift for the sweet tooth
Do you know someone who has a sweet tooth but hates baking? Make them some fudge-y brownies in a jar so all they have to do is put the dry ingredients in a bowl and add the wet ingredients. The different layers of dry ingredients add a nice touch of colour and contrast.
A gift for the wellness guru
Candles are always appreciated so why not make your own and gift them to your loved ones? Choose your favourite scent, whether it is lavender, vanilla, rose, peppermint, etc. and add dried flowers as shown above to add some colour. Of course, this is a little bit more time consuming and complicated than other Mason jars gift ideas but if you like DIYs, this is your time to shine. Follow the steps on the Adventures in Making blog to make this amazing gift for the people you love.
A gift for the plant lover
A great decoration idea and easy to recreate, these Mason jar hanging planters will look great in your coworker's office or your sister's new apartment. All you will need are some pebbles, dirt, a plant and strong cord. Make a hole in the mason jar, tie a strong knot and add the pebbles, dirt, and plant to complete the project. If your DIY skills are not as sharp as you thought they were, you can always buy the hanging planters on Etsy for less than $30. No one will know.
A gift for the homemaker
This gingerbread granola is delicious, affordable to make and only takes a few hours out of your day (i.e. the morning before your party or birthday). Filled with good things like oats, coconut, almonds, ginger, white chocolate chips, dried cranberries, roasted pistachios, etc., this granola will impress all your homemaker friends. Ideal for Christmastime, make a double recipe and gift some to everyone on your list.
A gift for the pickled food enthusiast
Pickled foods always taste better when they are homemade (is it the love that goes in it? The lack of preservatives?). Spread the joy and gift these pickled beets from The Kitchn to your favourite people. Pickled beets taste great in fresh green salads, as side dishes with a deli meat sandwich or alone as a snack. This recipe only requires 6 ingredients: beets, whole mustard seeds, orange slices, white wine vinegar, water, orange juice and salt. Even your most gourmet friend will be impressed!
A gift for the Martha Stewart devotee
An excellent gift for a teacher, distant cousin or for a work gift exchange, this simmering potpourri by Hearth & Vine will fill any house with a delicious smell. Easier to make than it seems, you will surely impress the crowds and we bet you'll be sending this recipe to a few friends. This recipe is more wintery so you can adapt it to the time of year with seasonal ingredients.
A gift for the beauty guru
With only 4 ingredients, this yummy smelling body scrub by The Gunny Sack is the perfect Mason jar gift idea for all your loved ones… and you! Make an extra batch for yourself and scrub away all your dead skin. It smells incredible and will make any beauty-obsessed guru squeal in glee! This recipe uses strawberries but you can choose other ingredients like roses or lavender if you're feeling adventurous.
You don't have to run around all day, going from store to store to look for a special gift for your next party or dinner get-together. Choose from one of these Mason jar gift ideas and create a personalized gift for your friends and family! They will love how much thought and time went in this gift, even if it only took you 1h to complete. We'll never tell!
---
Cover photo credit: @masoncraftandmore | Instagram