10 exhilarating activities for adrenaline-driven people
From the bottom of the sea to the highest mountain tops, these frightening adventures will give the boldest adventurers a good dose of adrenaline.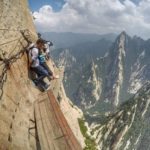 Jumping off a roof, rock climbing, cycling in undergrowth… Are your loved ones starting to wonder how much you care about life? Thankfully, you're not the only one who enjoys thrilling adventures. You only have to get caught up in the game once to find yourself thinking of a new way to generate this addictive and indescribable sensation. Similar to a mixture of fear and intense excitement, it can become both a drug and daily activity for those who get fueled with adrenaline. If nothing is ever exciting or dangerous enough for you, these 10 crazy activities will be worth the trip and will quench your unquenchable thirst for thrills… Those who are anxious should abstain.
Advertisements
Macau tower bungee jumping

Many adrenaline junkies are likely to have already crossed off bungee jumping from their list of things to do before they die. Relatively accessible anywhere in the world, this activity is a classic source of thrills. However, no one can claim to have made the great leap until he or she has taken the plunge from the Macau tower in China. With a height of 233 meters, this jumps holds the Guinness record for the highest commercial bungee jump in the world. This jump is so high that a special rubber band was specially designed to make this experience possible. All you have to do is drive to the city of Macao and choose between jumping backwards or forwards.

Advertisements
Abseiling down a waterfall
There is only one good reason to climb the Auyán-Tepui mountain in Venezuela: to come back down. From the top of this important plateau in the heart of the tropical forest is born the magnificent Angel Falls waterfall. With a height of 979 meters, this is the largest in the world and it is possible for you to abseil down. First, an organized expedition takes travellers to the top of the mountain before guiding them on a two-day abseil down Angel Falls. Participants must, therefore, spend an entire night in a camp halfway between earth and sky.
Advertisements
Mount Everest skydiving
What better place to live a parachute jump than near the highest mountain in the world. This adventure, in the heart of Sagamartha Park, offers the most courageous people the chance to discover Mount Everest with, as a bonus, a good dose of adrenaline. The willing participants can then fly into the Nepalese sky and launch into the void from the top of an airplane at about 29,500 feet in the air, beyond the summit of Everest.
Advertisements
Freediving
In the bay of a cove on the beautiful island of Long Island in the Bahamas lies an imposing blue hole aka a sinkhole filled with water called Dean's Blue Hole. This terrifying abyss in the eyes of those who frequent the place for its splendid beaches and its turquoise water makes, however, the happiness of the amateurs of freediving. Neophytes in search of thrills can venture there as part of a four-day beginner course offered by Vertical Blue.
Piloting a jet-powered fighter aircraft
Whether it is to realize a childhood dream or simply to experience strong sensations, this company offers you the chance to become a real jet pilot for a day. The more adventurous passengers can choose to take control of the co-pilot on their accompanied flight aboard a Mikoyan MiG-29, an Aero L-39 Albatross, a Hawker Hunter or one of the other available aircrafts. However, those who prefer to leave full control of the aircraft to the pilot are unlikely to fall asleep. The plane will perform high aerobatic manoeuvres such as loopings, barrels and splits-S.
Sand surfing
No need for hats and mittens and surf down sandy mountains instead. Sandboarding, or sand surfing, is particularly good in Peru and is practiced in several places where the sand dunes are generous. True fans of extreme sports will want to go there especially since it has the longest slope in the world. Travellers can, therefore, go to the city of Acari, put on a board specially adapted for sliding on the sand and descend a dune that is over 5500 feet long.
Great white sharks
South Africa's climate is ideal for swimming… And for white sharks. Adrenaline fanatics can take advantage of these idyllic conditions to make beautiful encounters and experience strong emotions. Cape Town is one of the best destinations for swimming with one of the most terrifying and dangerous marine species, the great white shark.
Hiking on the Huashan Mountain
For a hike that has nothing in common with a nice walk in the woods, Mount Huashan is the destination of choice. This mountain near the city of Huayin in China offers the most dangerous trail in the world. The 12-kilometre ascent takes place on the side of a mountain on a very narrow path formed by a few wooden boards with a worrying appearance. After climbing 1000 metres, the most adventurous hikers will reach the summit at an altitude of some 2200 metres.
Whitewater rafting
No matter what rapids you venture into, a rafting adventure will give you a good dose of adrenaline and a good night's sleep. However, those who are looking for a big test have to attack the Zambezi River in Zambia. This intimidating course is considered extremely difficult in the world of rafting because of its impressive whirlpools, its rugged terrain and indomitable waters.
Cliff jumping
Whether you master backflips or prefer traditional diving, nothing is better than an incredibly high cliff to satisfy your need for thrills. Although lower in altitude than bungee jumping, diving off a cliff offers the added excitement of a free fall. Many escarpments around the world are worth the trip for a few seconds of euphoria. Among others, Mexico, Jamaica, Greece and Australia offer cliffs worthy of this name to jump and jump again until exhaustion.
The planet is full of opportunities to quench your thirst for danger, satisfy your need for adrenaline, overcome your fears and constantly push human limits. Just take your courage with both hands and bite into life with your teeth… And if you scream in terror as you throw yourself from a tower 233 metres high, no one will judge you.
---
Cover photo credit: darrenegan22/Instagram