These Bali beaches will make you want to travel to Indonesia
Indonesia is a dream destination for many reasons, including its heavenly beaches. Here are 10 Bali beaches to discover during your trip to Bali.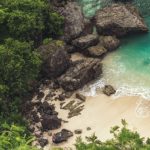 If Bali is not yet part of one of your future travel destinations, you should strongly consider integrating it into your travel bucket list. This small island in the Indonesian archipelago is popular with many tourists for its splendid green hills, its forests that stretch as far as the eye can see and its sublime white sand beaches that make you want to let the sun shine on you. Bali has a lot to offer to travellers looking for peace and quiet, but also for those looking for adventure. That's why we invite you to discover 10 of the most beautiful Bali beaches. You will probably want to book your ticket to Bali after reading this article!
Advertisements
Seminyak Beach
Seminyak Beach is the perfect place to go if you want some action on the seaside. Over a distance of about 5 km, you will find several bars, gourmet restaurants and hotels, in short, something to entertain you between swimming and tanning sessions. If you ever want a little more adventure, know that you can take surf lessons and try to face the Indonesian waves. In any case, you will surely enjoy the lively atmosphere of this popular beach!
Advertisements
Nusa Dua Beach
Nusa Dua Beach is on the brink of perfection with its wonderful seaside resort. You will find luxurious hotels surrounded by palm trees on the seaside, near several restaurants and a shopping complex. This is a beach that is popular with families. So feel free to go with the children and rest on the beach while they paddle in the water or do one of the many water activities available to them.
Advertisements
Balangan Beach
If surfing is one of your favourite sports, Balangan Beach is ideal for you. This Bali beach, which is far from the hectic atmosphere of Seminyak Beach, invites you to come and lie down on one of its comfortable deck chairs so you can relax in peace without the horde of tourists from other beaches. As mentioned above, you can also surf or simply let yourself be seduced by the Balinese culture by enjoying one of the local dishes served on site.
Advertisements
Sundays Beach Club
The Sundays Beach Club is also to be included in your list of Bali beaches to visit. This private beach of the Ungasan Clifftop Resort invites you to admire its turquoise water and the immense cliff overhanging it. In addition to the spectacular view you see from this beach, you can also see fireworks and do various sports, such as kayaking and snorkelling.
Padang Padang Beach
This small beach is popular not only for the beauty it offers to the people who go there but also because it was featured in the movie Eat, Pray, Love. Since this beach is quite small, it is better to go there in the morning to avoid the many tourists and thus be able to appreciate its landscape at its true value. In fact, although Padang Padang Beach is a victim of its reputation, it is definitely worth a visit!
Kuta Beach
If you were already thinking of going on a trip to Bali, you've probably heard about Kuta Beach, the most popular seaside resort in Bali. With an area of 2.5 km, this sublime beach is ideal for surfing. It was here, by the way, that the sport became popular in Bali. You will find everything in Kuta Beach: beach bars, hotels, discos and shopping malls. Of course, nothing beats a view of the sea early in the morning or when the sun sets…
Jimbaran Beach
For a peaceful haven, Jimbaran Beach is the ideal place. This beach has several isolated areas, which allows you to recharge your batteries in total peace. This is probably why many celebrities choose this beach when it comes time to travel to Bali. In addition, you can stay in a 5-star hotel and thus be able to visit Jimbaran Bay every day.
Canggu Beach
Located between Seminyak and Tanah Lot, Canggu Beach is visited by many surfers. You will certainly be charmed by its black sand beach, its bright green rice fields and the villas that border it. You can stay in one of these residences to enjoy the view of Bali or take a room in a 5-star hotel, nothing less! In any case, this sublime beach will not disappoint you. This is one of our favourite Bali beaches, hands down.
Suluban Beach
When the tide is low, you can easily swim in its turquoise waters while admiring the caves and cliffs that surround it. It is certainly essential to be aware of the tides, because in case of high tide, you will not be able to swim there.
White Sand Beach ou Virgin Beach
This beach, known as White Sand Beach or Virgin Beach, is more suitable for adventurous travellers as it is a little harder to access. However, it is worth a visit with its calm waters, perfect for swimming, and a great place to get local seafood cooked on the grill.
Bali beaches are, therefore, an ideal destination for travellers looking for spectacular views and adventures. It is also a place where water sports are very popular and local culture is extremely interesting. So it's in your best interest to go once in your life!
---
Cover photo: Photo by Artem Bali on Unsplash