The most beautiful European beaches to visit at least once
Beautiful European beaches or Caribbean seashores? Your Instagram followers might wonder where you are... And totally envy you.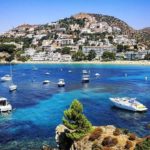 Turquoise water, warm sand and a visit to a century-old Portuguese vineyard all in the same day? It is possible! Enjoy incredible coastal landscapes in addition to various cultural legacies of the old continent at these sublime destinations worthy of the tropics. Although these sublime European beaches are the perfect background for your Instagram photos that will make everyone jealous, you might prefer to take a break from social media in order to fully enjoy the beauty and life of the place you are visiting… Or not.
Advertisements
San Sebastian, Spain
A renowned summer destination, San Sebastien is teeming with holidaymakers and attracts an eclectic crowd that participates in the life of the place. Surfers, swimmers, vacationers and epicureans come from all over the world to enjoy the hot sun, culture and enchanting scenery of this beautiful seashore.
Advertisements
Isle of Lewis, Scotland
This picturesque place full of history will transport you into a Jane Austen novel-type setting. To the northeast of Scotland lies the remote and beautiful Isle of Lewis. For a most relaxing stay, escape to the uninhabited areas to enjoy the beauty and calm of the beaches and the pure, unspoiled nature of the surroundings.
Advertisements
Porto Ercole, Italy
This charming coastal town of Tuscany hides some of the most beautiful beaches in Europe. This chic yet discreet little corner of paradise is ideal for enjoying the little pleasures of life in style. Take out your most colourful bikini or your short, colourful swim trunks and sunglasses and go sunbathing in an idyllic setting.
Advertisements
Praia de Albandeira, Portugal

Often chosen as a holiday destination in order to prick a colourful parasol on one of its superb beaches and enjoy a shameless lazy stay, Portugal keeps some well-kept secrets. In addition to discovering a rich culture and superb architecture, the most discerning travellers will find superb beaches rarely visited by tourists looking for a simple tan.
Cornwall, England
Who would have thought that beautiful beaches worthy of an exotic destination are only a few hours by train from the city of London? The charming county of Cornwall is a real little slice of paradise in the heart of the English countryside. White sand, turquoise water and charming picturesque villages… The only downside is the temperature of the sea, which could easily displease people who hate the cold.
Oludeniz, Turkey
The village of Oludeniz in southwest Turkey is one of the most beautiful exotic destinations in the world due to its sublime aquamarine lagoon. Although the piercing blue of this nature reserve is at the heart of interest in this charming region, the beauty of the coast leaves no one indifferent. Thrill seekers can enjoy the view during a paragliding tour, which is very popular in the area.
Split, Croatia
Its decor is certainly magnificent, and although some corners offer a more ancestral architecture and an atmosphere perfect for relaxing, this region of Croatia is an ideal place to celebrate. This Croatian "Ibiza" is home to impressive yachts and a meeting place for night owls from all over the world.
Île de Ré, France

In terms of superb beaches, France has nothing to envy the rest of Europe. Among the sandy areas to visit in the region, the Ile de Ré, or White Island should be added to your list of holiday destinations. While you're there, be sure to take a stroll along the boardwalk and stop for delicious and fresh seafood dishes.

Cala Macarella, Spain

Cala Macarella compares beautifully to other famous beaches in Spain: turquoise sea and fine sand… Just as beautiful but this beach is also much quieter. It is the travel destination for those who wish to relax in a paradise setting rather than party with hordes of people.

With its superb selection of small corners of paradise, Europe is undoubtedly one of the best destinations to visit for holidays in the sun. From the picturesque landscapes of Scotland to the chic fishermen towns of Italy, there is truly something for everyone.
---
Cover photo credit: maikel_mig/Instagram