Here are the 10 most beautiful libraries in the world
Even if you're not a library rat, the impressive aesthetic of the most beautiful libraries in the world will totally charm you.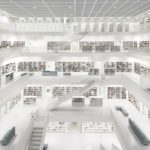 A library is like a gold mine for an avid reader. Without spending any money, you can find everything you need to make yourself happy. Library rats' favourite landmark, these buildings are often so grandiose and magnificent that even when reading is not your favourite pastime, it is still worth visiting them. Here are the 10 most beautiful libraries in the world to add to your itinerary during your next trip to a foreign country.
Advertisement - Continue reading below
Abbey Library of Saint Gall – Switzerland
A visit to the city of Saint-Gall and its Abbey is an absolute must when you travel to Switzerland. For a very reasonable price, the Abbey gives you access to its impressive Baroque-style library that only inspires us with incomparable inner well-being.
Advertisement - Continue reading below
Zhongshuge-Hangzhou Library – Shanghai, China
A detour to Thames Town during your next trip to China is almost mandatory. Considered the most beautiful in the world, the Zhongshuge-Hangzhou library has been open since 2016. Divided into 9 rooms, each with its own chic and modern theme, is more than 1 000 square metres.
Advertisement - Continue reading below
Marucelliana Library – Florence, Italy
Private library to the XVIII century abbot Francesco Marucelli, the Marucelliana library was given to the city of Florence after the death of the latter, in 1752, who wished to share it to the public especially to the impoverished. A rich Italian patrimony, the building now houses more than 630 000 volumes and opuscules, whether it is incunabula, manuscripts or letters as well as its important collection of engravings and drawings that date back to the XV to the XVIII century.
Advertisement - Continue reading below
 Admont Abbey Library – Austria
Possessing more than 200 000 works, the Admont Abbey library is the biggest monastic library in the world. Possessing manuscripts and works of art that date back to the Middle Ages up to the Renaissance, this Baroque-style Austrian landmark is certainly one of the most beautiful libraries in the world.
Biblioteca Joanina – Coimbra, Portugal
Designated as a UNESCO World Heritage Site, the University of Coimbra, in Portugal, deserves to be visited at least once, and not without visiting its magnificent library. Established since the 18th century on the university campus, it is one of the only libraries in Europe never to have shown censorship during dark periods.
Stadtbibliothek Stuttgart Public Library – Germany
Located in the heart of Milan Square, the public library in Stuttgart, Germany, is a real architectural jewel. Created by the Korean Eun Young Yi, it seems to be only a large enclosed space 40 meters high when we see it from the outside, but when we enter it, it is rather 14 meters high and a minimalist decor that welcomes us. Containing very little furniture and mainly lit only by the light of the central ceiling, it serves as a real spiritual and cultural space in the region.
Tianjin Binhai Library – Tianjin, China
The Tianjin Binhai Library in China is a true work of futuristic art. In the centre of this 33,700 square metre building is a huge, bright, spherical auditorium, while the library walls are lined with wavy shelves that not only store books, but also form stairs and benches.
Trinity College Library – Dublin, Ireland
Established in 1592, Trinity College is Ireland's most renowned university, but also one of the most beautiful in the world. It goes without saying that its library is just as impressive as the rest of its buildings. It was J.K. Rowling's inspiration for Hogwarts. Composed of several buildings, it has more than 5 million books, including several famous works, such as the Book of Kells, an illuminated manuscript that dates back to 820. Trinity College Library's Long Room is one of Ireland's most visited places and with good reason; it is certainly one of the most beautiful libraries in the world.
Walker Library – Minneapolis, United States
Located in the heart of Minneapolis, the Walker Public Library is certainly worth a visit. Built in 1981, it takes its name from its former president, a local art collector and businessman named T.B. Walker. Its decor is absolutely enchanting and gives us the impression of diving into another era.
Library of Alexandria – Egypt
The Alexandria Library was built in 1995 in partnership with UNESCO. Located on the same site as the famous library of the ancient world, it has one of the largest reading rooms in the world. Indeed, the latter extends over 7 of the 11 floors of the building. There are 180 study rooms and 8 million books.
Even if you are not a reading fanatic, many libraries around the world still deserve to be visited. Their architecture is often grandiose and you will be amazed by these buildings filled with beauty and knowledge.
---
Cover photo: Vogue