The 15 most beautiful waterfalls to visit in Costa Rica
Whether it is to cool yourself down or for a romantic picnic, there are many breath-taking waterfalls to visit in Costa Rica.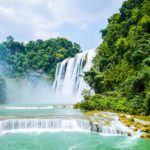 A popular destination for travellers, Costa Rica is full of majestic places just waiting to be discovered. From hiking trails to beaches and volcanoes, there is no shortage of activities and things for you to visit. In this country where discovering nature is certainly one of the main attractions, the cascades and waterfalls that dot its territory are undoubtedly natural wealth not to be missed. Here are the 15 most beautiful waterfalls to visit in Costa Rica on your next trip to this amazing country.
Advertisement - Continue reading below
El Pavon waterfall
Located in the South Pacific, near the city of Uvita, the El Pavon waterfall is not very big, but it is still impressive to see thanks to the small rock in its center. Moreover, its access is free and generally few people go there.
Advertisement - Continue reading below
 Rio Celeste waterfall
Located near the Tenorio volcano, the Rio Celeste waterfall has one of the bluest waters thanks to the volcanic minerals below its surface. The path that leads to the waterfall offers an unobstructed view of the volcano, shelters all kinds of animals such as white-faced monkeys, poisonous frogs or blue butterflies, and offers hot springs and pools of boiling mud.
Advertisement - Continue reading below
Catarata del Toro waterfall
The Catarata del Toro waterfall is located on a private reserve between the Poás Volcano National Park and the Juan Castro Blanco National Park. It is located on the crater of an extinct volcano and measures 90 meters high, making it the highest waterfall in the country. It can be admired from its base and from various strategically located lookouts, but for the more adventurous, it is also possible to appreciate it closely by abseiling down.
Advertisement - Continue reading below
Uvita secret waterfall
A small and very popular village in Costa Rica, Uvita is the landmark of one of the most beautiful waterfalls in the country. Most people will visit the one a few steps from the Cabinas Los Laureles, but for those who are ready to go for a walk and go to some trouble to find it, the "secret waterfall" welcomes practically no tourists and is absolutely enchanting, in addition to being able to visit it for free.
Nauyaca waterfall
Visiting the Nauyaca Falls is one of the most popular activities in southern Costa Rica. Not only can you admire the dazzling natural scenery, but it is also possible to swim in its pool of about 1000 square meters, to ride a horse or to do some climbing.
Sueño Azul waterfall
Located on a private reserve in the Sarapiqui Township, the Sueño Azul waterfall is set in such an enchanting setting that several films have been shot there, for example After Earth, with Will Smith. There are tours organized through the Sueño Azul Hotel, which also offers several other activities.
La Cangreja waterfall
When you are lucky enough to face the wonder of La Cangreja, it is hard to believe that it is one of the least visited waterfalls in Costa Rica. Located to the west of the Rincón de la Vieja Volcano National Park, the place is best known for its hot geothermal springs, while La Cangreja is more refreshing.
La Fortuna waterfall
70 metres high, the La Fortuna waterfall unfolds in a green setting into a volcanic rock canyon. Located in the province of Alajuela, several attractions are close to the waterfall, such as hiking trails and the Arsenal volcano.
La Paz waterfall
Located 24 km north of the province of Alajuela, the La Paz waterfall is located in a complex with five waterfalls and is certainly one of the most photographed in the whole country. In addition to admiring the immense beauty of this waterfall, the La Paz Waterfall complex is home to an aviary, an insectarium, a butterfly reserve and a hummingbird garden, among other things.
Llanos del Cortés waterfall
The Llanos del Cortés falls are located 4 km north of Bagaces, some 500 metres from the main Interamericana road. Majestic and romantic, it is the ideal place to have a romantic picnic on a weekday, when the locals don't have time to go out there and relax.
Bijagual waterfall
Near Jaco, on the central Pacific coast, lies the Bijagual waterfall, which flows from the mountains of Carara National Park. To get there, you must ride on horseback and follow a guide through the lush forest that surrounds it. On the road, you can see tropical birds such as toucans and red macaws, but also tropical animals such as sloth, frogs and monkeys.
Diamante waterfall and cave
In the heart of the jungle of Las Tumbas, near Dominical and San Isidro del General, lies the impressive 183 meters wide Diamante waterfalls. However, what makes them so exceptional is undoubtedly the cave that is located between them and in which one can spend the night. Located on a private property, it is necessary to think of reserving the visit in advance.
Montezuma waterfall
Montezuma is a small town in Costa Rica that is surrounded by three spectacular waterfalls. Hidden in the jungle, they are accessible by a small road south of the city. An intermediate hike is necessary to get to the first waterfall; then the route becomes a little more difficult to reach the other two, but the effort is certainly worth it.
Los Chorros waterfall
Located between the small towns of Chilamate and Tacares, the Los Chorros waterfalls are part of the Municipal Recreational Park Los Chorros. These falls are the main attractions of the area, there are two large waterfalls: Catarata Zamora and Catarata Prendas. Zamora is the more accessible of the two since the water level is sometimes too high to allow hiking to Prendas. About 40 meters high, they are magnificent and impressive.
Jaco hidden waterfall
Hidden on the grounds of a private farm in the mountains of Jaco, these waterfalls are a true wonder. Accessible only by Jeep, they are rather unknown since they are not found on any map, therefore perfectly peaceful. Despite their sometimes smaller size, the magic that works in this little corner of paradise makes them a must.
There are so many waterfalls to visit in Costa Rica, so many that you have to make choices. This country is famous for its impressive waterfalls, but these falls mentioned above are certainly worth the detour.
---
Cover photo credit: Min_Jing | Bigstock