The best hotels in Prague for an unforgettable holiday
Enjoy the romanticism and sumptuousness of the Czech Republic's capital with the best hotels in Prague.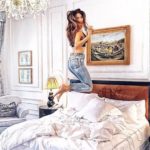 A city of great romanticism marked by history and the many eras to which it has survived, Prague is one of the most popular holiday destinations in Central Europe. With its medieval and Baroque architecture, the Czech Republic's capital is of unparalleled beauty. Its many Gothic churches, impressive castles and magnificent historical monuments give the metropolis, known as the city of a hundred spires, a majestic elegance. To fully experience bohemian luxury while in the city, treat yourself to a stay in one of the 10 best hotels in Prague.
Advertisement - Continue reading below
Augustine
Located a few steps from Prague's majestic Castle, the Charles Bridge and the John Lennon wall, the luxurious Augustine, a Luxury Collection hotel, offers an authentic experience of the essence of this historically rich city. Connected to the Baroque St. Thomas Church, the establishment draws its inspiration from the Augustinian monasteries of the 13th century. The hotel has 101 rooms and apartments, all unique, including four suites decorated by Olga Polizzi. You can also find a restaurant, a terrace, a bar and a sublime landscaped garden.
Advertisement - Continue reading below
Four Seasons Hotel Prague
Strategically located in the heart of the city, the Four Seasons combines contemporary elegance and classic chic with Czech style. In addition to a superb view of the Vltava River and some of the city's most important landmarks, the hotel includes a splendid spa offering ancient traditional treatments as well as treatments using the latest technologies. All this in a sublime establishment with neoclassical architecture.
Advertisement - Continue reading below
Aria Hotel Prague
Music lovers must live the experience of the Aria Hotel. Textures, colours and works of art skilfully dress this superb Lesser Town establishment, including the magnificent Mozart Suite. This boutique hotel with 51 rooms and suites inspired by as many styles, authors or pieces of music features a fine art deco restaurant, a roof terrace, a music library with concierge, a private cinema room, an atrium, a lounge with fireplace and the oldest baroque garden in Prague.
Advertisement - Continue reading below
The Emblem Hotel
Art and design lovers, on the other hand, should enjoy the very refined Emblem Hotel. This one stands out for its modern elegance characterized by a refined and comfortable contemporary design featuring rich materials and notable elements. Developed according to a private home concept, the establishment invites its visitors to enjoy the M lounge, which includes a living room, a drawing room, a "pantry" room, an entertainment room and a smoking room. In addition to its beautiful pieces, there is a steakhouse and a spa.
Miss Sophie's
The infinitely friendly Miss Sophie's boutique hotel welcomes you in its bed and breakfast style establishment. Rooms of rural romanticism offer a poetic touch to the place, which complements well the essence of the Czech Republic's capital. Miss Sophie's offers breakfast or brunch. Their superb rustic spa with its vaulted ceiling and brick walls is a Zen space that is faithful to the city and conducive to a moment of relaxation.
Boho Hotel
Of a modern style not very characteristic of the mother of cities, the Boho Hotel deserves its place on this list of the best hotels in Prague. Its contemporary décor with minimalist furnishings remains classic and promotes calm and comfort. The bright and elegant restaurant offers an international gourmet cuisine. A wellness area and a sports hall complete the range of services offered in this establishment of choice.
Hotel Neruda
The Design Hotel Neruda offers comfort in the form of rustic charm with a modern touch. In addition to the romantic character of the place, several rooms have an open-air bath. The bright and light rural décor of the latter is contrasted by the superb modern and hushed design of the public spaces. This ideal place for a couple getaway also features a pleasant restaurant and spa.
NYX Hotel
The NYX hotel offers the best in art deco. This colourful, chic and extravagant establishment is for sparkling personalities who want to experience luxury in a different way. Enjoy discovering the many unique and vibrant scenery elements. Located close to the Mucha pedestrian zone and museum and a short distance from Old City and several other attractions, it is easy to discover the city before returning for a drink at the hotel bar. Bonus: Dogs are welcome.
Hotel Cosmopolitan
The boutique hotel aspires to "a modern approach to history in the city centre of Prague". The result is a luxurious establishment with a classic and contemporary design. Set up in what was once a town house dating back to 1889, the Cosmopolitan offers a contemporary space while preserving the influences of the golden age. There are 106 rooms and suites equipped to meet all your needs and desires.
Carlo IV, The Dedica Anthology
A stay in the golden city would not be complete without a few nights in a majestic room in the neo-renaissance style. Evocative of the capital's rich historical heritage, Carlo IV offers a luxurious experience saturated with noble materials and ornaments. Cathedral ceilings with frescos, marble, gilding, leather and velvet decorate this former bank, transformed into 152 rooms and suites, all unique in a more contemporary and antique style.
For tighter budgets, there is also the very friendly Miss Sophie's Youth Hostel with a charming décor and friendly atmosphere. So you can enjoy this great city, no matter what you can afford. However, nothing beats just one night in one of Prague's best hotels to fully experience this beautiful city.
---
Cover photo: fsprague/Instagram