All the best spots to enjoy the Budapest nightlife
Going out when travelling is always an unforgettable experience. Enjoy these 12 Budapest nightlife spots for excellent drinks and sensational views.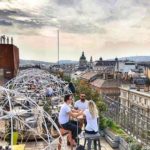 Budapest, land of thermal baths, architecturally rich buildings and goulash, is like no other city in Europe; its beauty will mesmerize you. Even though the city was heavily hit during WWII, it still looks and feels like it did in its golden age in the late 19th century. The city brims with splendid sights to see and delectable foods to taste. If you're lucky enough to travel to this city, you must know that it is also famous for its amazing nightlife. From renowned ruin bars to loud nightclubs and intimate cocktail and wine bars, you'll find the perfect place that suits your style and budget, here is a list of amazing places to explore to fully enjoy the Budapest nightlife.
Advertisements
Szimpla Kert
Szimpla Kert, the first ruin bar of the city, is a huge pub and cinema located in a converted factory. If you're a fan of alternative music, theatre or other cultural events, you'll enjoy spending a whole afternoon or evening here. There are several rooms on different floors filled with quirky furniture, graffiti and mismatched chairs you can explore and a large open-air terrace. Serving relatively affordable beer, wine, cocktails and food, this very popular place is always full and even locals love to hang out here.
Advertisements
Zsiga Bár
A tiny bar found in a narrow street in the District VIII, Zsiga Bar is a one of a kind of place you need to look hard to find. Thankfully, there is a terrace in the summertime so it doesn't get overcrowded. Filled with flea market finds like paintings, vintage furniture, tapestries and funky lights, it might remind you of your great-aunt's house back home. Great music, draft beers and a relaxed atmosphere, this little gem is worth the (sometimes frustrating) detour.
Advertisements
Bar Pharma
You won't find any medication here (even though the bar is filled with pharmacy-inspired decorations like the periodic table and apothecary-style glass containers) but what you will find are some unique and tasty cocktails made by experienced and dedicated bartenders. The small intimate setting is perfect for a quiet nightcap when you just want to drink one or two cocktails with your loved one or friends but don't arrive too late because you may not get a seat. You won't be able to resist taking a picture of your drink and sharing it on social media!
Advertisements
Sáo
Feel like escaping to exotic Vietnam for a few hours? This Jewish Quarter restaurant/bar has an incredible ambience with its hanging bird cages and lanterns. This is the perfect stop between visiting the Dohány Street Synagogue and Klauzál square. Ideal for a 5 o'clock drink and snack, Sáo offers quality food and delicious cocktails that will be a nice change from the goulash and chicken paprikash you have been eating for a couple of days. Popular with locals and only cash is accepted.
Kiosk
This gorgeous and giant space located right near the Danube river and the Orthodox Cathedral of Our Lady is worth exploring even if you don't drink. High-ceilings, trees, second story balconies and a beautiful terrace outside, you won't want to leave this serene place! Their cocktails are whimsical and inventive, filled with herbs, flowers and lesser-known liquors but they also have beer, wine and a separate cocktail list dedicated to gin and tonics!
360 bar
The 360 Bar in Budapest is an excellent way of seeing a city while admiring the sunset. It is located on the highest building of the city on Andrássy Avenue on top of the former Paris Department Store. This rooftop bar not only has amazing views but it has an incredibly long and vast drinks menu, snacks if you're hungry and speedy service. Of course, don't expect the best cocktails or the best food because the view really steals the show. One of the other great things about this bar is their igloos. In the wintertime, they have cozy igloos with furniture and tables for groups. You can be outside and admire the view without getting any frostbites.
Boutiq'Bar
Interested in handcrafted and unique cocktails in a sexy speakeasy atmosphere? Boutiq'Bar, which is located in the heart of the city on a tranquil side street, is a paradise for cocktail lovers. Listed as one of the world's best bars by Drinks International in 2012, this cocktail empire prides itself in making specialized concoctions with a touch of theatrical flair. Unfortunately, the place is so popular and famous because of its high acclaim so don't expect to see a very local crowd hanging around here a Friday or Saturday night.
Corvin
This underground club, located on the top floor of the ramshackle and communist-era Corvin Áruház department store, has two floors and a rooftop terrace you can enjoy during the summer months. Fans of techno and electro music and internationally known DJs will find happiness in this iconic Budapest nightlife place but expect big crowds of tourists, ravaging teens, and artists.
Tasting Table Budapest
On the opposite spectrum of Corvin, there is the Tasting Table Budapest. This is a cozy, welcoming and charming wine bar where you can taste some of the country's best wines. You'll learn all about the terroirs and personal stories of the wineries in a beautiful space by wine-passionate people. It's a great way to learn more about the Hungarian wine culture and taste some local products you might have never had the chance to taste. We highly suggest you reserve in advance so you don't miss your chance to experience this place.
Anker't
Another hidden ruin bar (the Budapest nightlife scene is full of speakeasy bars)! This beer garden has two courtyards, slam poetry nights, renowned DJs, and great food so you can choose to enjoy a casual drink or go all out and dance the night away.
Blue Fox
A unique bar right in downtown Budapest, Blue Fox creates incredible and inventive concoctions in a sophisticated environment. This sleek, modern and intimate bar is located in the Kempinski Hotel Corvinus hotel and really pride themselves in their creative and innovative drinks like the Oblivion cocktail, the Liquid Soul cocktail (pictured above) and the Taste of Electricity cocktail, you won't be disappointed if you're a fan of great cocktails.
There you have it! 11 distinct but equally sensational bars to explore when visiting Budapest. Whether you are more of a ruin bar goer or a jam-packed club dancer or you prefer a more quiet evening with amazing mixologists, you'll find a way to have an amazing time in this beautiful European city.
---
Cover photo: 360bar_budapest/Instagram