10 boutiques that are worth the trip to New York
Looking for stylish fashion, beauty and household clothes and objects you can't find in Quebec? A trip to New York is a must then.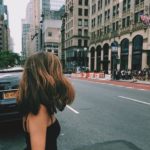 As the fashion capital of the United States, New York and its shops are worth the horrible bus ride. And even if your wallet only gets you the round-trip ticket and a good meal in the city (food over frocks), the Big Apple is worth the trip if only for window-shopping. The goal is still to take advantage of what the city's stores have to offer. That's why if you have the possibility to get your hands on a car, don't hesitate to use it. Firstly, because the trip to the city will be much more pleasant, but above all, because you will have more space to bring back your treasures. Here are 10 shopping addresses that are worth a trip to New York.
Advertisements
Glossier
Emily Weiss stormed and revolutionized a saturated beauty industry that was thought to be unchangeable. Glossier is on everyone's lips and in their medicine cabinets. However, to the brand, that is a sensation on Instagram, is unfortunately not found in Montreal stores. Visit their New York branch to stock up on everyday beauty products that focus on healthy skin and natural makeup. And whether you publish it on social media or not, don't forget to take a selfie in front of their famous mirror that says "You look good."
Advertisements
Reformation
They say it better than anyone: "Being naked is the #1 most sustainable option. We're #2". This fashion brand is made with eco-responsible clothing and this refreshing company makes fashionable pieces from durable and recycled materials. This beautiful feminine and timeless brand is available online, but nothing equals the in-store experience. You can touch and try on the clothes before making your choice.
Advertisements
Opening Ceremony
Opening Ceremony is the high-end destination for the avant-garde buyer. Sometimes streetwear, sometimes high fashion, always multicultural, the available pieces come from renowned and emerging designers in addition to highlighting designers from a different country each year. Opening Ceremony has two stores in New York. First, a shop dedicated entirely to men's fashion, then the original space, which is located at the neighbouring address and occupies four floors. It includes shoe, children's clothes, a bookstore and a women's fashion section. There are brands and designers such as Acne, Alexander Wang, Band of Outsiders, Proenza Schouler, Rodarte, Patrik Ervell, Pamela Love and, of course, Opening Ceremony.
Advertisements
Outdoor Voices
Outdoor Voices produces recreational clothing to "do things" in every day with style and comfort. The #DoingThings on the different social media networks testifies to the versatility of their pieces. Wear them for hiking, yoga, cycling, gymnastics, tennis, ballet, strength training, walking with your dog, etc. OV's colourful, durable, and affordable clothing lends itself to all your activities. And since they are not yet available internationally, the New York store is one of the mandatory shopping stops.
The Frankie Shop
The Frankie Shop dresses a modern and minimalist woman who is naturally chic and concerned about her wallet. There are only two boutiques in the world, in Paris and in NYC. Visit their Stanton Street address to find beautiful classic pieces by established designers as well as brands that are often hard to find. Faithfull the Brand, Apiece Apart, Rachel Comey, LOQ and Laura Lombardi are just a few examples.
Credo
Self-proclaimed, not wrongly, the largest selection of natural, safe and non-toxic beauty products in the United States, Credo is the place to find all your necessary well-being products. They have rare, popular and always healthy brands. This is because what we put on our skin is as important as what we ingest. The beauty Chef, Herbivore Botanicals, One Love… You'll find all your favourite brands hard to find together in one place to carry in one of their "save what your mama gave ya" bags.
What Goes Around Comes Around
This flagship vintage shop approaches the market differently. You won't spend hours searching through piles of old clothes in premises with a dubious smell in the hope of finding the rare pearl. At What Goes Around Comes Around, the work has already been done for you. And it is only the rare pearls that occupy the well-organized shelves of this Broadway boutique overflowing with unique pieces.
And Other Stories
Montreal women are looking forward to their own & Other Stories store. Until then, they can still make the trip to New York to live the full experience and try some items before acquiring them. Based in Paris, LA and Stockholm, & Other Stories designs both classic and fashionable clothing according to a social and ecological ethics. You will find stylish quality pieces to wear daily to write your own story.
American Two Shot
American Two Shot is the poster child of millennial eclecticism. In an industrial setting with rustic and modern accents, there is a colourful, uncomplicated and original fashion. Aimed at an audience in their twenties, the place offers pieces by international designers often underground, popular streetwear brands, as well as unique vintage finds. The shop is also a living space and currently houses a juice bar and a vintage pop-up.
The Apartment by The Line
The Apartment is an experience in itself. If you can't afford their luxurious merchandise, this Greene Street address is perfect to just get inspired and admire the local. The shop is furnished and filled like an inhabited apartment. It includes clothing, furniture, accessories and beauty products from The Line, which aims to offer "style in context" with a "modern and personal approach".
New York is full of good addresses and it is an excellent shopping destination. Whatever your interests, the Big Apple will amaze you and satisfy your desires. You could spend whole weeks there, but for a short weekend shopping trip or a simple day boutique hopping, these unique addresses are definitely worth the trip to New York.
---
Cover photo credit: erinjhickey/Instagram