Discover the best spas in New York City to treat yourself
Wondering where the most beautiful spas in New York are located? Here are 5 places to go to escape noise and stress.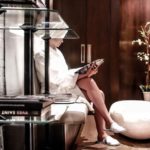 New York, also known as the Big Apple, is very interesting to visit. This travel destination is as captivating for epicureans as it is for culture lovers. Admittedly, it must be said that a trip to New York can be exhausting. After all, the pace of life of the people who live there is fast-paced! Spending an afternoon at the spa can, therefore, be a good way to catch your breath and recharge your batteries, far from the noise and visual pollution. If you want to relax, here are 5 sublime spas in New York where you can combat fatigue.
Advertisements
Shibui Spa
Shibui Spa will take you to another country with its Japanese-inspired décor. This splendid spa, which features several facilities, including a heated swimming pool and a traditional Japanese bathtub, invites you to come and relax and choose treatments where products are plant-based and, as often as possible, organic.
Advertisements
Ancient Baths Area
Aire Ancient Baths is also worth a visit, if only for its location. In fact, it is located in a restored historic building, a textile factory dating back to 1883. Going to this spa means diving into one of the six baths heated at different temperatures, taking the time to lounge on the heated marble stones or indulge in a body massage with grape seed oil.
Advertisements
Grand Spa Jones
Grand Spa Jones is also a very popular place in New York City. You can go with your friends and talk to them without fear of being reprimanded. This spa is known for its jacuzzi and bath where three beautiful waterfalls flow into it. A must-see!
Advertisements
Spa de La Mer
You have probably already seen or heard of La Mer beauty products. These are high-end products. The famous brand has decided to open a spa just as luxurious as its products inside the Baccarat Hotel. Fanatics of La Mer can, therefore, enjoy treatments with their range of products at the spa of the same name.
Ohm Spa
Ohm Spa is an intimate establishment specializing in massages and facial treatments. So it's the perfect place to go if you feel tense and stressed. You will come out much more relaxed!
There are, of course, several other New York spas worth a visit. Manhattan is full of them! Once you have completely overcome stress and fatigue, you can resume your trip to New York and venture into the various neighbourhoods with more energy!
---
Cover photo: @spastjames | Instagram