Discover Petra in Jordan: a breathtaking archaeological site
If your next travel destination is Jordan, you must absolutely visit Petra, a famous archaeological site. These are the places to see in this splendid Nabataean city.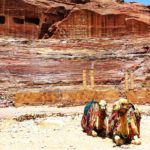 When planning a vacation abroad, there is no shortage of travel destinations. However, there are some that are more popular than ever, such as Jordan. Indeed, tourists come from all over the world to visit the famous archaeological site of Petra, located between the Dead Sea and the Red Sea. Petra, which is a Nabataean caravan city, attracts crowds for the impressive architecture of its monuments as well as its rock and sand landscape. Here is a brief travel guide on Petra to help you prepare for your visit to what is often called the "Eighth Wonder of the World".
Advertisements
Petra, a colossal park
According to UNESCO, Petra is one of the most famous archaeological sites in existence. It is therefore not surprising that it has been on its World Heritage List since 1985. Since this park has an surface area of 264,000 m², which is gigantic, we suggest that you take 2 or 3 days to visit it if you really want to appreciate the true value of this city. It would be a shame to travel to Petra to see only part of the ruins there, wouldn't it?
Advertisements
Cross the Siq by foot
One of Petra's particularities is that it is hidden between several reddish mountains. The city, which is as such carved and built on rock, is accessible by foot only by the Siq, a one-kilometre long gorge. Once you have crossed this gorge of cliffs, you will have access to Petra and its breathtaking monuments, including Khazneh.
Advertisements
Let yourself be dazzled by the Khazneh
The Khazneh tomb, built by Nabataean king Alherath III, is of great beauty. You've probably seen it in the movie Indiana Jones and the Last Crusade. You will not be able to miss this 43-metre high monument, also known as the "Treasure", because you will see it as soon as you enter the site, at the exit of the Siq. It is suggested to go and admire it in the morning; you will be able to see the sun's rays striking its impressive rock columns and reveal its sublime pink colour.
Advertisements
Go to the Roman theatre
Another thing to see when you are in the heart of the city of Petra is the Roman theatre. Dating from the 1st century, this imposing structure dug into the rock used to accommodate up to 3000 people for religious ceremonies. Although it is said to be a Roman theatre, it was the Nabataeans who built this gigantic circular monument which, despite past centuries, is in very good condition.
Visit the Deir
The Deir, a sublime yellow sandstone monastery, is one of the monuments to see when you visit Petra. To get there, you will have to climb 788 steps, which is equivalent to a 45 to 60-minute ascent, but the climb is well worth it! Once you have finished your ascent, you will discover a very well preserved temple 45 meters high. The Deir rises, just as imposing as the mountain in which its structure was built.
After Petra, float in the Dead Sea
Once you have finished your visit to Petra, you should go swimming in the Dead Sea. It is a sea with a very high concentration of salt. So you can float in it without any problem. It is better to see this spectacular river on your trip to Jordan since you will be nearby and since it drops one meter per year and the situation is not improving.
Although Petra is very popular with tourists, Jordan has many places to see that will captivate the traveller in search of magnificent landscapes and historic sites. Kerak, a remarkable citadel, should undoubtedly be part of the itinerary of any adventurous traveller, as should Madaba, a city where culture abounds.
---
Cover photo: Callie Joseph | Unsplash