5 Fiji Islands where you can enjoy a heavenly holiday
Fiji is breathtakingly beautiful, which is why many people like to travel there. Is that the case for you? Here are 5 Fiji islands to discover.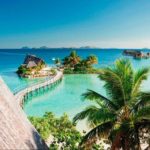 When it comes to choosing their honeymoon destination, many couples decide to travel to Fiji. It is also a popular travel destination for travellers seeking peace and quiet in a paradisiacal setting. This archipelago, therefore, attracts more than a few tourists with its spectacular beauty and the many activities that can be done there. If you are planning to spend your next vacation in this South Pacific country, here are 5 of the most beautiful Fiji islands (or groupings of islands) to keep in mind for your trip!
Advertisements
Mamanuca
Mamanuca is one of the most popular Fiji islands for travellers. It is actually a group of 20 beautiful islands in the Fiji archipelago where you can spend your holidays. These islands are so beautiful that Robert Zemeckis' famous film Cast Away was filmed there. You will find a breathtaking landscape that attracts not only tourists who want to relax, but also surfers and divers. In fact, the waves are splendid and reveal under their clear waters sublime coral reefs and multicoloured fish that divers like to observe. It is, without a doubt, a perfect travel destination for water sports lovers!
Advertisements
Yasawa
The Yasawa islands are also to be seen. It is also an archipelago, just like Mamanuca. Indeed, Yasawa includes about twenty volcanic islands constituting a territory of 135 km². If you are looking for calm and solitude, these islands are much less populated than the other Fiji islands. It is, therefore, the ideal destination to recharge your batteries and enjoy breathtaking panoramas. These islands have also been used as cinematographic scenery. In fact, Randal Kleiser's The Blue Lagoon was shot there. One of the activities you can do on these enchanting islands with their white sand is kayaking. You can also go swimming in the waters around the islands and meet, along the way, some tropical fish and manta rays. Another very popular thing to do there is to explore the Sawa-i-Lau caves. To venture there, you must obviously be accompanied by a guide, otherwise, you risk getting lost. You can admire the inside of these rocky cavities painted with frescoes and decorated with ancient engravings. It is, without a doubt, a grandiose spectacle.
Advertisements
Viti Levu
Viti Levu is a very popular destination for tourists as it is the largest island in the archipelago with its 10,388 km². Thus, there are many seaside resorts where luxury hotels and restaurants are located by the sea and offer a memorable stay in Fiji. In case you want to get away from the busy life of the seaside resorts, you can always venture into the jungle. You will see the mountain villages and can try your hand at zip line, an experience designed to give you a thrill. Another thing you can do is to cross the rainforests by kayaking or rafting on the Navua River. If you're looking for a unique experience, head to Pacific Harbour to swim with sharks in the lagoon. These are just a few of the activities offered to you. We bet you'll want to leave your hotel room at Viti Levu to explore this sublime travel destination in its entirety.
Advertisements
Vanua Levu
If you want to stay on a very large island a little less touristic than Viti Levu, Vanua Levu is the right place for you! This island invites you to see landscapes of extraordinary beauty. In fact, if you go to Wasali Nature Reserve, you can go on splendid hiking trails through the tropical forest that will make you discover waterfalls that many like to photograph along the way or in which they go swimming. These treks will also give you access to thermal springs and amazing lookouts. This place is also perfect for:
Scuba diving;
Mountain biking;
Tube descent;
Swimming.
You can also visit the Snake Temple containing the Naag Baba Mandir, a sacred Hindu stone.
Wakaya Island
Unlike other islands or archipelagos, Wakaya Island is private property. In fact, on this island is the Wakaya Club & Spa, an extremely luxurious place where many celebrities usually go to stay away from prying eyes. If you wish to go on holiday on Wakaya Island, you will be accommodated in beautiful bamboo villas set up along the beach, giving you a spectacular view of the sea. Of course, you can enjoy your private golf course in complete peace of mind and enjoy many other sports, such as fishing, kayaking, golf and tennis.
With its 333 islands, this archipelago is, therefore, an ideal paradise for water sports enthusiasts, travellers wishing to venture into the heart of its wild landscapes or tourists seeking rest at one of its many seaside resorts. No matter what the reason(s) for your trip to the Fiji islands, you are sure to come back with a head full of great memories!
---
Cover photo: @exotic._.travels | Instagram