The most beautiful hotels in Bangkok, Thailand
Treat yourself to luxury while in Thailand's capital with a stay in one of Bangkok's most beautiful hotels.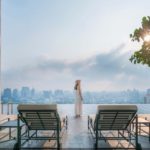 Paradise landscapes, grandiose hotels, effervescent nightlife and vibrant cities of culture, no wonder Thailand is one of the most visited countries of the moment. Whether you are heading towards Phuket or making it your ultimate destination, its capital is worth a visit. Bangkok is full of life and superb places to visit, not to mention the magnificent hotels where you can recharge your batteries and enjoy the best of Thailand's most populous city.
Advertisements
The Siam
A luxury oasis in the heart of the city, The Siam combines Thai heritage and contemporary refinement in a magnificent place where Zen and beauty reigns. Located on the Chao Phraya River, the hotel offers a short return trip to various attractions in Bangkok on board a luxurious cruise ship. The place includes three suites, a cottage, two villas, a restaurant, a bistro, two bars, a café and an infinity pool, all in a refined setting of a modern rustic style where greenery is at the heart of everything. Personalized valet parking, cooking school, spa, beauty salon, Muy Thaï school, sak yant tattoo service, yoga classes, meditation, reiki, etc., The Siam is synonymous with comfort and opulence.
Advertisements
Bangkok Publishing Residence
This charming hotel-museum inspired by the golden days of publishing in Thailand lives in the very building in which the Bangkok Weekly magazine was created. Since then, it has been completely transformed into a bed and breakfast, but it still retains the aesthetics of the 1960s and contains many of the printing works' objects and antiques that once occupied the area. Bangkok Publishing Residence has eight warm, chic and comfortable rooms with a nostalgic charm, as well as a magnificent lobby and common areas that pay tribute to the building's origins.
Advertisements
137 Pillars Suite and Residence
This important hotel complex offers modern luxury, sometimes infused with some Thai influences. The 137 Pillars Suite and Residence features 34 luxurious suites with a chic and colourful contemporary design, a spa, a fitness room and even a security service. The luxury offered is not limited to marble bathrooms, 400 thread sheets and private balconies with sofa bed, it also extends to the field of gastronomy, including the Bangkok Trading Post Bistro and Deli, their avant-garde restaurant Nimitr as well as the two chic perched bars at the very top for an incredible view of Bangkok. The hotel also has an incredible infinity pool located on the roof of the building on the 27th floor, with a panoramic view of Bangkok.
Advertisements
Akara
This hotel, located in the heart of Bangkok, caters to a clientele in search of experience, comfort and refinement. Noble materials form an elegant, modern, refined and trendy décor. There is a superb swimming pool with a view of the city on the roof, a training centre, a cooking school and a library. However, Akara Bangkok's main interests, apart from its luxurious rooms, are undoubtedly its Thai restaurant, its restaurant located at the very top of the building, which serves international flavours, as well as its two bars on the roof, one of which has an open area with a view of the city.
Siam at Siam
Siam at Siam, with its colours, modern furniture and eclectic décor, offers a contemporary approach to Thai design. The trendy area has all the services you would expect from a luxury establishment, such as a fitness room, infinity pool, meeting room and wifi throughout the site. However, the place stands out for the festive atmosphere in its many restaurants and bars, two of which are located on the roof of the place and offer a 360-degree view of Bangkok.
The Sukhothai Bangkok
A haven of serenity and a haven of peace in the heart of Thailand's capital, Sukhothai Bangkok offers much more than just luxury. The rich decor inspired by the ancient city of Sukhothai with its neutral and warm tones promotes relaxation. Pretty private balconies overlook a magnificent water garden filled with lotus trees. A magnificent 25-metre-long infinity pool is surrounded by several acres of lush tropical nature. Not to mention the many treatments available at the spa. The hotel has all the characteristics of an urban sanctuary with a serene atmosphere ideal for rejuvenation.
The Peninsula

The Peninsula Bangkok is an experience in itself. The site, worthy of an exotic retreat in the heart of the capital, includes an impressive swimming pool lined with cozy cabanas to relax in a peaceful place away from the sun. Pretty open-air terraces by the river allow you to enjoy modern and traditional Thai, Cantonese and international cuisine in front of a view of great romanticism. The place also includes a spa and an academy where you can enjoy an immersive experience of different aspects of Thai culture.

Oriental Residence Bangkok

Clean, airy and undoubtedly sublime, Oriental Residence Bangkok, with its extremely high ceilings, light and bright colours and luxurious traditional furniture, is a dream residence. Located in the heart of the vibrant capital, Oriental Residence Bangkok, by the magnificence and elegance of its décor with Thai accents, with its charming gourmet café, its terrace with swimming pool where comfort meets refinement, its gourmet French restaurant and its inviting oriental bar, redefined luxury and comfort.

Avani Riverside Bangkok

With its infinity pool on the roof overlooking the Chao Phraya River, Avani Riverside Bangkok promises a great stay. Rooms with a simple and modern décor and an attractive view will allow you to sleep in comfort and luxury while making you want to avoid staying there forever and instead enjoy everything the place has to offer. Beautiful bars and restaurants with a variety of atmospheres, spa and various activities contribute to the value of the place.

One thing is certain, Bangkok knows how to deliver in luxury. Whatever your tastes and interests, the capital certainly has a hotel to meet your needs and enjoy a dream stay. The most difficult thing is probably to have to choose among these options, each one more attractive than the next!
---
Cover photo: 137pillarsbangkok/Instagram