These are ideal places to take selfies in Montreal
Every opportunity is good to take selfies in Montreal, but some places are definitely THE place where to take pictures.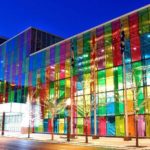 The selfies fashion is in full swing. Few Instagram accounts and Facebook pages do not have this type of photo. The latter can be taken in a variety of contexts and in a wide variety of locations, but obviously, some locations are better suited than others. If you wish to obtain a most satisfying result, here are the ideal places where you must absolutely go to take selfies in Montreal.
Advertisement - Continue reading below
Mount Royal belvedere
In addition to being a very pleasant place to visit, the Mount Royal is ideal for taking pictures. As one of the highest peaks in the city of Montreal, it offers a breathtaking view of the city. Indeed, taking a selfie at the Mount Royal lookout, located at more than 200 meters of altitude, promises a breathtaking result.
Advertisement - Continue reading below
The Salada Building
Created about two years ago, the Champ Libre is a space located at the corner of highways 15 and 40, where the future ROYALMOUNT commercial complex should take place in a few years. It is in fact an immense coloured mural imagined by the internationally renowned artist Maser, in collaboration with Lndmrk, the creators of the Mural festival. If you are looking for a colourful and entertaining place to pick up selfies in Montreal, this is definitely the place to do it.
Advertisement - Continue reading below
Botanical Gardens
The Montreal Botanical Garden offers several square kilometres of nature in the heart of the city. In addition to the large outdoor gardens with a variety of themes offering plants, flowers and trees of all kinds, there are also 10 exhibition greenhouses housing different flora that are all extremely diverse. The Botanical Garden is a place of choice for simple, serene and natural selfies.
Advertisement - Continue reading below
Clock tower Beach
The reputation of the clock overlooking the St. Lawrence River is well known, as is that of the harbour that surrounds it. Going for a walk in the Old Port on a beautiful sunny day is certainly very pleasant and, by the very fact, taking advantage of it to take a selfie can prove very conclusive.
Dragon Flower flower shop
The Dragon Flower is definitely a place to visit at least once in your life, at least for the principle of being able to say that you have already seen this impressive boutique with your own eyes. Located on Bernard Street, in the Mile End, it is certainly one of the most incredible stores, offering a perfect setting to take some selfies.
LOV restaurant
Elegant and original, the vegan and vegetarian restaurant LOV offers dishes inspired by botany in a country-chic and sumptuous setting. Without pretension, one finds there only local products and of quality. This restaurant offers absolutely everything your body and mind need, in addition to being the perfect setting for a cute and simple selfie.
Montreal Convention Centre
If you've ever been in downtown Montrealatin the corner of Viger Avenue, Place-d'Armes and Victoria Square, you've certainly seen the Palais des congrès. Probably the most colourful building in town thanks to its large glass roof created by Mario Sala, the possibilities of original selfies are endless in this place.
Atwater market
Located on the Lachine Canal Avenue, near the Lachine Canal, the Atwater Market offers everything you need, from butcher shops to cheeses, horticultural producers, market gardeners and a host of boutiques. Beautiful down to the smallest detail, this market is the perfect place to shop, summer and winter alike, and to take a few random shots while walking through the various displays.
Bota Bota, floating spa
Located directly on the waters of the St. Lawrence River in the Old Port, Bota Bota offers an absolutely relaxing setting with, as a backdrop, the city unfolding before our eyes. This relaxing and enchanting setting is like coming out of a dream and is definitely one of the ideal places to take selfies in Montreal.
Saint-Joseph's Oratory
This religious sanctuary on the northwest slope of Mount Royal is absolutely impressive. The Oratory itself is beautiful, but the gardens surrounding it are just as beautiful. Whether it is from the top of the square, with an incredible view of the city in the background, or near the fountain, there are many places conducive to a good selfie.
All the reasons are good to take a selfie from time to time. Most places are suitable, but obviously, some contribute to a better result than others.
---
Cover photo credit: https://fairemtl.ca/fr/deploiement-wi-fi-public-zones-palais-des-congres-vieux-montreal