10 unforgettable low-cost travel experiences
Do your favourite online influencers' photos abroad make you envious? Thankfully, some of these incredible travel experiences are possible and affordable.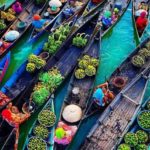 The best travel experiences are often the cheapest. A simple plane ticket is enough to get you out of your daily life and accumulate superb memories you'll remember for the rest of your life. Whether you're wealthy or on a tight budget, you owe it to yourself to add these adventures to your to-do list before you die. Here are 10 unforgettable low-cost travel experiences to live magical moments.
Advertisement - Continue reading below
Visit a floating market
Frequent in South East Asia, floating markets offer a rich and exotic experience for any Western traveller. In addition to being superbly colourful and teeming with life, these markets are an excellent opportunity to immerse yourself in the culture of the place and enjoy its street food. Go to Thailand, Vietnam, Myanmar or India to shop on the river.
Advertisement - Continue reading below
Watch the hot-air balloons in Cappadocia
The region of Cappadocia in Turkey is as much talked about for its extraordinary landscape dotted with fairy chimneys as the magnificent coloured hot-air balloons that criss-cross its sky. According to the inhabitants, balloons are the best way to admire the landscape. And so much the better, since they participate in the enchantment of the place. Whether you experience it in the air, on a roof terrace or on the ground, the moment will be just as magical.
Advertisement - Continue reading below
Float on the Dead Sea
The Dead Sea's only similarity with pretty Caribbean beaches is the clarity of its water. The Dead Sea is unique and worth a visit. In addition to being located at the lowest elevation in the world, 431 metres below sea level, and surrounded by extraordinary wildlife, this body of water is so saline that you can float effortlessly. However, try to keep your mouth shut.
Advertisement - Continue reading below
Witness the annual Great Migration
Between July and October, visit Africa to witness an impressive phenomenon. Every year, millions of wild animals leave Tanzania for Kenya in search of food. This is the ideal time to take part in a safari and rub shoulders with hordes of zebras, gazelles, horses and wildebeests.
Swim in Iceland's numerous hot springs

Head to Iceland, preferably in the winter, to fully enjoy this incredible natural phenomenon. Hot springs are found throughout the island, some adjacent to luxurious spas and others in the wilderness. If you choose to venture out into the country for an intimate bath, make sure the source of your choice is suitable for swimming.

Swing at the end of the world

This experience is not for sensitive souls nor acrophobes. However, if you are looking for an exciting activity, go to Banos, Ecuador, where you can swing over the end of the world. This swing perched at an altitude of some 2,600 metres offers, as a bonus, an incredible view.
Canoe on the Amazon River
What better way to unravel the mystery of the Amazon than by canoe through the world's largest river! No matter where you decide to undertake and complete your crossing, you will discover fascinating fauna and flora as well as a rich culture that animates the banks of this magnificent river.
Visit Cinque Terre
Its bright colours flood our Instagram feed, but nothing beats a visit to the wonderful Cinque Terre region in Italy to really imbue its beauty. Discover the history of the place as you walk or cycle along its winding roads under the warm sun of the Italian Riviera.
Dive in Jellyfish Lake
This strange little paradise is hidden on an island in the Chelbacheb Islands, in the Republic of Palau. The lake owes its name to the incredible quantity of jellyfish that swarm there due to the absence of predators. Unlike other jellyfish, these fascinating molluscs are not dangerous, so it is possible to swim alongside them.
Climb the Stairway to Heaven
Nicknamed The Stairway to Heaven after the Led Zepplin song, the Ha'iku Stairs are an ascent of 3,922 metal steps on Oahu Island, Hawaii. Although it is now impossible to undertake the entire ascent for safety reasons, hikers can follow a legal route of about 4 hours to reach the top of the stairs and the view that accompanies them.
While you wanted to witness breathtaking landscapes, experience thrills or get closer to nature, no need to save for years. Start accumulating adventures now by starting with these 10 low-cost travel experiences.
---
Cover photo credit: offouttravel/Instagram