Ireland vacation: 9 things to do on the "Emerald Isle"
Europe is full of wonderful places to discover, such as the "emerald isle". Here are some of the highlights of an Ireland vacation.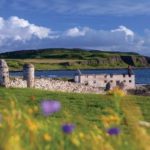 An Ireland vacation is favoured by many travellers because of its green landscapes and many pubs. However, there is much more to do than just enjoy a beer and watch the splendid panorama of this country unfold before our eyes. Indeed, this region, also known as "the Emerald Isle", has several things to offer to the tourists who venture there. Here are some essentials to include in your itinerary if you decide to go on a trip in this part of the world.
Advertisements
Learn more on the famous Guinness beer
You can't go to Ireland without going through Dublin, its beautiful capital. Dublin will appeal to foodies as much as to art and culture lovers with all its events and festivals. There is a lot to do and see! We suggest you visit the Guinness Storehouse located at the St James Brewery. This establishment invites you to learn more about the famous dark beer and its founder, Arthur Guinness. You can also visit the Gravity Bar on the 7th floor of the Guinness Storehouse, an establishment that offers a 360-degree view of Dublin.
Advertisements
Go and admire the cathedrals
Another thing to put on your itinerary when you are in Dublin: St. Patrick's Cathedral and Christ Church. These historical monuments attract people who have been contemplating them for nearly 1000 years. Some come to see these cathedrals for the beauty of their architecture, others to pray or to visit the chapel of Saint Laurent O'Tool, a sanctuary containing the heart of the Archbishop mentioned above. In any case, none of these churches will leave you indifferent!
Advertisements
Wander in the beautiful green spaces
Dublin also has several green spaces where you can easily picnic, take a nap or devour a novel. Among the parks to see, you can go to Dublin Linn Gardens, among others. This splendid park is located just behind Dublin Castle if you ever feel like visiting this historic monument. Iveagh Gardens is also worth a visit with its Box hedging labyrinth, exotic flowers and the annual food festival, the Taste of Dublin.
Advertisements
Explore the numerous hiking trails
Once you've finished visiting Ireland's capital, why not go hiking for a while? Ireland has superb marked trails that will give you a breathtaking view of its green landscapes. One of the hiking trails to explore is the Howth Cliff Walk. About 6 km long, this path allows you to admire the sea coast and a spectacular panorama of meadows and cliffs. During your walk, you will see the ruins of 15th century St Mary's Abbey and the impressive mountains of Mourne.
Another hiking trail you can venture on is the Montpelier Loop Trail/Hellfire Club. A little shorter than the previous trail, at 4 km in length, this hiking trail is a little more challenging. This so-called haunted trek will take you to the ruins of Montpelier, the place where wealthy young people of the 18th century used to celebrate. However, before reaching this point, you will have to cross Massey Wood and pass in front of, among other things, a garden that has seen much more beautiful days.
Let yourself be seduced by the local flavours
Galway is also a surprising place that should definitely be part of your travel itinerary. Located on the west coast of Ireland, you can do many activities and discover the local flavours. In fact, this charming town abounds in restaurants, but also in bistros, pubs and cafés. So you can easily find a place to enjoy a good meal featuring local products.
As with any trip, you should take the time to enjoy the local flavours that Ireland has to offer. You will find several culinary specialties specific to this country that you should experience, especially if you are a foodie. One of the dishes you will often find in Ireland is soda bread. You will also find a lot of seafood in Irish cuisine, especially oysters. Interesting fact: every year, you can attend the Galway Oyster Festival during the month of September and enjoy this dish. Black pudding and white pudding are also very popular with the Irish, who often include them in their lunches.
If you are looking for an extraordinary culinary experience, you can always experience the Galway Food Tour. This gastronomic tour will allow you to "fully immerse yourself in Irish culture and gastronomy" for 2 hours.
Fill up on culture
Galway is also a destination where many festivals are held, including the Galway International Arts Festival and the Galway Film Fleadh. If you don't like festivals, you can always go and enjoy the culture at the Galway City Museum. You will discover historical parts of Galway as well as exhibitions on marine life and the First World War.
Let yourself be surprised by Galway's architecture
Since Galway overlooks the Atlantic Ocean, the community used to be populated by many fishermen before becoming the port city we know today where restaurants, shops and pubs abound. However, you can still find several vestiges of the medieval period if you walk through the streets of this charming municipality. You will discover an architecture where stone walls rub shoulders with much more modern buildings. A real beauty to visit during your Ireland vacation!
Go explore beautiful Kilkenny
Another place to discover during your trip to Ireland is the medieval town Kilkenny. This area is not lacking in attractions! Indeed, you can visit Kilkenny Castle, a huge fortress built in the 12th century. If you are a fan of historical monuments, Grace's Courthouse is also worth a visit. This courthouse, which was built in 1210, was already used as a prison in 1568 before serving order and justice. We also suggest you take a trip to the Saint-Canice Cathedral and the Black Abbey. Once you've finished visiting these sacred places, why not drink at The Hole in the Wall? Located in the historic district of Kilkenny, this tavern invites you to step back in time. In fact, you will find period furniture and the charm of 16th century taverns.
Wander through an Irish university town
You can also include Cork in your Ireland vacation. This university town is rich in history. You can visit Cork City Gaol Prison, which vaguely recalls a castle with its sublime architecture, as well as Blackrock Castle, located on the banks of the Lee River. The Cork Opera House is also worth a visit, especially if you are a theatre and, of course, opera enthusiast. The English Market, which has existed since the 18th century, will allow you to buy fresh and local food between a few visits to historical monuments.
Ireland is therefore not lacking in attractions for those who love breathtaking landscapes, history and, above all, good food. By going to this country, you will discover a warm people who enjoy sharing their culture.
---
Cover photo: @tourismireland | Instagram