Mexico City travel guide: 10 spots to explore during your stay
There are many activities to do in Mexico City, the capital of Mexico. However, here are 10 places you should definitely visit.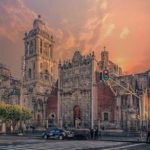 Overwhelming (let's not forget this city is home to 20 million people) but incredibly enchanting, Mexico City has so much to offer its visitors. With more than 40, 000 restaurants, tons of free museums, a mix of modern and Spanish colonial architecture, curious travellers will have the most wonderful time exploring this historic and cultural Central American city. Since Mexico's capital is enormous and there are lots to see and do, here are 10 unmissable spots to explore during your Mexico City travel adventure.
Advertisements
Visit the Museo Frida Kahlo
The most famous Mexican artist of the 20th century, Frida Kahlo was and still is a huge influence for this country's artists. Visit her former home, Casa Azul, in Del Carmen, to learn more about this incredible artist. You will find the house's rooms just as they were when she lived there with her husband Diego Rivera. Go early and avoid weekends if you want to arrive before the crowds.
Advertisements
Tour the canals of Xochimilco by boat
Explore Xochimilco in the wonderfully colourful trajineras, gondola-style boats that float up and down the canals. Bargain (and we mean bargain) for your price and then get whisked away by your captain to explore this part of the city. Food and drinks, as well as souvenirs, are available but one of the best things to do is pay for a mariachi band to play a typical Mexican song while you float away.
Advertisements
Visit the Biblioteca José Vasconcelos
Visiting a library might seem like a strange activity to do but the Biblioteca José Vasconcelos is absolutely worth a stop, especially if you're in this city in the hot and humid summer. Located right in Downtown Mexico City, it opened in 2006 and is one of the most interesting and beautiful architectural gems of the city. A gigantic whale skeleton by Gabriel Orozco welcomes you and there's a beautiful botanical garden outside if you're in the mood for a break in a green oasis while downtown.
Advertisements
Eat at Quintonil
Named the 22nd best restaurant in the world by The World's 50 Best, Quintonil offers contemporary Mexican cuisine where vegetables take centre stage. The young chef, Jorge Vallejo, has become one of the most respected and loved chefs in this city. Open for lunch and dinner, Quintonil is not for small budgets but if you're a foodie with a mission, this is the place for an outstanding Mexican meal.
Listen to mariachi bands in the Plaza Garibaldi
Mexico City's historic neighbourhood is home to the Plaza Garibaldi, a place to venture to at night (but you do need to take some precautions, even if the area is more and more secure). Mariachi bands dressed in silver-studded outfits flock to this plaza looking for tourists who will pay for a song. Whether you pay for a song or hang around and listen from afar, you'll be moving your feet after just a few minutes.
Enjoy a churro at Churrería El Moro
With several locations in the city, this churrería will satisfy any sweet tooth and let's be honest, you can't visit Mexico City without eating some churros. This fried and crispy dough rolled in sugar is a Mexican delicacy. Dip it in chocolate, caramel or condensed milk for the ultimate churro experience. We suggest you visit the original location in the Centro Histórico neighbourhood, which is open 24 hours.
Search for fresh produce at Mercado de San Juan
Have you always wanted to try scorpions? Crickets? Grasshoppers? Now's your chance! The Mercado de San Juan offers high-quality ingredients and is known as the chef's market because of the large amount of varied produce available. Munch on lion or crocodile burgers, snack on beetles or, if you prefer to stick to more conventional food, enjoy exotic fruit native to Mexico.
Take a day trip to the Pyramids of Teotihuacán
If you have time to take a day trip to the Pyramids of Teotihuacán, 50 kilometres from Mexico City, hop into a bus or a car and go explore this mysterious place. This UNESCO site, which is more than 2000 years old, has two massive pyramids, Pirámide del Sol and Pirámide de la Luna and also the Temple of the Feathered Serpent and the Palace of Quetzlpapalotl. The Indiana Jones in you will love spending a day or afternoon exploring the surroundings. Who knows what you could uncover.
Shop till you drop at Ikal
Don't bring back a keychain, magnet or shot glass from your Mexico City travels. Get off the beaten path (of souvenirs) and head to Ikal, a store selling independent Mexican and international designs. Find clothes, objects, jewellery and home accessories to bring back to your family and friends. Would you rather get a mariachi magnet or handmade soaps? Yeah, that's what we thought.
Attend a Lucha Libre wrestling match
If you've seen Nacho Libre, the 2006 movie with Jack Black, you might think you know everything there is to know about Mexican wrestling matches… Except you don't. For a unique experience, head over to Arena Mexico to watch these dramatic wrestling matches. Grab a few Dos Equis beers and cheer on your chosen luchador.
Dance the night away at Patrick Miller
A Mexico City travel guide would not be complete without a stop at a discotheque. End your night at Patrick Miller for some great people watching and dancing. Don't ask any locals who Patrick Miller is because they might snub you for the rest of your trip! Mexico's most famous DJ founded this club for disco dance enthusiasts. Located in Mexico City's coolest neighbourhood, Roma Norte, we suggest you also stay here and eat here during your vacation.
Traffic jams, street food smells, colonial mixed with modern architecture, Mexico City should absolutely be on your bucket list. This Central American city has experienced tense and violent times but is now more than ready to welcome visitors. Other unmissable spots you should add to your Mexico City travel plans are Casa Gilardi, Bosque de Chapultepec park, Catedral Metropolitana and the Ciudadela Market. No matter your travel plans, Mexico City will surprise you in a positive way.
---
Cover photo credit: @pasionxcdmx | Instagram