15 of the most beautiful bookstores in the world to visit
Book lovers will be extremely enthusiastic to know what the world's most beautiful bookstores in the world look like.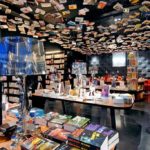 There is nothing more satisfying for a seasoned reader than entering a bookstore and being taken aback by its magnificence. Being surrounded by books is already pure happiness in itself, but when they are arranged in a visually pleasing, welcoming, colourful and stylish place, euphoria is exponential. When travelling, it is always interesting to visit these places of knowledge and freedom and see how different cultures have decided to appropriate them. Here are the 15 most beautiful bookstores in the world to visit on your next trip.
Advertisements
Cook & Book – Brussels, Belgium
Divided into 8 distinct sections that each have their own aesthetic, Brussels' Cook & Book bookstore is absolutely astonishing. Its surface area is as big as a grocery store and you can find books, music and food since it is actually a mix of a bookstore and a restaurant. With more than 800 books, book lovers will be truly happy here.
Advertisements
Livraria Lello – Porto, Portugal
Founded in 1969, the Livraria Lello bookstore has been named the most beautiful bookstore in the world many times. With its majestic wood stairs and its historically charming stained glass decorations, this place can only amaze us. Thanks to its rich and impressive look, it is said that JK Rowling, the creator of the Harry Potter book series, was inspired by this bookstore while she was teaching English in Porto.
Advertisements
Atlantis Books – Santorini, Greece
Created by two young Americans who fell in love with the place, Atlantis Books is located in the basement of one of the typical whitewashed houses that make all the charm of the island. Filled with books of all kinds, this bookstore also offers many breathtaking first editions. Moreover, from its terrace, it is possible to read quietly while admiring the Aegean Sea which spreads out as far as the eye can see before our eyes.
Advertisements
The Last Bookstore – Los Angeles, United States
A getaway to Los Angeles is not complete without a visit to The Last Bookstore. Located in a former bank, it kept all the majestic cachet of the big marble pillars and the giant doors. The Last Bookstore, with its hundreds of thousands of books, is, to this day, the biggest independent bookstore in southern California. It is impossible not to fall in love with this luminous place filled with books and organizes tons of activities like concerts and a huge used book sale every year.
El Ateneo Grand Splendid – Buenos Aires, Argentina
Erected inside an old theatre hall, the El Ateneo Grand Splendid bookstore is absolutely majestic. The bookstore's building was built in 1919 and a gigantic fresco, painted by the Italian artist Nazareno Orlandi, adorns the ceiling. One can only be amazed by this rich and prestigious place.
Corso Como – Milan, Italy
When one stands in front of the discreet façade of the Corso Como bookstore, it is impossible to know what exactly is beyond those doors. Open since 1991, it was founded by the former Vogue Italia editor-in-chief, Carla Sozzani, who didn't miss her chance to add a modern and fashionable twist to this place. The complex that houses Corso Como also houses a high-end clothing store, a hotel and a garden where one can drink a delicious espresso.
 El Péndulo – Mexico, Mexico
Going to Mexico? If you wish to enjoy a small break in an air-conditioned store while you stroll through the streets of Mexico, the El Péndulo bookstore is the ideal place for you. Having blown out its 25 candles in 2018, it is built on two floors. The walls are lined with thousands of books, it possessed a resting area and many plants are sprinkled all around the place.
Acqua Alta – Venice, Italy
Stepping into the Acqua Alta bookstore is a unique experience. Located close to the popular St. Marks Square, it is owned by a Venetian man in his 70s named Luigi Frizzio. Always happy to give some book advice for people visiting his store, he will guide you through his 100 000 books that are stored on boats, baths and even a gondola. There are even a few cats that have adopted the place and reside here. Also, Acqua Alta is so close to the canals that it sometimes get flooded by the high tides but, thankfully, the books are always safe.
Books Actually – Singapore
An independent bookstore, Books Actually is a gold mine in terms of works of fiction but even if you're not looking to buy any books, it is worth the detour just for its beauty. Its decoration is thought down to the smallest details and is reminiscent of the aesthetics of Wes Anderson's films. It is undoubtedly one of the most beautiful bookstores in the world!
Bart's Books – California, United States
Known as the largest open-air bookstore in the world, Bart's Books is without a doubt a must-see place when you are in California, more precisely in Ojai. Founded by Richard Bartinsdale in 1964, you will find everything you could dream of in terms of literature in stalls overlooking the street or in an inner courtyard where tables are set up to welcome you with a good novel.
Shakespeare and Company – Paris, France
Established in 1951 by an American, the Shakespeare and Company bookstore, located in the 5th arrondissement of Paris, is certainly worth a look. Set in a building dating from the 17th century, it has a very special cachet that makes us travel to the heart of another era. It can be spotted in Woody Allen's Midnight in Paris.
American Book Center – Amsterdam, Netherlands
This Amsterdam bookstore is worthy of a work of art. Despite its rather severe façade, the interior of the American Book Center is warm and raw. There are tree trunks that remind us of the origin of the paper and books are hidden in every nook and cranny, right up to the ceiling. A visit to this bookstore is definitely not a matter of a few minutes, but the experience is well worth it.
Saraiva – Rio de Janeiro, Brazil
Vast, uncluttered and sober, combining a library and a public square, the Saraiva bookshop in Rio de Janeiro can only charm you. To add to its rather purified decor, the books are classified by colour, which adds a beautiful touch of originality to the place. Installed on 4 floors inside a shopping centre and including comfortable and modern spaces where to hang out, it is good to visit this bookshop between touristic activities.
Assouline – London, England
The Assouline bookshop, which has been established in London for more than twenty years, is, in fact, a happy mixture between bookshop and antique dealer. With a decor worthy of a museum, one can find it in a building which dates from 1922. A visit to this magnificent boutique can allow you to make incredible discoveries, literary or not. While you're at it, you can even take advantage of this place to quench your thirst or relax a bit before your next destination.
Each city has several bookstores where avid readers can find entertainment, but some are a bit more exceptional than others. No matter where you are, there are bookstores to make you dream, but these are probably the most beautiful bookstores in the world.
---
Cover photo: Les Maisons