San Francisco: 10 activities to include in your travel itinerary
Many travellers like to visit San Francisco. Here are some activities to do if you are also planning to travel there.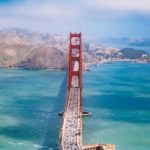 San Francisco, also known as The City by the Bay, is a destination visited by many tourists every year. This is not surprising: this region has everything to seduce travellers. There are sensational restaurants, beaches to stretch out on, as well as several cultural places and neighbourhoods that are very interesting to visit. If this county of California is part of your bucket list, here are some ideas for must-do activities to add to your itinerary. This will ensure that you have a trip that meets your expectations.
Advertisements
Cross the Golden Gate Bridge
The Golden Gate Bridge should definitely be part of your travel itinerary. This suspended structure, which crosses the Golden Gate Strait, is 2,737 metres long and has an "international orange" colour. Construction of this bridge began in 1933 and was completed in 1937. Its construction cost a fortune, but also several human lives, despite the importance that the engineer, Joseph Strauss, placed on the safety of his employees, something unusual at the time. You can cross the Golden Gate Bridge on foot or by bike. You can also board a ferry to get an overview of this ingenious structure.
Advertisements
Enjoy a meal at Birdsong
If you like to enjoy new dishes, especially when travelling, we suggest you go to Birdsong, a restaurant owned by chef Chris Bleidorn. The cuisine of this establishment is mainly inspired by the traditions of the region and features ingredients from around the city. The objective of Birdsong is, therefore, to "restore the past and merge it with new ideas". You can enjoy creative dishes cooked according to the methods of yesteryear. This restaurant offers a tasting menu made up of halibut, aged duck and lamb, among others. You can also choose the 5-course menu and enjoy black cod or giant clams. In any case, the foodie in you is not likely to be disappointed!
Advertisements
Visit Alcatraz
You have probably already heard of Alcatraz, the penitentiary institution where Al Capone was imprisoned. Certainly, before Alcatraz was a federal prison, it housed the first lighthouse in the western United States. Nowadays, the prison is obviously no longer in operation. However, you can visit the cells where some of the detainees died between 1934 and 1963, the "black holes" reserved for the most recalcitrant prisoners and the main prison building.
Advertisements
Take a walk in Golden Gate Park
To fill up on your green space consumption while in California, you can always explore the Golden Gate Park. With a surface area of 412 hectares, it is even bigger than Central Park in New York! This park is home to the sublime flower conservatory, Lake Stow and the Japanese garden, among others.
Enjoy the most beautiful view thanks to the Coit Tower
For a stunning view of the surroundings, the ideal place to visit is the Coit Tower, also known as the Coit Memorial Tower. From a height of 210 feet, this lookout, which was erected in 1933, offers a spectacular view of the whole city. You can also admire the works of about thirty local artists representing this Californian city in the 1930s on the ground floor.
Explore the Mission District
Mission District is a neighbourhood that you should take the time to visit, especially if you are a street art fan. Several buildings are covered with sublime works of art. You will also find several trendy restaurants and cafés such as Medjool and The Blue Plate where you can discover local flavours. Art galleries, bars and fashionable shops also abound in this young and vibrant multicultural neighbourhood.
Observe marine animals at the Aquarium of the Bay
To observe marine life, what could be better than going to the Aquarium of the Bay? This aquarium, which is a division of bay.org (an organization dedicated to protecting marine life), contains about 20,000 animals in its waters. Go for a walk in the 300 feet of central nature tunnels to learn a little more about the ocean.
Discover works of art at the San Francisco Museum of Modern Art
If you want to recharge your batteries with culture, we suggest you visit the San Francisco Museum of Modern Art, one of the largest museums in the world dedicated to contemporary art, which has many collections of photographs and paintings. You can find works by the well-known artists such as Jackson Pollock and Marcel Duchamp.
Take a ride in a Cable Car
A must for this travel destination is the Cable Cars. There are a few places where you can still find this type of manually operated transport. So take the time to get on board this historic means of transportation during your trip to California!
Go out to the beach
San Francisco is also famous for its beaches. You will find many stretches of sand where you can lie down after a long morning of playing tourist. The most popular beach in the area is Ocean Beach. You can surf there, as long as you don't mind the water being a little colder… Otherwise, this beach is perfect for sunbathing. If you want a view of the Golden Gate Bridge, you can go to Marshall's Beach. Much quieter than Ocean Beach, you can take a nap or devour a good novel without being disturbed by people in the area.
San Francisco is therefore ideal for foodies or lovers of cultural activities. You will undoubtedly fall under the spell of this holiday destination where the heat is constantly on the rise.
---
Cover photo: Edgar Chaparro | Unsplash