Shanghai: 10 activities to do in the heart of this metropolis
Shanghai is an impressive metropolis. It attracts tourists because of its importance, but also because of the activities that can be done there.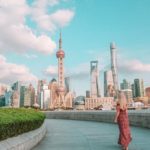 Shanghai is a metropolis that has fascinated travellers for decades. Its vastness and excitement make it a perfect travel destination for anyone interested in Chinese culture. In fact, this Asian city is full of activities of all kinds! It is impossible to be bored there. Architecture, cuisine and nightlife are all worth the trip to this cosmopolitan destination. We suggest you discover 10 activities to do there, just to venture right into the heart of this surprising place!
Advertisements
Nanjing Lu
If shopping is an activity you particularly enjoy, be aware that Nanjing Lu Street is perfect for shopping! Indeed, there are more than 600 Chinese shops on this 5 km long artery. You will find everything from fashion accessory shops, clothing stores, international stores and restaurants in case you have a craving. You should also know that you can reach the Bund from Nanjing Lu.
Advertisements
Bund
All travel guides agree on this point: you must absolutely go for a walk on the Bund if you travel to this bustling metropolis. Along the Huangpu River, this 1.5 km long boulevard is lined with buildings of various architectural styles. In fact, some buildings adopt the Renaissance style while others have a baroque or even classical architecture. Take the time to explore the Bund, also known as the Waitan by the Chinese as "the bank of foreigners", and contemplate this amalgam of architectural styles that have been amazingly overhanging the city landscape for several decades now.
Advertisements
Shanghai Museum
This museum is also a must for anyone who wants to learn more about the history of Chinese art. With 11 galleries and 3 exhibition rooms, this museum will show you impressive artistic treasures, including Chinese bronzes and swords from the ancient period. You can also contemplate the Zhong of Su, musical bells that are 3000 years old. Other things to see in this museum: ceramics, sculptures and a collection of coins. In short, if you like works of art or are interested in Chinese culture, you should be delighted by your visit to this imposing museum.
Advertisements
Yuyuan Garden
After exploring the Shanghai Museum, we suggest you visit the splendid and delicate Yuyuan Garden. This garden, which is more than 400 years old, is located near the Bund. The Yuyuan invites you to observe over more than 2 hectares of sumptuous green spaces whose walls are "dragon walls". You will, therefore, be able to see sculptures, bodies of water, flowers climbing structures as well as small bridges over which to pass.
Oriental Pearl Tower
The Oriental Pearl Tower is not the name of a Chinese restaurant, but of a television tower located in the business district of Lujiazui, just opposite the Bund. Every year, this structure attracts tourists who come to photograph and visit it to have a spectacular view of the city. From a height of 468 meters, anyone who climbs into his elevator that reaches a speed of 7m/s is soon witnessing a breathtaking view, especially at night. However, the tower houses much more than an observatory and broadcasting equipment. In fact, there is a small hotel, shops and restaurants.
Jade Buddha Temple
Another place to add to your travel itinerary is the Jade Buddha Temple. This sanctuary was founded in the 19th century to guard two jade Buddha statues from Burma. One of these statues represents sitting Buddha while the other is a sculpture of him lying down. People go to see this temple for the statues that are of incredible beauty, but also for the Buddhist paintings and writings that cover the walls of the rooms of this place of worship. The architecture of the temple is also a reason why many people move around. It is indeed very fascinating to see such a beautiful sanctuary rising in the centre of a metropolis as vibrant as Shanghai.
Restaurants
This metropolis is known for its culture, the many activities to be done there as well as the restaurants that abound throughout its neighbourhoods. In fact, no matter where you go, you are sure to find a restaurant where you can enjoy a dish that highlights the region's specialities. However, we suggest two of them to experiment so that you are not caught off guard during your trip to China.
Ultraviolet
A gourmet restaurant to try during your stay in this city is Ultraviolet. This establishment, which was designed by the distinguished chef Paul Pairet, invites you to a unique culinary experience. In fact, once you enter Ultraviolet, you are taken to a secret room with only one table set up for 10 people. You are then presented with several dishes that include original taste combinations, but they are very tasty. At the same time as you eat, music is played in the room and images are projected on the walls to enhance your sensory experience.
Xindalu
Xindalu is also worth a visit. Located inside the Hyatt, it offers you an impressive view of the Bund and Pudong. You will eat a delicious Chinese cuisine. The Xindalu menu includes among others Beijing duck and pyramid braised pork.
Nightlife
Are you a night owl? This metropolis is a dream destination for nightlife enthusiasts. Indeed, you will find many nightclubs and several bars where you can party until the early hours of the morning.
Bar Rouge
A very popular place on the Bund is Bar Rouge. This place has everything you need to have fun: DJs, a huge terrace, a breathtaking setting and delicious drinks to accompany you during your festivities!
Arkham
The Arkham is a great place for house and EDM music lovers. In fact, this place is constantly visited by several good DJs. You will also enjoy the drinks, which are very affordable. Note, however, that this venue is often crowded because of its popularity, so it should be avoided if you are agoraphobic.
Shanghai is, therefore, a perfect holiday destination for any traveller interested in Chinese culture or wanting to explore a new cosmopolitan metropolis. There are so many activities to do that you can spend several days in a row and not have visited it as much as you would have liked.
---
Cover photo: @nats_travelgram | Instagram