10 things to do in Chicago at night for the night owl in you
The Windy City is one of the most lively cities in the US. Night owls, discover the different (but equally fun) things to do in Chicago at night.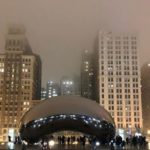 The American Midwest is known for its friendly people, its slower lifestyle and extreme weather. There is one Midwestern city that is a favourite with locals as well as foreigners: Chicago, also known as the Windy City. Chicago might be located in what is considered "flyover country" but it is the 5th most visited city in the United States for a reason. Cloud Gate, Willis Tower, Robie House, Lollapalooza, Blues Fest, there are so many things to see and do in this city. But after you've spent your day visiting museums and parks, what are the best things to do in Chicago at night? Here's a varied list of watering holes and activities to try in the Windy City once the sun goes down.
Advertisements
Parson's Chicken and Fish
Ping-pong tables, a skating rink, a huge outdoor patio, locally sourced comfort food and boozy drinks, Parson's Chicken and Fish is open until midnight every night for those looking to enjoy a casual night of fun. Chicken is, of course, the main star at this restaurant/bar but the place is also known for its Negroni slushy and other tasty cocktails. Enjoy the wonderful patio in the summer or bring your skates in the winter and sip on a hot drink while zooming around the rink.
Advertisements
Moneygun
Looking to stay up until the wee hours of the morning? Moneygun, a neo-dive-bar in the Loop, Chicago's coolest district, is the perfect place to dance the night away. Serving classic cocktails like Pimm's Cups, Pisco Sours, Cuba Libres and Caipirinhas as well as beers and wine, this low-key bar with great DJs will get you moving and grooving. Note that the bar's entrance is in the neighbouring diner.
Advertisements
Up Comedy Club
Up for some laughs? Head over to Old Town's Up Comedy Club for some beers and fun times. Chicago's funniest amateur improv comedians will have you laughing all evening long. Tickets are around $18 but you can sometimes find cheaper tickets online and shows during the week are always cheaper. With famous Chicago-native comedians like Jane Lynch, Bill Murray and Cecily Strong, it's no wonder Chi-town has great comedy clubs.
Advertisements
Sluggers Bar
Sluggers Bar is the next best thing if you can't afford or you don't have tickets to go to Wrigley Field to watch the game. This sports bar, located close to the stadium, has a batting cage, a skee-ball machine, an air hockey table, a pop-a-shot electronic basketball machine, pinball machines, virtual driving games, and, naturally, tons of televisions around the bar to watch the Cubs, Blackhawks, Bulls or Bears win their games. You won't find fancy cocktails here or renown DJs but you'll have a great time and drinks won't cost you an arm and a leg.
Lou Malnati's
You don't drink? No problem! If you're in the mood for a late-night snack, head over to Lou Malnati's for Chicago's finest delicacy: deep-dish pizza. Deep-dish pizza consists of a pizza made in a high edge pan so it looks more like a pie than a typical pizza. Stuffed with tons of delicious chunky tomato sauce and large quantities of melty, gooey cheese, this Chi-town treat is especially good at Lou Malnati's. With 53 locations in the US (and 50 in Chicago), it is the best place for pizza in Chicago. Other great deep-dish joints include Uno Pizzeria & Grill, Giordano's, The Art of Pizza and Burt's Place.
J. Parker
The best views of the Chicago skyline are definitely at J. Parker. This rooftop restaurant/bar/lounge in the Hotel Lincoln right off the Lincoln Park serves signature cocktails like the 1140 Royal made with flor de caña rum, chai tea, pistachio, pumpkin, vanilla liqueur, egg white, cacao dusting, the Snake Island made with Ketel one vodka, blackberry, yuzu tonic, lemon and the Komodo made with Broker's gin, virtue cherry cider, Luxardo cherry and lemon. Cocktail connoisseurs will have fun discussing spirits with the friendly waiters.
RM Champagne
Another Loop district highlight, RM Champagne Salon is a mix of an intimate French bistro and a prohibition speakeasy of yesteryear. This is the sophisticated way to experience Chicago at night. This place serves Champagne (it's in the name for a reason!) but also wine, beer, and signature cocktails. You can also eat here but we suggest you enjoy a few drinks with your travel partner in this chic, romantic and homey salon until it closes at 2 a.m.
Half Acre Beer Co.
Do you prefer a nice cold microbrewery beer than a fancy cocktail? Half Acre Beer Co. has two breweries where you can taste and incredible Chicago brewed beers. The two locations are open until 10 p.m. and midnight depending on the day and both offer food if you're hungry for a late-night dinner or snack. They release tons of incredible beers every year and always change them with the season. We especially love the effort they put in their beer bottle tag designs.
The Violet Hour
This swanky and elegant pre-prohibition style cocktail bar serves award-winning seasonal cocktails for those spirit nerds out there. The marble bar, buttery blue leather chairs and three salons transport you to a different era, which also means you have to dress the part: no baseball caps, no ripped jeans or anything you wouldn't wear to meet your significant's other grandmother for Sunday dinner. Look out for the single light bulb because that's the only way they let you know you're at the right place. Open until 2 every night, you might come here more than once during your stay in Chicago to experience the 3 salons.
Green Mill Cocktail Lounge
Incredible jazz music is played at the Green Mill Cocktail Lounge until 4 or even 5 a.m. Al Capone and his gang were big fans of the place in the 1920s and we can understand why. Jazz bands, from well-known performers to newcomers, heat up the place with their traditional, bebop, contemporary and improvisational jazz music. Take a look at their calendar in advance so you know who's playing when you're in town. If you want an authentic 1920s jazz experience, we definitely think that this is one of the best things to do in Chicago at night.
Chicago has tons of options for night owls who want to explore the city after the sun has set. Start your night with a couple of beers at one of the bars listed above, then head over to the Violet Hour or the J. Parker for some excellent cocktails and then end your night at the Green Mill to dance the night away to the best jazz in town. A fun and memorable time in Chicago awaits you.
---
Cover photo: Instagram | @thefarmerandthebelle15