Top 10 places to visit in Rome if you go to Italy
If you are travelling in Italy, you must absolutely go to Rome. This destination will certainly charm you with its art and culture.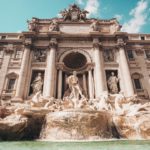 Rome is a very popular destination in Italy, especially for history loving travellers. In fact, this metropolis, which is the capital of Italy, has a lot to offer tourists, especially art and culture lovers, not to mention all the culinary establishments that are located all over the heart of this city. We invite you to discover the 10 most popular places in Italy's capital. You will undoubtedly want to spend a few days there once you have finished reading.
Advertisements
Vatican Museums
The Vatican Museums represent a group of 12 museums located in the Vatican Palace. These museums have one of the largest art collections in the world, so it is not surprising that tourists flock to visit them. In fact, it was the Popes who collected all the works of art, archaeological and ethnoanthropological, housed in the Vatican Museums over the centuries, resulting in an impressive collection of extremely rare objects.
Sistine Chapel
As mentioned above, the Vatican Museums are composed of several museums, but also many chapels. One of the must-see sites is the Sistine Chapel. You will see frescoes, including the famous scene from The Creation of Adam, painted by Michelangelo between 1508 and 1512 on the ceiling of the chapel. Once you leave the Chapel, take the exit to your left. There you will find a spiral staircase called "Bramante's Staircase". This very bold structure, vaguely reminiscent of a funnel, was designed by Giuseppe Momo in 1932. It is a double helix structure as it has two stairs: one up and one down. It is therefore impossible to cross someone in the opposite direction!
Contemporary art collection
Another gallery to visit: the contemporary art collection. This section of the Vatican Museums is much newer than the other galleries and halls. In fact, it was inaugurated in 1973 by Pope Montini. It was born of Pope Paul VI's avant-garde desire to "revive the dialogue between the Church and contemporary culture". You will, therefore, find a beautiful collection of works, especially those of artists such as Van Gogh, Bacon, Chagall, Carrà, de Chirico, Manzù, Capogrossi, Fontana, Burri and Matisse.
Advertisements
Gallery Borghese
Once you have finished your visit to the Vatican Museums, we suggest you explore the Borghese Gallery in the park of the Borghese Villa. This gallery contains a vast collection of Italian artworks. You will find Baroque sculptures and Renaissance paintings, including Caravaggio's Madonna and Child with St. Anne (Dei Palafrenieri) and Titian's The Sacred Love and Secular Love.
Advertisements
Roman Forum
The Roman Forum, also called the Forum of Rome, is also a place to add to your travel itinerary. Indeed, this place is a grandiose archaeological site representing a large part of the history of Italy's capital. During ancient times, this site was a place of political and religious gathering. In fact, marriages were celebrated, gladiatorial battles were organized and several political speeches were made here. Although only ruins of the Roman Forum remain, it is worth taking a walk to measure the extent of this site and see the architecture of its remains, such as the imposing Basilica of Maxentius and Constantine.
Advertisements
Colosseum
You've probably already heard of the Colosseum. This building was once the scene of gladiatorial battles, where many men and wild animals lost their lives in front of crowds of up to 50,000 spectators. You should go and see this place with your own eyes just to see its full extent. In fact, this amphitheatre was a symbol of Roman power and represented all the ingenuity of Italian architects.
Trevi Fountain
The Trevi Fountain is also worth seeing when you are in Rome. It is the largest, but also the most popular fountain in the Italian capital. Located in Piazza di Trevi, in front of one of the facades of the Poli Palace, this fountain, 50 metres wide by 26 metres high, is constantly admired by tourists who usually throw a coin. According to legend, those who threw a coin into the fountain built in 1762 by Pope Clement XII would have their wish granted and would be assured of returning to the capital to find their coin. This is undoubtedly a must for any traveller!
Piazza Navona
Piazza Navona is also worth a visit. Located near the Pantheon, it is an important tourist attraction in this gorgeous place. In fact, Navona Piazza is constantly animated by people walking around the pedestrian square, merchants, painters and draftsmen. In addition to this horde of people, you can see monuments whose architecture is breathtakingly beautiful, including Gian Lorenzo Bernini's Fiumi Fountain and the church of Sant'Agnese in Agone. Interestingly enough, it is built on the ruins of the Dominitian stadium, of which it has kept the same proportions.
Castel Sant'Angelo
Castel Sant'Angelo is another place you can visit during your stay in this historical city. Its name comes from a 9th century legend about the plague of 590. In fact, Pope Gregory I would have seen the Archangel Michael at the top of the castle put his sword back in its sheath, a symbol that the plague was over. If, at one time, the castle was used as a political prison, it is now a national museum. Indeed, this vast historical monument houses an impressive collection of paintings and armour.
Villa Medici
The Villa Medici is also to be included in your travel itinerary. This sumptuous palace, which has housed the Académie de France in Rome since 1803, is located on Mount Pincio. You can visit the palace's exhibitions and art collections and stroll through the splendid gardens, which cover more than 8 hectares.
Catacombs
Catacombs consist of underground galleries that were once used to bury the dead. We often refer to the catacombs of Paris, but it is not only Paris that has them. Italy's capital also has its own catacombs that you can also visit. However, you should know that of the sixty or so catacombs, only five are open to the public:
Catacombs of San Sebastian
Catacombs of Saint Calixte
Priscilla Catacombs
Catacombs of Domitilla
Catacombs of Saint Agnes
Of course, you are not left to yourself. You explore some of these underground galleries with a guide who will ensure that your visit is punctuated by various historical facts and anecdotes.
Appia Antica Regional Park
When you have finished your visit to the catacombs, why not take a breath of fresh air in the Appia Antica Regional Park? This park, which covers 3296 hectares, is located between the historic centre of this city and the Albain mountains. It protects several remains in its green spaces, including the Tor Fiscale and the tombs on Via Latina. Walking in this park is therefore both a moment of relaxation and a cultural visit.
Rome is, therefore, a must for anyone who decides to go on a trip to Italy. This destination has several historical monuments and museums that will satisfy your thirst for curiosity. The ruins of some buildings are also breathtaking!
---
Cover photo: Cristina Gottardi | Unsplash