The top 10 music festivals to go to around the world
If you like to wiggle and strut to good music and travel, you should consider putting these music festivals on your to-do list!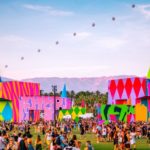 If you like attending music shows and travelling, you might want to include going to a music festival during your next getaway. What could be better than spending a day or two outdoors attending your favourite bands' concerts when you are a die-hard fan? In order for you not to lose your mind among all the options that exist around the world, we have selected the 10 most popular musical events worth going to.
Advertisements
Coachella
The Coachella Valley Music and Arts Festival usually called the Coachella Music Festival, is very popular with music lovers. Since 1999, the festival takes place every year in April for 4 days in Indio, California. It is known for its incredible musical programming that includes genres as varied as alternative rock and hip-hop. One of the pleasures of going to Coachella, apart from listening to the musical performances presented on one of the six stages, is to be photographed in front of one of the many attractions installed on the site.
Advertisements
Osheaga
This music festival, which has existed since 2006, has a very good reputation across Canada. This three-day event in Montreal invites you to attend over 90 musical performances by emerging, national and international artists. This event also includes its share of afterparties all over the metropolis for those who want to party it up after the festival is over.
Advertisements
Glastonbury
Glastonbury, which has celebrated music and culture for 46 years, takes place in the Somerset region of England. This music festival is famous for receiving great names from the music industry, including Radiohead, Lorde and the Foo Fighters. In addition to the many musical performances, you can see circus arts and many other art forms!
Advertisements
Pitchfork
For the past 13 years, the Pitchfork Music Festival has seized Chicago's Union Park during the summer season to present emerging music for three days. This cultural event, which is run completely independently, attracts the equivalent of 50,000 people from 45 states and 26 different countries. Pitchfork receives about forty artists on stage. This year, Tame Impala, The War on Drugs, Fleet Foxes, Julien Baker and Big Thief are among the festival's lineup.
SXSW
SXSW is first and foremost an event dedicated to the emergence of culture. In fact, this festival is interested in interactive art, cinematographic works and music by offering music shows, conferences and showcases. Founded in 1987 in Austin, Texas, SXSW attracts cultural industry professionals and enthusiasts alike.
Electric Forest
This event is to put on your bucket list if you like electronic music. The Electric Forest, which takes place in the state of Michigan in the United States, invites you to come and fill up with electronic music in a very special setting. Indeed, this music festival is at the very heart of nature, as its name indicates. In 2015, the event was so popular that it attracted a crowd of approximately 45,000 spectators. It is not without reason that this festival was named Festival of the Year at the Electronic Music Awards.
Lollapalooza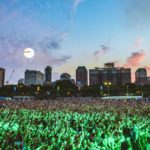 Lollapalooza, formerly a travelling festival, is now taking place at Grant Park in Chicago, USA. This music festival, which initially celebrated emerging music, is now extremely popular. It receives about 300,000 people each year. Its 2018 program is very varied with The Weeknd, Bruno Mars, Jack White, Arctic Monkeys and Travis Scott as headliners.
Splendour in the Grass
Splendour in the Grass is an annual music festival held in Byron Bay, Australia. This event, like many others of its kind, takes place on an immense grassy terrain. However, this one overlooks the sublime bay.
Tomorrowland
If you are planning a trip to Belgium, make sure to add the province of Antwerp to your itinerary, since every year, it hosts a huge electronic music festival known as Tomorrowland. Indeed, since 2003 this event invites fans of this musical genre to come and enjoy the performances of various DJs and dance until the wee hours of the night! This is definitely an event to put on your list of music festivals to go to.
Bonnarro
The Bonnaroo Festival offers over 130 concerts over four days in Manchester, Tennessee. This year's major event featured artists such as Eminem, Muse, The Killers and Alt-J. Bonnaroo also offers a humorous component in its programming as well as various activities, including yoga and running!
No matter what travel destination or music festival you choose, make sure you plan your getaway ahead of time. This will help you save on the price of your event pass and transportation. And, you will find it much easier to find a place to stay, whether it is on a campground or in an Airbnb!
---
Cover photo credit: Dummy Mag