You could travel for free with these Canadian credit cards
Advertisement - Continue reading below
1

Scotiabank: Gold American Express
With annual fees of $99 for the first card and $29 for additional cards, the Scotiabank Gold American Express makes many happy every year by offering a points system with good returns. With the 15 000 bonus points ($150) promotion when you spend $1000 in the first three months, people who tend to put all their expenses on their credit card will easily be satisfied.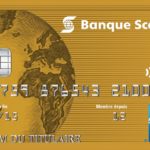 Advantages
Low annual fees;
Offers 4x more points for money spent in restaurants, at the grocery store or at the gas station;
Access to a «Priority Pass»  VIP section in numerous airports all over the world where you can rest before your flights;
Offers a complete and reliable insurance coverage;
Allows you to save when renting a car;
Offers a free concierge service;
Offers very good discounts on numerous hotels around the world.
Disadvantages
AMEX cards aren't accepted everywhere.
Advertisement - Continue reading below
Advertisement
Advertisement