Travel in Lisbon: the most beautiful sights to discover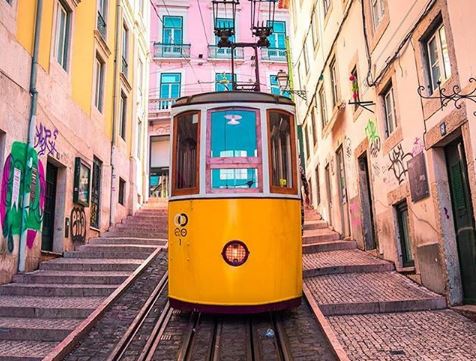 If you plan to travel in Lisbon soon, here is a list of places to explore in Portugal's sublime capital. Have a wonderful trip!
Lisbon, the capital of Portugal, is a popular destination for many tourists and rightly so! Indeed, Lisbon offers its visitors a landscape made up of historical and urban monuments, but also hills and steep streets. Whether you are a lover of culture, gastronomy or breathtaking panoramas, this capital will certainly please and surprise you. Discover some interesting places to explore during your trip and take the time to travel in Lisbon with an itinerary that surpasses your expectations!
#3 according to our users
One of the must-see places in Lisbon is the Alfama neighbourhood. You can get lost in the charming streets of this district considered one of the oldest in the capital and take the time to contemplate the architecture of the residences that are there. The streets of Alfama are extremely winding and narrow. You will notice this particularly if you board tram 28, a tramway passing through Alfama. When you are in this part of Lisbon, also remember to visit the Saint-Georges castle. The gates of this historic monument, which could not be more impressive, will give you a spectacular view of the capital.
#7 according to our users
As mentioned above, the São Jorge castle is a good way to get an amazing view of Lisbon and its surroundings. However, this historic monument is worth a visit on its own. Dating from the 11th century, you will be able to explore this castle and discover an exhibition on Lisbon, a courtyard where several pines spread out between the ramparts and galleries where past centuries are presented between several stone walls.
3

Museu Nacional do Azulejo
#1 according to our users
The Museu Nacional do Azulejo in Lisbon is also worth a visit if you are interested in azulejos, hand-painted earthenware tiles. This museum, which is located in a 16th-century convent, invites you to admire several extraordinary exhibitions.
#10 according to our users
Cabo da Roca is a must for anyone who loves hiking. This is a cape located in the Sintra-Cascais Natural Park. To access it, you must hike along the coast, which invites you to a spectacular view. Once you reach the highest point of the cape, you will be exactly 150 metres above the sea and will have an incredible view of the surrounding landscape, enough to fill your camera with sublime shots and your memory with incredible memories!
#6 according to our users
The Oceanário de Lisboa should be added to your itinerary when you travel in Lisbon, especially if you love marine mammals. Indeed, this aquarium, which is directly connected to a closed body of water, invites you to observe about 15,000 animals and 450 different species of plants. In addition, if you have children, there are several activities and workshops for the youngest ones.
#2 according to our users
Portugal is famous for its culture, but also for its sublime beaches which inspire only one desire: to photograph them and lie there until the sun goes down. To let yourself be overwhelmed by the beauty of the sea, go to the beaches of the Nature Park of Arrábida, just an hour's drive from Lisbon. The Portinho da Arrábida beach is considered one of the most beautiful in Portugal. You can dive there to observe marine mammals. Sesimbra beach is also worth a visit: it captivates by its beauty and attracts many parents and their children every year. You can swim there, but also windsurf and kitesurf.