Trip to Australia: 10 essential places to visit
This oceanic country attracts more and more visitors every year. Here are some of the highlights for your next trip to Australia.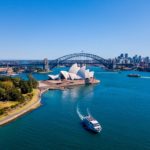 More and more people are considering Australia for their next trip, and with good reason. This island-continent has attractions for all tastes and its official language being English means it is accessible to the majority of the world. Planning your trip to Australia, however, is very an important step. If you think you're spending a week just walking around with kangaroos, you'll be disappointed because it's a misconception to think you'll be running into them on every street corner. Fortunately, there are many things to see and a ton of activities to do to make you forget this slight distress. Here are 10 essentials for your next trip to Australia.
Advertisements
Ride a bike
Cycling is a great way to discover a place. Faster than walking, it offers you the opportunity to travel longer distances in less time while allowing you to admire the surroundings. So take the Circular Quay Fast Ferry to Sydney to Manly, then go to Manly Bike Tours to rent a bike. If you're sporty, choose a hybrid bike and ride the many hills of Manly to North Head Park. However, if your goal is simply to stroll around and end your afternoon sitting in the sand, you can simply follow the bike path that runs along several beaches and stop as you see fit.
Advertisements
Admire the Uluru up close
A gigantic monolith, Uluru, also known as Ayers Rock, is a must when visiting Australia. Considered as the cultural, spiritual and geographical heart of the country, Uluru is also a site officially recognized as a UNESCO World Heritage Site. Ideally, you should go admire this geological wonder between May and September to enjoy more pleasant temperatures. And while you're around, you might as well take advantage of the opportunity to attend one of the BBQs organized nearby to enjoy yourself while listening to the musicians playing didgeridoo, a wooden wind instrument.
Advertisements
Visit the blue mountains
Located about an hour from Sydney is a chain of sandstone mountains commonly known as the "Blue Mountains", which has also been on UNESCO's World Heritage List since 2000. It is possible to hike there to discover cavernous valleys and eucalyptus forests, among others, but for the more adventurous who are not afraid of heights, it is also possible to participate in the Scenic World Tours. These allow you to admire the view from all possible angles as you fly over the region by cable car, hike in the valley or take the train through the mountain tunnels.
Advertisements
Have a drink in a microbrewery
After a long day of activities, there's nothing better than sitting down for a drink, but it's even better to have a good time in a microbrewery and enjoy local specialties! Of course, you can choose regular beers like XXXX Gold, Coopers, Hahn or James Squire, but we suggest you try one of the local eco-responsible beers, such as Bare Cove Radler, Coopers Pale Ale and Cascade Green, or local cider, very popular with Australians. If you are passing through Brisbane, make a stop at Treetops Tavern to quench your thirst in its beer garden!
Take a guided tour of the Sydney Opera House
Unfortunately, when travelling, the weather is not always mild, so you may prefer indoor activities at times. In this case, it is advisable to visit the Sydney Opera House, an absolutely magnificent place. Opened in 1973, this cultural building located at Bennelong Point in Sydney Harbour offers more than 2000 shows, 363 days a year, and offers a variety of guided tours for all tastes. The Sydney Opera House has also been a UNESCO World Heritage Site since 2007 thanks to its exceptional architecture designed by the Danish Jørn Utzon.
Caress a koala in a Queensland wildlife park
Many people believe that when they travel to Australia, they will have the opportunity to see kangaroos and koalas on every street corner, but that is not true; despite Australia's population of over 23 million, this account does not include animals and they do not roam in the middle of the city. Your best chance of seeing them is certainly by visiting one of the many animal parks. The Currumbin Wildlife Sanctuary on Queensland's Gold Coast, for example, even offers you the opportunity to hold a koala in your arms to pet him and have your picture taken with him!
Admire the Sydney Harbour Bridge
The Sydney Harbour Bridge is certainly one of Australia's most photographed monuments and a trip to this island continent should include a moment to enjoy the view of this historic structure dating back to 1932. Needless to say, a picture of the bridge is a must, but for adrenaline lovers, why be content to admire the structure from afar when you can climb it? Indeed, with Sydney BridgeClimb Tours, it is possible for you to climb up to 134 metres high during an ascent of the duration of your choice at the time of the day that suits you best.
Attend the Australian Open
Held annually since 1905 in Melbourne in January, the Australian Open, one of the Grand Slam tennis tournaments, is an incredible event to attend, especially if you are a fan of the sport. You can see the world's greatest tennis players in action, such as Roger Federer, Novak Djokovic, Serena Williams and Caroline Wozniacki. In 2019, the tournament will be held from January 14th to 27th!
Dive at the Great Barrier Reef
Depending on the regions visited, Australia has a generally warm and humid climate, so there may be times when you may dream more of swimming than hiking. In this case, why not opt for a diving activity at the Great Barrier Reef? An impressive natural treasure, it encompasses about 3000 individual reefs around nearly 900 islands and coral islets. Whether you are a certified diver or a snorkeler, the world's largest coral reef will dazzle you with its 400 species of corals, 1500 species of fish and 4000 species of molluscs, which have earned it a place on UNESCO's World Heritage List.
Attend the Penguin Parade
For animal lovers, it is possible to attend the Penguin Parade. Head to Phillip Island Nature Park as the sun sets to see a few hundred of the 32,000 penguins on this island who go to the beach to rest and feed their babies. This is one of the most impressive shows you wouldn't want to miss! You are advised to arrive earlier to settle at the Penguin Café on the coast, then head for the stands as soon as possible to have the best possible seat for the penguins to arrive.
There is no shortage of activities to do in Australia, you just have to be aware, when preparing your trip, that you shouldn't go there thinking you can walk around constantly seeing koalas and kangaroos. However, this island-continent has many other things to offer!
---
Cover photo: IngusKruklitis | Bigstock