Here are 10 vacation destinations for solo female travellers
If you're a woman and you'd like to go travelling alone, here are our top 10 vacation destinations for a solo visit. They are secure but exotic!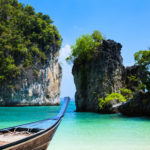 If, before, a woman travelling alone was something unusual and considered imprudent, it is quite different today. In fact, it is even something very trendy and less and less complicated. The film Eat, Pray, Love (2006) has shown us that solo travel is often a source of discovery and renewal. If you also want to try the experience, here are 10 travel destinations made for solo female travellers. These places are as breathtaking as they are safe.
Advertisements
Tokyo, Japan
You could think that Tokyo would not be an exotic place, but this is totally wrong! Japan's capital, which is the biggest city in the world, has a lot of people and life is lived extremely fast. Considering the number of people that live in this city, its architecture is breathtaking with huge and towering buildings that overlook the whole skyline. The capital's streets are obviously filled with trains, metros while the view is a collage of the sea and mountains. Since Tokyo is so big, there are a lot of things to do. You can, for example, go visit some Shinto sanctuaries and Buddhist temples or even enjoy all the culinary delights of the city.
Advertisements
Iceland
This place is perfect for those who want a totally exotic travelling experience all while staying safe. In fact, Iceland, which is situated between Greenland and Norway has tons of charms with its polar landscapes, its black sand beaches, its glaciers and volcanoes. If the language barrier scares you, know that in Reykjavik, Iceland's capital, the inhabitants speak English very well. A must try volcanic baths! You can find many right near the capital. Once you're tried natural spas, you'll never see other spas the same way…
Advertisements
The Pacific Crest Trail (California), United States
The Pacific Crest Trail, widely known as PCT, is actually the longest hiking marked trail that exists in the whole world, nothing less. This trail can allow you to go from the North to the South of the United States (or vice versa) on foot, for more than 4250 km. If this sounds insurmountable, you can also do the trip with your car. The experience will be enriching and revitalizing. You can discover the Pacific Ocean but also the Mojaves desert. Who knows? You might meet some artists, musicians and other solo travellers during your adventure.
Advertisements
The road to Merzouga, Morocco
The road to Merzouga in Morocco is absolutely sublime! It is a desert, dune and sun trail that, the more east you go, the wilder (and more impressive) it gets. Although this landscape may seem striking, even scary for a solo woman traveller, know that Moroccans are extremely nice and hospitable. You can always get some help in case of a problem and you'll also get a great cup of mint tea!
Chiang Mai, Thailand
Situated in the North of Thailand, Chiang Mai is much calmer than Bangkok. You will find temples, a tropical jungle as well as art and typical Thai cuisine. Prices are extremely reasonable so you can go to the restaurant often and allow yourself to really explore this area. This is a very safe place for solo woman travellers. In fact, Thailand is visited by numerous tourists every year. Also, Thai people, like Morrocans, are extremely friendly.
Costa Rica
Costa Rica is a place that you absolutely need to add to your bucket list, especially if you are looking for solo travel destinations. In fact, this country is a place where beaches, volcanoes and mountains are imposing and astoundingly beautiful. You have no reason to be fearful of going there alone. Also, Costa Ricans are known to be extremely nice and friendly. It is, without a doubt, a country that will please you because of its exotic nature and the feeling of total escape you'll get.
Scotland
Some people still travel to Scotland to try to find the Loch Ness monster. But, what is even more interesting and fascinating than this monster is the breathtaking views and landscapes: cliffs, lands where the mist mixes with rain, wild nature and even more! Obviously, Scottish pubs are also worth the trip! If the heart tells you, you can also plan on visiting England. These two countries are only a couple of hours away!
Barcelona, Spain
Barcelona is the ideal destination for those who want culture, gastronomy and sunshine. Although this destination is known for its many pickpockets, you can travel safely. Let yourself be seduced by Gaudi's colourful architecture, the Spanish beaches and the festive atmosphere that makes you want to dance until the wee hours of the night.
Bali, Indonesia
Bali is considered a dream destination for many tourists. In fact, this "island of the gods" has sublime white sandy beaches, forests, mountains and volcanic relief. In addition, the Balinese are very friendly and know how to preserve their culture and customs. You will be able to see offerings from many people, whether behind a shop or under a bridge. For the sportier and more adventurous, know that Bali is a perfect destination for surfing!
Budapest, Hungary
Budapest is also a place where you can travel alone without getting into any problems. This city is not only beautiful but very clean and cheap. It is also a place visited by many tourists, especially young tourists. So you will have no difficulty meeting and connecting with other travellers, especially if you are staying in a youth hostel. Budapest is also very festive, just like Barcelona. So you can party there or visit its many museums.
Don't be afraid to travel alone! It is a very enriching and exotic experience that will teach you a lot about yourself. These destinations are safe and very interesting to discover, but they are only 10 destinations among many others!
---
Cover photo credit: Lonely planet – gee1999 – Fotolia.com