Vermont: 10 free things to do on the other side of the border
Who said travelling to the United States has to be expensive? Here are 10 ideas for a cheap and enjoyable trip to Vermont.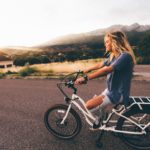 You may have a tendency to forget it, but Vermont is just an hour away from Montreal and even less if you live on the south shore. With its numerous leafy forests changing colours during the fall, this state is absolutely stunning. Its big open spaces and beautiful roads are a couple of the many things we like about Vermont.
Here are free things to do to discover the green state without worrying about money.
Advertisements
Go for a car ride
If you have a car, just go for a ride in Vermont, you won't regret it. The state has plenty of scenic roads, a lot of them in rural areas. This makes for great quality time to think while driving.
Consider going in the fall if you enjoy photography, as you will have plenty of opportunities to practice your art.
Advertisements
This bike path crosses lake Champlain as well as numerous beaches and parks. Moreover, you will have an impressive take on the Adirondacks and the city of Burlington.
Advertisements
Enjoy the beach
The North Shore beach at lake Champlain is the perfect spot to relax with your loved ones. It has everything, from the snack bar to lifeguards, from mid-June to the end of August.
Advertisements
Church Street market
Church Street, in Burlington, has four blocks of shops, cafés, bars and restaurants. This outdoor mall is full of life and has plenty of action going at every moment of the year. Go for a stroll there, and see if you have self-control when it comes to shopping!
Discover Bellow Falls' mysterious petroglyphs
Just like Mi'kmaq people in lake Kejimkujik, first nations engraved mysterious beings in the stone at Bellow Falls. To discover them, you will need to climb a few rocks, but the adventure is quite easy. Take this opportunity to sit down and look at the nearby waterfalls once you are there.
Hike Mount Mansfield
Mount Mansfield is the highest peak of Vermont. From its top, you can only see Adirondacks mountains, which accounts for a pretty nice view—a very nice one indeed. You can hike everywhere in Vermont, but the possibilities are especially tremendous on Mount Mansfield.
Burlington Farmers' Market
Burlington Farmers' Market is your usual gathering of local producers, smiles, nice people and crafts. Visit it every Saturday before 2 pm.
The Green Mountain Audubon Center is a place dedicated to environmental preservation, especially when it comes to bird habitats. You can educate yourself on these issues there, or you can enjoy for free the many trails the center offers. This is a good spot for an educative family activity.
Enjoy Middlebury College art exhibition
The Middlebury surprisingly has a vast collection of outdoor sculptures on its campus. You can see all 26 of them just walking around, and you can even sometimes catch a free indoor exhibition as well.
Visit Ben & Jerry's ice-cream factory
All right, this one isn't free, but almost: a mere $4 to visit the iconic Ben & Jerry's ice-cream factory is a $4 well invested. Included are ice cream samples, a guided tour and a visit of the (odd) flavor graveyard outside the factory.
We hope you will have an amazing time discovering the Green Mountain State. Enjoy! 
---
Cover photo: Abigail Keenan | Unsplash