10 wine bar suggestions to try in New York City
Finding the perfect wine bar can be difficult when travelling. Here is a list of the best addresses in New York City you must try!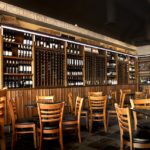 For wine lovers, travelling is the perfect opportunity to discover new grape varieties and new flavours. Indeed, sadly, not all wines from every country are exported all over the world, so some delights are unknown to us unless we go find them ourselves. However, it can be interesting to have the opportunity to taste a new wine without having to buy a full bottle and that's where wine bars come in. What could be better than a delicious glass of Chardonnay in good company in a pleasant atmosphere? Every major city has multiple wine bars worthy of the name, and some, like New York, has several excellent ones. Here are 10 suggestions for a good wine bar to try on your next trip to New York.
Advertisements
June
You've had a long day and you feel like relaxing with a nice glass of wine? June, located in the Cobble Hill neighbourhood, is perfect for a quiet evening. Its welcoming decor resembles a rustic train wagon where we can totally feel at home. Totally relaxed in the comfortable seats, you can taste several wines from Western Europe.
Advertisements
The Immigrant
Whether you are an amateur of wine or beer, the Immigrant bar in the West Village will have exactly what you need to make you happy. In fact, separated into two sections, they serve these two popular alcohols in a laid-back and relaxed setting. It is the perfect place to taste a delicious glass of wine and eat some cheese.
Advertisements
Lois
In this Alphabet City bar, you can taste 16 delicious wines directly from their barrels. This way of serving wine, with no bottles and labels, is not only green but also allows the owners to sell the wine at a more affordable price. Available in 4 different formats between 100 and 1000 millilitres, you'll find something you like, we guarantee.
Advertisements
Bar Veloce
If you don't have the means to take a trip to Italy but visiting New York is in your budget, you can always go taste a couple of excellent Italian wines that come from Sicily, Piedmont, Umbria, at the Veloce bar, in the heart of Chelsea. You can even have some of their delicious paninis and tramezzino. Also, like in Italy, their wine glasses are quite affordable.
The Four Horsemen
Belonging to the musician and producer James Murphy, the most popular member of the band LCD Soundsystem, The Four Horsemen wine bar considerably differentiates itself from other similar bars that can be found in Williamsburg. Thanks to its modern esthetic accompanied by more vintage touches, like old objects, cedar wood ceilings and libraries filled with books, you'll be charmed by its decor but also by its selection of around 250 bottles of natural wines and a dozen options for wine by glass that come from Western Europe as well as the United States.
Aria
Ideal for a group outing thanks to its long rustic tables, Aria, located in the West Village, promises a really good time between friends. Offering French and Italian wines that go perfectly well with the exquisite Italian dishes you'll definitely order, this is truly one of the best wine bars in New York City.
Corkbuzz
Corkbuzz in Union Square will definitely charm you by its decor, especially the walls filled with wine glasses. But the most impressive thing is without a doubt its selection of more than 50 wines by the glass that come from all over the world, like South Africa and Lebanon. They offer a series of classes to learn more about wine for beginners as well as classes for wine connoisseurs. The ideal time to go is after 10 pm since the champagne is half price!
Aldo Sohm
Aldo Sohm is certainly a little more expensive than other wine bars, but it is worth it, being that of the prestigious French luxury restaurant Le Bernardin, chef Eric Ripert. Located in Midtown West since 2014, Aldo Sohm is a modern and relaxed place with an aesthetic reminiscent of the 70s. It is possible to taste delicious small dishes while enjoying a good glass of wine.
The Ten Bells
Located in the Lower East Side, this wine bar is interestingly named after the London pub in which Jack the Ripper, the infamous serial killer, possibly found two of his victims. Despite everything, what makes this wine bar one of the best in New York is its collection of organic wines, about 20 options for wine by the glass and around 50 options for bottles. The most notable are probably the fruity Moroccan wine Syrocco Syrah and the floral Austrian wine Grüner Veltliner.
Sunrise/Sunset
Sunrise/Sunset is the place to visit for wine amateurs living in or visiting Williamsburg. This coffee-bar serves small plates and very affordable wine. Its organic and biodynamic wine selection from all over the world, is, amongst other things, what makes this place so popular.
If you love wine and love discovering new grape varieties, you will be totally satisfied during your next visit to New York City with these great options. No matter the neighbourhood, there is a great wine bar to discover.
---
Cover photo: Dolce Vita Italian Kitchen and Wine Bar