10 wonderful beaches to discover in Quebec this summer
To make the most out of summer and the warm weather, nothing beats relaxing on one of the many Quebec beaches you'll discover.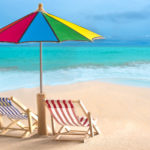 Summer means sun, warmth and holidays. Many opt for a holiday abroad in order to get away from it all for a few days and discover distant lands, but others decide to stay in the country and enjoy the various activities offered in the region. Whether you are travelling in Europe or elsewhere, or in your own garden, when a heat wave rolls in, beaches become the destination of choice. Whether you choose to go with friends or family, a day at the beach can be as relaxing as it is fun and everyone can enjoy it. There are many beaches to discover in Quebec and those who join you on your adventure will truly enjoy these destinations!
Advertisements
Vauvert beach, Saguenay-Lac-Saint-Jean
Several kilometres of fine sand make up the magnificent beach of Vauvert. Offering a breathtaking view of the majestic Lac Saint-Jean, it is possible to relax peacefully or practice one of the various activities offered such as sea kayaking.
Advertisements
Édouard Lake beach, Mauricie
Located in the heart of La Mauricie National Park of Canada, Lac Édouard beach offers a total disconnection from the urban world. More conducive to festive and animated activities, it is a place where one goes to have fun and not to spend a calm and zen day. It is also possible to hike or cycle on magnificent trails.
Advertisements
Île Verte beach, Bas-Saint-Laurent
As its name suggests, the Île Verte is more of an island than just a beach. Unlike conventional beaches, Île Verte is accessible all year round, both in the hot summer sun and in the cold winter snow. With a view of the blue sea in summer, turquoise sea in the fall and icy sea in the winter, you can sunbathe on the beaches, but also visit the very first lighthouse built on the St. Lawrence River over 200 years ago or go ice fishing.
Advertisements
Faillon lake beaches, Abitibi-Témiscamingue
The outfitters of the Faillon Lake are composed of several beaches which will make the happiness of all. Calm, peaceful and magnificent, one can only be charmed by the enchanting scenery of this place. Made of fine sand, they are perfect for a walk in the early morning or late evening before returning to the comfort of your cottage or room at the inn.
Franquelin beach, Manicouagan
A small village of a few hundred inhabitants, Franquelin is surrounded by mountains, forests and the St. Lawrence River. The beach is located just after the bridge overlooking the Franquelin River and offers an unobstructed view of the surrounding nature. A few kilometres further along the road after the bridge is a prime spot to watch whales swimming in the river.
Major beach, Sainte-Agathe-des-Monts
The largest beach bordering Lac des Sables, Major Beach is located very close to Camping Sainte-Agathe and the local sailing school. The lake is perfect for swimming on a hot summer day and many activities are accessible, such as a children's park, beach volleyball courts and canoe, kayak, pedal boat and windsurf rental.
Salaberry-de-Valleyfield beach, Montérégie
Composed of two main islands, the Îles-de-Saint-Timothée regional park is an excellent place to visit to enjoy the warm summer days. In addition to hosting the Salaberry-de-Valleyfield beach, this park is ideal for observing more than 100 species of birds, numerous small mammals and an aquatic fauna counting more than 15 species.
Saint-Joseph lake beach, Québec
Lake Saint-Joseph is one of the largest lakes in Quebec and is bordered by a sumptuous sandy beach half a kilometre long. The water of the lake is a beautiful deep blue and swimming is very pleasant. What's more, you're sure you won't get bored thanks to all the entertainment that takes place on the shore.
Haldimand beach, Gaspésie
Located southeast of Gaspé, Haldimand Beach is one of the most beautiful beaches in Quebec. The freshness and water quality are excellent and you can see Gaspé Bay stretching for miles before your eyes. Offering all amenities, as well as a renovated playground for children, this beach is ideal for family fun.
Saint-Irénée beach, Charlevoix
Located on the banks of the St. Lawrence River, Saint-Irénée beach is perfect for strolling along, observing the sumptuous blue expanse as far as the eye can see and cooling off on hot days. The place also offers horseback riding on the shore. Good times are guaranteed when visiting this beach.
There is no shortage of beaches to discover in Quebec, in every region. To enjoy fine, warm sand, refreshing water and an unobstructed view, you just have to visit these wonderful places to be fulfilled.
---
Cover photo credit: Somchai Choosiri | Bigstock