10 of the world's most gorgeous scuba diving destinations
There exists a number of places all over the world where you can go scuba diving but some greatly distinguish themselves with their unique charms.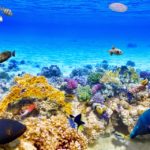 Scuba diving has become more popular in recent years and it is easy to understand why. Who hasn't dreamed of swimming like a fish and living underwater? Diving allows us to fulfill this desire for a moment, but also to immerse ourselves in a wonderful world and discover what lies beneath the peaceful surface of the most beautiful bodies of water. Fish, sharks, corals, shellfish, all the underwater fauna and flora is within your reach. Here are the 10 most beautiful places to go scuba diving and live an impressive experience you'll remember all your life.
Advertisements
Biscayne National Park, Florida
Most of the Biscayne National Park is found underwater, so it is not surprising that one of the main activities to do there is scuba diving. You can admire a coral reef, but also six shipwrecks that have sunk over the years in the shallow waters of Biscayne Bay.
Advertisements
Anacapa Island, California
You should not go to Anacapa Island hoping to experience a nice and comfortable environment to dive in, but for those who are well equipped, the marine environment available to you is simply sumptuous. Kelp forests, multiple aquatic animals, wrecks and submerged arches, you'll see it all.
Advertisements
Gili Trawangan, Indonesia
A popular destination for divers, Gili Trawangan offers many different dive sites, each offering different attractions, from reefs to corals, valleys and the chance to see groups of turtles. Some of these sites require more advanced diving certifications, but many are accessible to everyone.
Advertisements
Stingray City, Cayman Islands
If you want to swim with rays, Stingray City is the ideal place for you. In the shallow part of this submerged sandbar, you can touch, play and feed the rays, but it is also possible to go into deeper waters to admire the immense beauty of the coral reef typical of this Caribbean region.
Rocktail Bay, South Africa
The waters of Rocktail Bay, located north of KwaZulu-Natal, South Africa, hide many underwater treasures for diving lovers. Rocktail Bay Lodge is the only place that offers a boat to get to the dive site and during the ride, you can see bottlenose dolphins, tiger sharks or humpback whales. But the best part and true splendour of the place is discovered once you are underwater.
Devil's Den, Florida
Devil's Den, Florida, is actually one of the most prehistoric places in North America. This water source located inside a dry cave is the home of several animal fossils that have been extinct for 2 million years and, it would seem, there are also the remains of a 7,500-year-old man. Fascinating discoveries certainly await you during this unique dive.
Satil Ship Wreck, Israel
The Red Sea that borders Israel is an ideal place for diving. Once immersed 100 feet deep in this warm water, you are surrounded by restored reefs, eels, shipwrecks and coral. The Satil shipwreck is the place to explore when scuba diving in this region.
Byron Bay, Australia
The Julian Rocks dive site, located in Byron Bay, is home to over 1,000 marine species ranging from sharks and rays to turtles, fish and molluscs. It is here that the tropical warm current and cold waters meet, forming an extraordinary ecosystem.
 Atoll Ari, Maldives
An underwater paradise, Ari Atoll is a unique place for drift diving. Indeed, its seabed is free of coral reefs, so divers can visit it simply by letting the current carry them. Mantas, whale sharks and schools of hammerhead sharks can be seen here.
Yucatán Peninsula, Mexico
The Yucatán Peninsula in Mexico is well known for its many breathtaking cenotes. Its most interesting attraction is probably the fact that by diving there, it is possible to get a glimpse of what emeritus divers can experience while diving underground, but without the need for any training.
Of course, there are thousands of places to dive and each has its own unique cachet, whether it's a majestic coral reef, impressive relics or a well-diversified marine fauna, but these 10 places stand out and are certainly worth going to at least once in your life if you're serious about diving.
---
Cover photo credit: Easy Voyage