10 affordable wedding dresses for all styles
Looking for affordable wedding dresses to try on before walking down the altar? Find the perfect dress that won't cost you an arm and a leg here!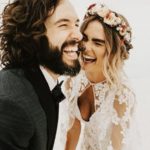 Finding your wedding dress has much in common with searching for your soul mate: you may stumble upon the right one by chance or search for a long time in vain. Add to this imponderable the limitations of a tight budget and this happy and pleasant task can quickly become tedious. To inspire you and help you find the dress of your dreams without sacrificing quality, here are 10 great affordable wedding dresses for less than $1 000, ideal for all different types of brides.
Advertisements
Classic
This ivory peplum dress with a boat neckline and an open back is for the one for whom less is more. Lovers of conservative elegance looking for a long, sober dress can get it at Boudoir 1861. The Montreal boutique carries rustic chic and classic models at low prices. Available for $325, the Sanya Ivory is ideal to showcase the black pearl set inherited from your great-grandmother.
Advertisements
Rustic chic
Are you dreaming of an outdoor ceremony, a festive reception in an old barn adorned with greenery and wild bouquets, a large common table, a rustic decor and lights hanging from trees? You already have your wreath of flowers and you only need the dress for a perfect wedding in the countryside? Turn to Christy Dawn's beautiful ethical and eco-responsible creations. For a few hundred dollars, let their pretty wedding dresses tempt you or even opt for one of their regular line models in white tones for a less formal look, but just as ravishing and even more affordable.
Advertisements
Princess Bride
All future brides should take a look at the beautiful BHLDN dresses. Anthropologie's bridal collection offers dresses in all styles: classic, bohemian, rustic chic, modern, etc. The dresses are undeniably chic and feature attention to detail, embroidery and quality that rivals great bridal couture brands for a more than reasonable price. BHLDN is the destination for those looking for a grandiose princess type dress and limited by a tight budget.
Advertisements
You'll marry a music man
Blue jean baby, LA lady… Reformation dresses a bride that could be straight out of an Elton John song. These dresses are for a cool woman endowed with an ecological conscience. Simple, elegant and fashionable cuts, reused materials and prices that rarely exceed $500, Reformation is an attractive option for a wedding.
Bohemian
With its many ultra-feminine details, light and vaporous fabrics and romantic silhouettes, For Love and Lemons is the destination for the bohemian bride. Some short dresses, others long and some more daring will please modern hippies. Romantic, relaxed, frolickers and/or artists will find superb dresses of quality with a unique design in which to celebrate their love without having to spend too much.
Modern
Karla Spetic embodies modern chic. Some dresses such as the beautiful Seychelles dress are perfect for an avant-garde wedding. The minimalist, original cuts and a futuristic touch combine feminine and masculine elements in ultra-modern pieces. These designs, sometimes sober and sometimes bold, will dress gallery owner brides, artists and trendsetters for less than $500.
Beach
Free People dresses are best worn barefoot with beachy mermaid waves. Their romantic and delicate dresses lend themselves perfectly to a ceremony on the beach. The light fabrics, bohemian cuts and feminine prints of Free People make it an ideal choice for an elegant wedding, a casual and ultra-romantic touch on the seaside.
Retro
Weddings must be more popular than ever because even Topshop now is in the bridal market and the result is worth a look. Definitely the most affordable of all, these classic dresses offer a touch of nostalgia with cuts and elements borrowed from another era. With a little research and a critical eye, the bride with a very tight budget can find a very beautiful piece to wear at her wedding.
Something Bold
Do you march to the beat of your own drum? Dare to wear a jumpsuit while walking down the aisle. Find a romantic and feminine one in Whistles' wedding collection. The line also includes pretty dresses for all tastes for just over $1,000.
City Hall
Did you opt for a civil wedding? Nothing prevents you from wearing a traditional white dress. Self-Portrait creates beautiful, infinitely feminine, elegant and fashionable midi-length dresses just chic enough to turn heads for the right reason. The worked lace ones are perfect for a town hall wedding since this kind of dress will show that it is very much your day.
A tight budget shouldn't stop you from saying yes to the dress of your dreams. With these 10 stylish and affordable designs, you'll feel your best without breaking the bank, no matter your style.
---
Cover photo: BHLDN/Instagram