7 of the best lip balms to survive the winter season
It's not just your face that needs moisturizing, it's your lips too! Here are the 7 best lip balms perfect to get through winter.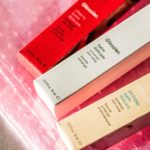 The winter season can be devastating for the skin. In fact, it can cause redness and make the skin dry and chapped. It is therefore essential to take care of it with products that are adapted to this kind of harsh weather. You can find several body and facial treatments on the market. There is also a wide range of lip balms in stores, which can sometimes make it very difficult to buy the right product. To help you choose the best lip balm and thus have hydrated lips throughout the winter, we have selected some interesting products for you.
Advertisements
Caudalie, Lip Conditioner
The European brand Caudalie has a perfect lip balm for the winter season. The Lip Conditioner, which can also be purchased in duo with the Gourmet Hand and Nail Cream, has several properties that make it essential when the temperature gets colder. In fact, this treatment moisturizes, repairs and protects the lips, in addition to giving your mouth a splendid shiny effect (unlike some lip balms that give a "greasy" effect). The Lip Conditioner is made up of 99% natural ingredients, namely nourishing grape seed oil and antioxidant grape polyphenols. You will undoubtedly love its subtle orange scent as well as its melting texture.
Advertisements
Glossier, Balm Dotcom
Glossier is on everyone's lips these days, that's for sure! This extremely trendy brand will surely please you, especially the Balm Dotcom lip balm. Concocted with castor seed oil, beeswax and lanolin, this Glossier product is a must for those who tend to have cracked lips. You can apply it to all areas of your body that require a little more moisture, such as elbows and cuticles, by applying a small amount of your Glossier product to your finger and rubbing the area to be hydrated. It is also a hypoallergenic, fragrance-free and cruelty-free lip balm.
Advertisements
Fresh, Sugar Tulip Tinted Lip Treatment

You can also find a good lip balm from Fresh. The Sugar Tulip Tinted Lip Treatment moisturizes the lips while protecting them. It also adds a little colour to your pout, which can be a good alternative to traditional lipstick, which sometimes tends to dehydrate your lips. Just like Caudalie's Lip Conditioner, it contains, among other things, grape seed oil that contains antioxidants, which helps to preserve the beauty of your pout!

Advertisements
Burt's Bees, Beeswax Lip Balm
Burt's Bees has been on the market for several years now and it is understandable why: this brand offers quality products made from natural products. The Beeswax Lip Balm has all the ingredients to protect, moisturize and soften your lips. Indeed, this lip care product is composed of beeswax, antioxidant vitamin E and peppermint oil. Apply a thin layer of this natural lip balm on your lips to fight the cold winter winds.
Avène, Cold Cream
Avène is internationally renowned for its beauty products made from its thermal water resort. You can, of course, find a lip care product among its range of products, the Lip Balm with Cold Cream. This lip balm has three properties; it is nourishing, repairing and soothing. It is the combination of Cold Cream, Thermal Water and Sucralfate active ingredient (an active ingredient that repairs mucous membranes) that makes this balm so good for our lips.
BY TERRY, Baume de rose
You can find a sublime lip balm from BY TERRY. The Baume de Rose, which evokes the elegant flower by its smell and colour, allows you to have hydrated lips while having a splendid "glossy" look. This lip balm is made with ceramides and shea butter, two ingredients that help restore the lips' natural moisture even when the winter temperature makes life difficult.
Kiehl's, Butterstick Lip Treatment Simply Rose

Kiehl's also offers interesting lip balms, including the Butterstick Lip Treatment in Simply Rose. This lip balm, which is a blend of natural oils and butters, moisturizes your lips and protects them with SPF 25, and adds a nice tint to your mouth with a pretty pale pink shade perfect for day and evening outings.

These seven lip balms should help you fight the cold season properly. Of course, once you have found the best lip balm that suits you, why not start looking for a hydrating hand cream too?
---
Cover photo: Charisse Kenion | Unsplash