The best period panties that are both leak proof and cute
Move over tampons, the best period panties are here to make that time of the month much, much better.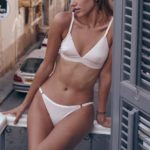 Periods are definitely not a woman's best friend. Bloating, stomach cramps, leaks, funky smells, there's nothing fun about that specific week of the month. It's a bloody mess (in every sense of the word)! If you've already made the ecological switch and you're a fan of menstrual cups, like the Diva Cup, you're already one step ahead of most women but if you want to try something new that will protect you from leaks, you should know underwear made for your period exist. Period panties, like menstrual cups, are much more ecological and much less wasteful than the disposable stuff and they look much cuter than the granny panties you save for this time of the month. Take a look at the best period panties that will benefit both you and the environment.
Advertisements
Lunapads
Not only does Lunapads make period underwear but they also make washable pads for those who still prefer wearing protective pads in their normal underwear. Select your level of absorbency for both the pads and underwear and choose between natural or organic fibres for your bikini, brief or hipster cut.
Advertisements
Thinx
Choose between their hiphugger, hi-waist, sport, cheeky, thong and boyshort to wear throughout your period from the light beginning to your heaviest flows. These period panties will keep your feeling fresh but will also keep you dry so you don't have to worry about leaking throughout the day.
Advertisements
Fempo
Fempo is more than just period proof panties. This French brand is all about women empowerment and getting what you want without making any compromises. The three underwear models protect you from leaks, smells and humidity for up to 12 hours and come in three types: La Power ++, La Hipster, La Culotte because you can never have too many choices.
Advertisements
Dear Kate
With sizes ranging from XS to 3X, Dear Kate's period panties are inclusive and most importantly, work. The breathable fabric keeps you feeling fresh and is easy to wash and won't leave stubborn stains. They even have a dance and activewear for your daily workouts.
Modibodi
Modibodi provides women with light and medium to heavy absorbency so you never have to worry about staining your sheets ever again. They also have maternity, swimwear and activewear options so all women can stay fresh as a daisy.
Much more ecological than normal pads and underwear, period panties are very easy to care for. Most of them only need to be rinsed, washed in the delicate cycle and hung dried. A much needed upgrade from the 'period only' granny panties you stained ten times over.
---
Cover photo: MAX LIBERTINE | Unsplash