10 zero waste products for a greener lifestyle
It is no secret that we must take care of the environment. To do this, it is essential to reduce the amount of waste we produce. Why not adopt zero waste products to achieve this? Here are some of them to get you.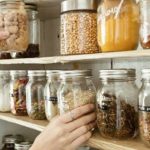 For some years now, the environment has been at the heart of social concerns, and rightly so. The media and environmentalists are increasingly trying to educate the public about global warming and raise awareness of the importance of taking care of the planet. There are several ways to do this. In particular, you can reduce your waste production by making zero waste products part of your routine. Here are 10 products to buy to have a green lifestyle.
Advertisements
Jars
If you want to integrate zero waste into your routine, it is better to have a few Mason jars in your possession. These items will help you keep your food at home in addition to grocery shopping in bulk stores.
Advertisements
Fabric bags
Cloth bags should also be part of the items you own. Try to buy them in organic cotton and carry them everywhere with you: at the grocery store, at work, etc. They will be very convenient for you when you shop and will avoid using plastic or paper bags.
Advertisements
Several pieces of fabric
It is good to have several pieces of fabric at hand. They will replace the traditional paper tissues and will be used daily in the house to perform household tasks such as cleaning the kitchen counter.
Advertisements
The environmentally friendly toothbrush
It has been some time since the ecological toothbrush appeared on the market. You can find them in bamboo, bioplastic, and some are vegan and biodegradable. The important thing is to reduce the amount of plastic thrown out each year! After all, dentists suggest that we change toothbrushes every 3 months…
Washable sanitary napkins and menstrual cup
In addition to being expensive, sanitary napkins and tampons are extremely polluting. However, we have to admit that we cannot do without it. However, it is possible to trade these products for washable sanitary napkins and menstrual cup, commonly known as "the cup". Both products are environmentally friendly and will save you a lot of money. Just because you take care of the environment doesn't mean you have to stop taking care of yourself!
Shampoo bar
Several companies are now dedicated to the production of shampoo bars. These products, which are mostly made from 100% natural ingredients, are not only good for your hair but also good for the environment. In addition, be aware that these products limit overwrapping, which reduces waste. If you want to learn more about shampoo bar, read our article, "Shampoo bar: Help the environment one bar at a time".
Washable make-up remover pads
Other essential zero products are washable make-up remover wipes. They will help you get rid of your mascara, eye shadow, and other beauty products without harming the environment.
Water bottle and coffee cup
Do you usually have a good cup of coffee in the morning? Why not pour your favourite beverage into a thermos? This will allow you to take care of the planet in addition to meeting your caffeine needs. You can also get a bottle of water to make sure you are hydrated at all times.
It is not difficult to adopt a zero-waste lifestyle. By following these few tips, you will be able to have a much greener routine and zero waste products will become an integral part of your daily life before you even realize it!
---
Cover photo: @dans_le_sac | Instagram