12 bridal makeup looks to radiate confidence on your big day
You have your dress and your wedding day hair inspirations photos but what about your makeup? Here are 12 bridal makeup looks for every kind of bride.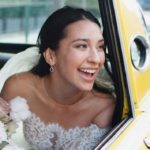 You and your soulmate are tying the knot! Congratulations! It's now time for the fun part: the dress, hair and makeup (and the honeymoon planning, of course!). You don't want to find yourself on your wedding day without some beautiful makeup inspiration, whether you have someone doing your makeup or you're doing your own. You want to look great on your big day and choosing the right makeup that complements your dress and your personality is vital. No matter what kind of bride you are, get inspired by the 12 bridal makeup looks below for your wedding day. Don't forget the waterproof mascara!
Advertisements
Classic
The perfect makeup for a bride looking to keep things classic, from her dress to her center table to her makeup, this lustrous eye and glossy lip duo is pretty and won't take a whole morning to achieve. We love the subtle sheen of the eyeshadow and the dark brown eyeliner on top of her eyelids. Keep the rest of your face simple with a lasting liquid foundation and a pink blush.
Advertisements
Minimalistic
Similar to the classic bridal makeup above, this minimalist look will please brides who prefer to keep things natural and effortless. The important element in this look is the skin. You want beautiful, glowing from within skin. If you have time, get a facial a few days before your big day so your skin is brighter and clearer. Tip: Avoid too many dairy products, salty foods and sugar a month before your wedding day. A lightweight foundation, a few flicks of mascara, a nude creamy swipe of eyeshadow and a matte nude lip is all you need for that 'no makeup' makeup look.
Advertisements
Princess
Your wedding day is the perfect day to transform yourself into a princess. This makeup will fit perfectly with your tulle ball gown wedding dress (and tiara, perhaps?). The perfect princess look requires XXL lashes, high shine glossy lips and a pinky-nude smokey eye. If your dress exposes your shoulders, add some shimmering body oil to really make your shoulders and collarbone pop.
Advertisements
Rocker
Thinking of wearing combat boots with your wedding dress? If you're wearing something edgy and unconventional, this smokey eye will complete your rocker chic look. Choose a palette that complements your eye colour: for blue eyes, choose blueish/black shades or golds, brown eyes look great with any colour but jewel tones really make the eyes pop, while green eyes should choose a sparkly emerald hue to match their eyes. Keep your lips natural with just-bitten lips you can achieve with a tinted balm.
Boho
Boho gals will appreciate this hippie-glam bridal makeup look, which will look spectacular with the lace wedding dress for the big day. Ultra-feminine but still low-maintenance, the nude smokey eye and winged eyeliner duo is not too harsh nor tricky to replicate. All you will need to add is a crown made of freshly picked flowers.
Modern
Modern brides don't want to fuss with eyeshadows, liners, highlighters, etc. Keep it simple and straightforward with this modern take on the cat eye. Artistic, minimalist, avant-garde, this fresh, bare face and black liner bridal makeup look is meant to showcase your true beauty. Treat your skin to a pre-wedding smoothing and brightening facial for a glowing complexion when the big day comes.
Beachy glow
You're having a destination wedding? Forget about heavy, dark makeup and opt for a fresh, dewy glowing makeup to match your laid-back, satin, short and flirty wedding slip. Opt for a full body spray tan or soak up a few rays before your big day. Drink lots of water to keep your skin hydrated so it glows once you walk down the aisle. All you will need is some bronzing powder, creamy and sparkly eyeshadow as well as lots of highlighter to capture that gorgeous Caribbean light. Mascara optional.
Retro
Are Audrey Hepburn and Grace Kelly your bridal style icons? Retro and old-fashioned wedding dresses look absolutely splendid with a bold red lip and sultry cat eye. This raspberry red lipstick is more fun and playful than a ruby red lip. Opt for a creamy and long-lasting formula so you can kiss your new hubby the whole night without ever reapplying. For the eyes, a sharp flick of carbon black eyeliner would make even Audrey herself jealous! Keep the rest of your makeup to a minimum in order to balance out this strong eye and lip look.
Bold
Wedding dresses are beautiful and there are thousands of models to choose from but even if you can choose between a-line, mermaid and sheat, tulle, satin or lace, the dress stays white and pretty conventional. However, a bright purple eye creates a great pop of colour on an otherwise all-white ensemble. Mix a few shades of purple (or any colour that brings out your eyes) and create a colourful smokey eye. Add a nude gloss or satin lipstick to balance out these gorgeous eyes.
Romantic
What could be more romantic than fluttery, thick and long lashes? Add a pink matte pout and you've got the winning combination. Make your real or fake lashes the big stars by only applying a bit of blush and bronzer to your cheeks. This bridal makeup look will complement your long luscious locks or your messy bun hairstyle.
No fuss
Criers and natural makeup lovers will definitely want to go for this kind of look for their big day. Does mascara irritate your eyes? Will you cry once he starts reciting his vows and you don't want to look like a raccoon? Use clear mascara to give your eyes a lifting effect without it staining your pristine white dress, add a bit of blush on your cheeks and a nude pink on your lips for kissable lips.
Glamazon
This bridal look is definitely not for everyone but if you love a glamorous, colourful and daring makeup, then go all out and try this. All you need really is a punchy blush to sweep across your lids and around your eyes. To add definition, apply a peachy gold in the inner corners of your eyes to create that eye-opening effect. Pile on the mascara but apply lipstick the colour of your lips to balance everything out. This look will give new meaning to the saying "here comes the blushing bride".
You will remember your wedding day for the rest of your life so your bridal makeup needs to complement your dress and your personality in order for you to feel beautiful and confident on your big day. These 12 bridal makeup looks for every kind of bride will add just the right touch to your wedding day look.
---
Cover photo credit: @brides | Instagram