10 easy makeup looks you can wear from morning to night
Change up your beauty routine and try one of these 10 easy makeup looks that you can easily wear to work, school, brunch and a coffee date!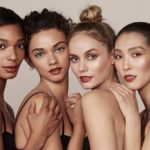 If you love makeup and beautifying yourself then you understand the thrill of buying a new lipstick or eyeshadow. New colours, textures, formulas, makeup enthusiasts appreciate how transformative a red lip or glittery eyeshadow can be… when you actually use them. Stop staring at your orange lipstick or purple eyeliner and use them! There are a ton of easy makeup looks you can quickly accomplish in the morning when you're rushing out to start your busy day! The 10 looks below look good on anyone, they won't take you more than 15 minutes to do and they will easily take you from the office to happy hour drinks.
Advertisements
Bright orange lip
A punchy orangey colour is more casual and fun than a rich red lip. This matte lipstick brightens her face and is definitely day appropriate. The important thing to remember is to keep the rest of your makeup understated: a little bit of mascara, a flick of clear brow gel, and that's it. For that dewy, glowy skin, just massage in your skin a rich hydrating cream before you apply your makeup.
Advertisements
Carribean glow
Did you just come back from Bali? St Barths? Hawaii? No, you just know how to apply bronzer to look like you just came back from the south. The beach babe look is all about the skin. Since you're acting as though you just came back from a paradisiac beach holiday, the more it looks natural, the better. Hydrate your skin, apply a primer to make sure your foundation is well blended. Find a mirror located in a room with natural light and start applying some bronzer: under your cheekbones, on your lids, on your jawline, in your neck. Apply clear mascara on your lashes and brush your brows, add lip balm, that's it. The gold goddess is here.
Advertisements
Golden eyes
These gold shimmering eyes are day-appropriate, especially with a neutral pink lip but they are also perfect for the evening. Use a tinted moisturizer to cover any imperfections, add some blush, fill in those eyebrows, add a few coats of mascara and choose a pink lipstick or tinted lip balm. Now, for the eyes: apply a primer before adding a creamy and glittery eyeshadow all over your eyelids and a little bit under your eyes.
Advertisements
Au naturel
Your skin should always be your priority because makeup only looks good if your skin looks good. This minimal look is perfect for days when you feel your best au naturel and you want to show off your nice skin. Wash your face, massage into your skin a rich and hydrating cream and spray a toning mist for perfectly dewy skin. Apply a small amount of light coverage foundation, bb cream or tinted moisturizer to hide any imperfections or redness and make sure it's a water-based formula. Brush up your eyebrows, apply a clear mascara on your lashes and add a little lip balm.
Pink flush
Blush will wake up any tired face. A little flush on your cheeks creates a youthful and playful look. Before applying your favourite foundation, put some luminizing drops or a highlighting primer to have that glowing from the inside look, fill in your eyebrows and add a few coats of mascara. For the blush, smile and with your brush, apply the pink hue on the apple of your cheeks in upward motions. Add a bit of highlighter on your cheekbones and other high points of your face. This is an easy makeup look that looks good day and night.
Sophia Loren-inspired cat eye
You thought a cat eye/smokey eye combo was only appropriate in the evening? Think again! You can easily tone down your cat eye to make it more of a day makeup look. After you've applied your foundation, start your eyeliner in the inner corner of your eye and continue the line just after your eye ends. Keep your cat eye thin. Add a taupe or chestnut powder eyeshadow on your eyelids to create that soft smokey eye, add some bronzer and cover your pout with a nude lipstick to keep your eyes the center of attention. If you want to intensify the look for the evening, just add a darker eyeshadow like a chocolate brown or black on your eyelids.
All about the lips
Another variation of a bold red lip, this sunset orange hue will melt ice. Ideal to wear in the winter when you want to fake a nice tan to keep your colleagues guessing. This easy makeup look is all about glowy skin, so apply a luminizing primer before your foundation. Add a shimmering bronze colour on your eyes, bronzer on your face and some highlighter to accentuate the glow. Add a creamy orange-red lipstick to complete the look.
Violet eyes
Violet and glitter don't scream easy or quick makeup look but fear not! This gorgeous eye can be done in mere minutes. Apply foundation on your skin, fill in your eyebrows and a little bit of bronzer to contour those cheekbones. For the eyes, choose a matte brick red colour for your eyelid and then add a glittery ox blood eyeliner at the base of your lashes. Add a plum liner to your water line and use a glittery plum colour under your bottom lashes. Finish off with a clear gloss.
Mile-long lashes
If you are lucky enough to be blessed with long lashes, you know that a few coats of lengthening mascara can open up your eyes and change your whole face (for the better). Those who are not blessed with long lashes can get lash extensions but a good lash curler and loads of mascara usually do the trick. For this easy makeup look, only the strict minimum is required: a good base (don't be shy to add a few drops of highlighter to your light coverage foundation), brows on fleek, a flush with a pink blush, a gloss and perfect lashes. The mascara and blush combo will make you look like you've just woken up from the best sleep in your life. Everyone will want to know your secret to a restful night.
Azure eyeliner
A black cat eye is classic and safe but an azure cat eye is fun, cool and unexpected. Make your eyes the star and keep the rest of your makeup minimal. A little bit of foundation, some concealer, highlighter and mascara is all you need. Apply a highly pigmented gel, liquid or pencil azure eyeliner and create your favourite cat eye shape. If you have blue eyes, try a coral cat eye, for green and brown eyes try a purple eye but a bright blue also looks great on hazel and brown eyes.
These easy makeup looks are beautiful but the best part is that they don't require too many tools and products. These looks are not meant to hide your face, they are meant to enhance the facial features you love the most. Have fun trying them out but remember that beauty comes from within… although sometimes makeup helps to show that beauty.
---
Cover photo credit: @bobbibrown | Instagram