Red lip makeup: Make your pout take centre stage
Love a bold red lip but you're tired of always using the same shade? Experiment with these 12 red lip makeup looks to let your lips do all the talking.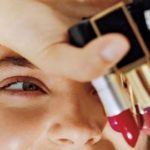 Makeup has the power to transform your mood and your look, boosting your confidence and allowing you to express your own personal style. If you're a fan of makeup but you're lacking creativity these days, why not consider exploring different red lip looks? A bold lip is fun, flirty and adds a touch of playfulness in the day and a touch of sexiness at night. From crimson to scarlet to burgundy and ruby, here are 12 red lip makeup looks to try next time you're in the mood for a little cosmetics and me time.
Advertisements
I woke up like this
No, there is no way you "woke up like this" but this no-makeup makeup look is ideal when you're in a hurry or when you want to show off your classic red pout. Dare to skip the mascara (gasp!) but make sure your complexion is flawless by applying a full coverage foundation. Hydrate those lips and apply a lip primer so your lipstick holds all day. We suggest a liquid lipstick like the one pictured above from Kevyn Aucoin for a highly pigmented and intense colour.
Advertisements
On Wednesdays, we wear ruby lips
Shiny metallics are not only reserved for the holidays. This rich ruby colour is festive yes, but it can be worn all through fall and winter to add some shimmer to the colder days and nights. Apply a few coats of dark brown or black mascara, a neutral matte eyeshadow on your lids and keep your look casual to keep the emphasis on your lips. Tip: Make your ruby pout stand out even more by adding a bit of illuminator on your cupid's bow. Shine bright like a diamond!
Advertisements
Orange you glad you found this colour?
Branch out a bit from your classic red colour and try a fierce orangey-red lip. Define your lips with a lip pencil of the same colour or a transparent one, make sure you've hydrated your lip, add some primer and then apply the colour. Match your cheeks to your lips with a coral blush and fill in your brows to structure your face. Don't be shy to make your lashes XXL and add some nude eyeshadow to complete the look.
Advertisements
Red lips are a girl's best friend
PSA: This look is only for the boldest out there. Fenty Beauty's Stunna lip paint in Uncensored is a head-turning shade for women who ooze confidence. Easy to recreate, all you need is to keep a fresh, blemish-free face, to add a generous coat of the brightest red you have and then create a cat eye with that same lipstick. Diamond necklace optional.
Ready for a beso
Beso means kiss in Spanish, it is also the name of this irresistible shade by Stila Cosmetics and this colour might result in a few besos from your significant other. Rich, creamy and long-lasting, your lipstick won't budge all day. The soft cat eye does not overpower the lip since it is created with neutral eyeshadows and not a strong black eyeliner. Apply a tiny bit of your lipstick on your cheeks to match your blush to your pout.
Matte break your heart
A raspberry-red matte pout with bold eyebrows, a few coats of mascara, and a dewy look is romantic and looks appropriate both in the day at brunch and at night for a date with your crush. Make sure your lipstick doesn't bleed by applying a lip liner beforehand to really define your lips. Keep a lip balm close by since matte formulas tend to dry out your lips and again, apply some illuminator on your cupid's bow to make your lips pop. Don't have freckles? Draw them on with a brown eyeliner.
Taylor Swift called and she wants her lip colour back
Ok, this might not be Taylor Swift's exact red lip shade but we do feel like she would dig this sparkly look. Although makeup gods always lecture us to choose between a bold lip or a bold eye, this red lip makeup look works because of the golden smokey eye. Dior Makeup's look is festive and will look great with a festive holiday outfit. If you dark eyebrows, don't fill them in to keep your eye makeup understated.
9-1-1, what's your emergency
Makeup gods are right… most of the time. This firemen worthy smokey eye and red lip work because the focal point stays on the lips even if the eyes are dark. The soft smokey eye does not overpower her face. Choose a bright shade and define your lips with a lip pencil to get that perfect kissable pout. Add bronzer all over to warm up your face and define your eyebrows to add some definition.
Toto, I've a feeling we're not in Kansas anymore
Who said sparkly lips were hard to pull off? Leave it up to makeup queen Pat McGrath to create a ruby slipper coloured lipstick even Dorothy would covet. Keep the rest of your makeup minimal or copy the look above and add a little bit of gold sparkle on your lids for extra shine. Hydrate your lips to keep the shimmering lipstick from drying out and apply a primer to make the colour pop and last longer. There's no place like home!
You'll never get bordeaux of this colour
A Bordeaux lip makes any woman look more sophisticated! Go for a bronzy but minimal makeup, with a few coats of lengthening mascara, full brows, a brownish blush and a neutral eye. A date night with your fiancé, your best friend's 30th birthday, any excuse is good to match your lipstick to your wine.
She's definitely worth a double take
No, you don't have to go to the optometrist, there are two different colours on her lips. This two-toned lipstick is playful, flirty and easy to recreate. You will need an orangey-red colour for your top lip and a pinky-red for your bottom lip. Seamlessly blend the two colours to create an ombré-like pout by blending the top colour to the middle of your bottom lip. Your lips are the real MVP in this look so keep your face makeup to a minimal with a little bit of mascara, some tinted moisturizer and a creamy neutral eyeshadow.
The Devil wears Urban Decay
One of the boldest looks in this list, Urban Decay and Beauty is Boring's fiery look is a real showstopper that will create a buzz when you wear it out to your next party. Blue eyes will pop with the crimson eye and lip combo. Super creamy, pigmented and glossy, the Naked Cherry Vice Lipstick is worth the buy, especially since the brown tones make it more wearable than brighter red lipsticks. Blend the red hues of the Naked Cherry Palette on your eyes and skip the mascara.
Keeping things on the DL
A red lip look doesn't always have to be extravagant or bold. It can also be a pretty pinky-red lip stain with a bare face and a little mascara. Easy to wear as an everyday makeup, this summery and fun lip makes you look more put-together even if you rolled out of bed minutes before you went out to brunch with your friends.
There are so many different red lip makeup looks for you to try! Wearing makeup should always be fun and should never make you anxious or stressed. Experiment with textures, colours and intensities and find the red lip look you love the most and feel the most confident wearing.