5 essential beauty products for your suitcase and travel bag
Going on a trip requires some preparation, especially when it comes time to pack. Of course, you must bring clothes, but also several toiletries. To help you pack, here are some beauty essentials to carry with you.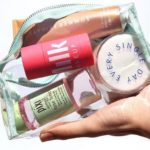 As you know, going on a trip requires organization. Both preparing the trip itself and packing for it requires some coordination. Indeed, you must bring more than just clothes with you, unless you plan to buy everything once you arrive at your travel destination. To help you pack your suitcase, we have highlighted 5 beauty products that we believe should be an essential part of your luggage.
Advertisements
BB Cream
A BB cream is an essential product, whether you are going on a trip or not. In fact, this cream, also known as a Beauty Balm, works wonders for the skin! It is the product to have with you if you want to have perfect skin without spending hours applying makeup products. If you tend to wear foundation, trade this product, which tends to clog the pores, for a BB cream. This very light cream corrects, balances and gives radiance to your skin. You are guaranteed to have a healthy glow!
Advertisements
Micellar water
Micellar water is also a beauty product to have in your suitcase. It is cleansing water made for both eyes and face. This product is not only designed to remove makeup, but also to remove impurities and sebum from your face. They have micellar water for sensitive and normal skin. Let's bet that you will be able to enjoy it while on holiday, especially after a long day in the sun.
Advertisements
Gel moisturizing cream
No matter where you travel, you should always bring moisturizer for your face and body with you. You don't want to have dry and irritated skin because you left your moisturizers at home. We suggest that you moisturize your face with a cream that has a gel texture. It penetrates more easily into the epidermis, especially during the summer season.
Advertisements
Sunscreen
Sunscreen should, of course, be part of your luggage, whether you decide to travel to Europe, South America or Asia. Indeed, protecting your skin with sunscreen is essential to avoid sunburn, but also to limit the risk of developing skin cancer. It also delays skin ageing and keeps the epidermis moisturized. Try to choose a sun care product that is suitable for the face and body and has a high SPF.
Miniature beauty products
If you want to bring more than one BB cream in your beauty kit without cluttering your suitcase, you can always opt for travel size beauty products. Many cosmetics companies offer products in miniature format. It is even possible to purchase a travel kit at Sephora. These sets have the advantage of lightening your luggage while allowing you to discover quality products at a low price.
In addition to these five beauty products, we also suggest that you bring washable wipes in your suitcase. This will allow you to cleanse your face without weighing down your suitcase. In addition, they are many zero waste products you could pack. You can also bring a nice lipstick and mascara. This will allow you to add something extra to your face without having to bring your entire beauty kit with you. You can also use your lipstick as blush.
---
Cover photo: @supergoop | Instagram