How to apply false lashes without glueing your eyes shut
Long, thick and feathery lashes definitely add some drama to any glam look. If you're worried about shutting your eyes closed instead of having beautiful lashes, here's exactly how to apply false lashes.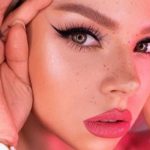 You created a gorgeous glam look for your big date, your girls night out or just because you love creating makeup looks, but something is clearly missing… False lashes would definitely complete the look. These synthetic fibered lashes seem innocent enough but many people have trouble applying them without getting into a fit. Learn the right way to apply false lashes.
Advertisements
What you will need
False lashes kit (duhh!)
Scissors
Tweezers
Mirror
Confidence and patience
Advertisements
How to apply false lashes
Start with drugstore lashes
Buying $40 mink falsies is not a good idea if you are applying false lashes for the first time. Start with drugstore lashes to gain more experience before trying luxurious falsies.
Apply your eye makeup
You'll curse yourself if you add your eye makeup after you've applied your lashes. Do your makeup, curl your lashes and apply mascara before you begin.
Trim the eyelash strips
Most fake lashes are too long so you have to measure them close to your eyes to see whether they need to be trimmed or not.
Apply the lash glue
Don't smother the false eyelashes with glue and then apply them directly to your eyes. Wait until they dry (a quick 30 seconds) a bit so they are sticky, not wet, then place them.
Look down when applying your lashes
Use tweezers and a low mirror (it is easier to look down when applying false lashes) to gently place the lashes where you would add your eyeliner. Lightly press down the strip with tweezers to make sure they don't fly off at the first strong gust of wind. Also, don't close your eyes since your eye shape is not the same when your eyes are closed.
Camouflage the strip with makeup
Use a black eyeliner to camouflage the glue and strip. Voilà! Your false eyelashes are on.
Advertisements
Our favourite false lashes brands
Lashify
Eylure
Ardell
Sephora collection
Huda
Velour Lashes
Lilly Lashes
MAC Cosmetics
E.L.F.
Bat your lashes all you want, we want to see you work those falsies! Fake lashes, when you know how to apply them, are fun and can really open up your eyes. If you're looking for other alternatives to longer and thicker lashes, there are also natural ways to grow your lashes.
---
Cover photo: @lillylashes | Instagram