Hydrodermabrasion: Does this skin treatment produce results?
To Hydradermabrasion, or not to hydradermabrasion.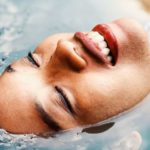 Facials are glamorous and can give your skin a much-needed boost. Once you lie down in the soft bed at the dermatologist's office, you feel like a celebrity getting ready for the Academy Awards or the Grammys. Having said that, some types of facials are too harsh for those with sensitive skin but hydrodermabrasion, a type of microdermabrasion facial treatment, could be the solution to a deep cleansing without redness and unwanted after effects. Read on to learn more about hydrodermabrasion.
Advertisements
What is hydrodermabrasion?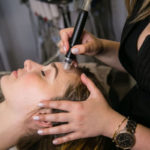 Painless and non-invasive, hydrodermabrasion is different from microdermabrasion mainly because it does not use any crystals. The handheld tool contains a saline solution and oxygen, which helps to improve skin texture, reduce wrinkles, add hydration to the skin, boost blood flow and minimize pores. Think of it as an invigorating exfoliating scrub that will clear your skin. This procedure should always be carried out by a dermatologist or a doctor and it is vital to speak to a health practitioner before trying this treatment.
Advertisements
Benefits
Unlike microdermabrasion procedures, hydrodermabrasion uses a diamond-tip wand with an abrasive disc instead of spraying tiny crystals to evenly exfoliate the skin. The tiny crystals would sometimes leave tiny remains on the skin if not vacuumed properly, which could eventually damage the skin. This technique won't irritate your skin or damage your epidermis.
Women with sensitive skin will be happy to know that this type of procedure won't be too harsh for them. Unlike microdermabrasion, hydrodermabrasion has interchangeable abrasive discs so the intensity of the level of abrasion will depend on the client's skin type, which will have been evaluated beforehand.
Not only does the procedure exfoliate your skin but it also hydrates it by infusing personalized moisturizing formulas into the skin while the skin is being exfoliated. The hydrating ingredients will sink into the skin with ease and result in beautiful, rejuvenated and glowing skin. This is the only type of microdermabrasion that includes this hydration therapy.
Add another treatment, like an oxygen facial or LED light therapy during the same session for even more gorgeous and clear skin.
Advertisements
How much does this type of facial cost?
The price will depend on the clinic you choose but you're looking at prices varying from $200-300 per treatment. This type of procedure is great before a big event like a wedding or anniversary to boost your skin and give it a nice glow but if you really want to treat fine lines or acne scars, it is recommended to do about 6-10 sessions every 2 weeks for it to be highly effective.
Advertisements
Taking care of your skin post treatment
Drink lots of water after the procedure and eat water-filled foods like fruits and vegetables since the procedure can leave you feeling dehydrated. Your skin will need extra hydration so apply a thick layer of your richest face cream and remove any debris left on your skin after the procedure. Be gentle with your skin, don't use scented or harsh products when cleaning your skin and don't pick at your face to remove any dead skin. Leave it be, it is renewing itself. Also, you'll have to avoid applying makeup for at least 48 hours after the treatment. Protect your skin from the sun for 5-7 days since your sensitive skin can easily get damaged by the strong sun rays.
It is always suggested to speak to a doctor or dermatologist before trying out a new facial treatment that involves more than just buying a cream at the drug store. If done properly, hydrodermabrasion can rejuvenate and smooth your epidermis for younger looking skin.